News
Beer Lovers bring back famous Bass stout
Added: Saturday, January 3rd 2015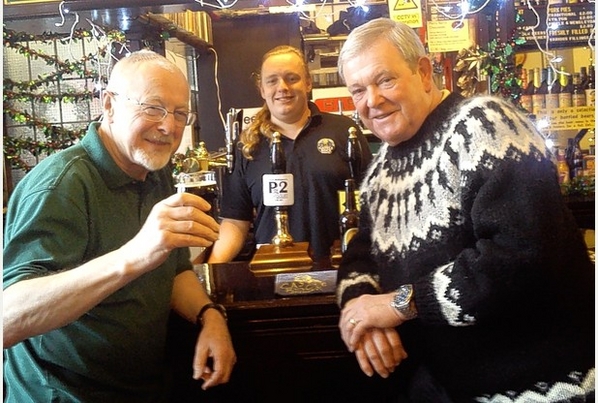 Three passionate drinkers in the Derby area are on a mission to revive old and much-missed styles with a scheme called Beer Lovers – and the first beer they brought back from the dead was drunk dry in just a few days. The beer in question is the legendary Bass P2 Imperial Stout, first brewed in the 19th century for export to the Czar's court in St Petersburg in Russia.
The Beer Lovers plan is the brain-child of John Arguile, Dave Evans and Les "Beer King" Baynton: Les is a poet who opens CAMRA's Winter Beer Festival in Derby's Roundhouse, dressed in flowing robes and with a special poem for the occasion. The three feel there's so much attention given to new breweries and new beers that older styles, such as Imperial Stout, are being overlooked.
They were heartened to hear that another beer legend, Steve Wellington, had recreated P2 at the Haywood Bad Ram Brewery near Ashbourne. Steve worked for Bass for many years and ran the White Shield Brewery alongside the Bass Museum in Burton-on-Trent. When the museum re-opened as the National Brewery Centre, Steve designed and ran the new William Worthington Brewery that is both a visitor attraction and recreates old Bass beers.
Steve retired a couple of years ago but has continued to brew and was delighted to produce a bottled version of P2 at the Haywood plant. Bass discontinued P2 in the 1960s but Steve occasionally brewed it at Burton in cask form for CAMRA beer festivals. But both the Burton breweries -- now owned by Molson Coors – are currently mothballed and Steve teamed up with Haywood to make a batch of P2.
The reappearance of the stout chimed perfectly with the plans of the three Beer Lovers and John Arguile asked Steve if he would make some of the beer available in cask form for selected pubs in Derby.
"P2 is a pilot brew," John says. "We need eight to 10 licensees who can serve the beer the way we want. And we need genuine free houses – and there aren't many of those in Derby.
"The three of us are prepared to invest and time and money in the scheme but we can't afford to lose money.
"We will have to pick up casks, deliver them to pubs and then return the empties. We will need marketing advice and probably a website to publicise Beer Lovers.
"I have great faith in Steve Wellington to recreate the beers we're thinking of. How about bringing back Draught Burton Ale? Perhaps we could brew Harvey's Sussex Bitter, which is rarely seen outside Sussex."
Two casks of P2 went on sale before Christmas at the Alexandra, Siddals Road, Derby, and the Rowditch, Uttoxeter New Road.
"I chose the pubs as both Ralf Edge at the 'Alex' and Steve Birkin at the Rowditch are first-class cellarmen and can be relied on to bring out the best in this particular beer," John Arguile says. "The time allowed for secondary fermentation in the cask and natural carbonation will result in an even better beer than the bottled version. It's strong, rich and has a Christmas pudding taste but is not too sweet."
The Beer Lovers scheme got off to a good start when both casks were emptied by enthusiastic drinkers in a couple of days and the three pioneers are now planning their next revivalist brew.
The recipe: pale, crystal and black malts; Fuggles and Goldings hops. Primed with sucrose before bottling or racked into casks.
*Pictured: John Arguile (left) with Steve Wellington and Ralf Edge, licensee at the Alexandra. Photo courtesy Derby Telegraph.