News
London pub welcomes homeless at Xmas
Added: Monday, December 22nd 2014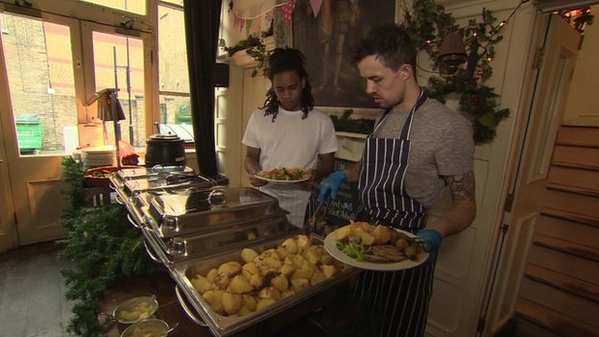 A North London pub entered into the spirit of Christmas on Sunday 21 December by opening its doors to the homeless with free meals. The William IV in Shepherdess Walk in Islington served up to 400 meals with many people given free lifts to the pub by London taxi drivers.
The event was covered by BBC London and reporter Emilia Papadopoulos. The meal was the brainchild of manager Mark Kaiton and chef Adam Hardiman, who said the success of the event was due to social media.
"It really took off on Twitter," Mark says. "We put the board out [announcing the event] on Tuesday and had a little Tweet and with half an hour we had 50 retweets. Then we took a look at our phones at around 8 or 9 o'clock and found it had really taken off. Everyone was jumping on board and saying what a great idea it was."
Mark adds that the meal was aimed at people who are struggling financially as well as the homeless. Members of the local community rallied to the cause, helping cook and serve. They peeled 80 kilos of potatoes while other vegetables were donated by celebrity chef Jamie Oliver.
One person walked three miles to get to the William IV while Roy Drane, who is not homeless but lonely since his wife died, enjoyed a meal and says "It's marvellous the food that's been laid on."
*Photo shows chef Adam Hardiman with a volunteer in the kitchen.