News
Take a gander as Chicago's goose lands
Added: Tuesday, December 2nd 2014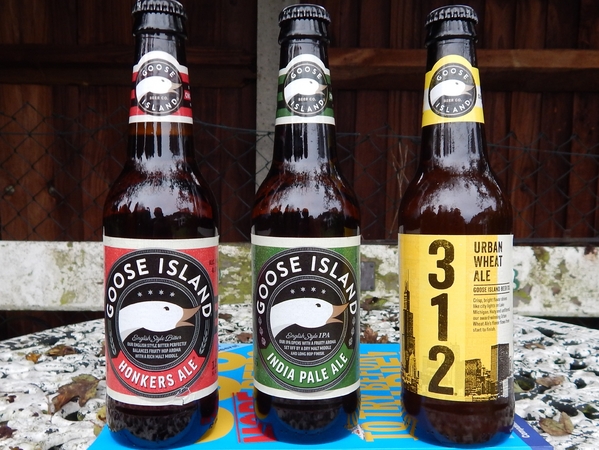 Beers from one of the pioneers of American craft brewing are now available in Britain on draught and in bottle, distributed by Greene King. Goose Island from Chicago not only brews one of the finest modern interpretations of India Pale Ale but on its home patch has built a portfolio that includes Belgian-style ales and an imperial stout aged in bourbon whiskey barrels.
Whether Goose Island can still be called a craft brewery is debatable, for in 2011 the company was bought by the biggest brewery in the U.S., Anheuser-Busch, the owner of the American version of Budweiser and part of AB InBev, the world's leading brewing group. The critical consideration will be whether the quality of the beers has dropped as a result of the takeover by a giant global corporation.
Goose Island, named after an island in the Chicago River, opened as a brewpub in 1988 in North Clybourn, run by father and son team John and Gregg Hall. The success and acclaim for the beers led to a second and larger plant being built at Wrigley Field in 1999. When the company was bought by AB, Greg Hall left and now makes cider. His father remained with Goose Island, where the beers now enjoy nationwide distribution. IPA and Honkers Ale are brewed under licence on the east coast for ease of travel.
The Halls didn't stint where ingredients are concerned and the tradition has been maintained by the new owners. North American malts and hops are used and brewing water is drawn from Lake Michigan and carbon filtered. Yeast cultures for the ales and wheat beer are also imported from Europe to ensure the correct aromas and flavours.
Goose Island India Pale Ale (5.9%) is brewed with just pale malt and has 10 units of colour, only fractionally darker than a Pilsner. It's heavily hopped (58 IBUs) with Cascade, Celeia, Centennial, Pilgrim (UK) and Styrian Goldings. It has a fine aroma of bitter oranges, spicy hops and cracker biscuit malt, with a palate of full, rich fruit balancing bitter hops and underlying juicy malt. The persistent finish has an iron-like intensity from the hops with more tangy fruit and a lingering malt note.
Honkers Ale (4.3%) is the brewery's biggest-selling beer and was inspired by the Halls' visits to England where they sampled examples of best bitter. It's brewed with two row pale malt, caramalt, wheat malt and a pinch of roasted barley. The hops are Celeia, Pilgrim and Styrians. The beer has 14.4 colour units and 35 IBUs. It has a copper colour with an almond nut note on the aroma balanced by cracker-like malt and spicy hops. Juicy malt, a developing tart citrus note and bitter hop resins fill the mouth, while the finish is a fine balance between tangy fruit, biscuit malt and bitter hops, with the almond note reappearing.
312 Urban Wheat Ale (4.2%) is brewed with two row pale malt and torrefied wheat and hopped with First Gold (UK) and Mount Hood varieties. It has a big spicy wheat and hops aroma balanced by creamy malt, with a smooth and creamy palate gently underpinned by spicy hops and a long, satisfying finish finely balanced between creamy malt, spice note from the wheat and light but persistent hop bitterness.
The bottled beers are available in major stockists. For details of Greene King pubs serving the draught versions contact pressoffice@greeneking.co.uk.