News
Supermarket boost for British hops
Added: Saturday, November 15th 2014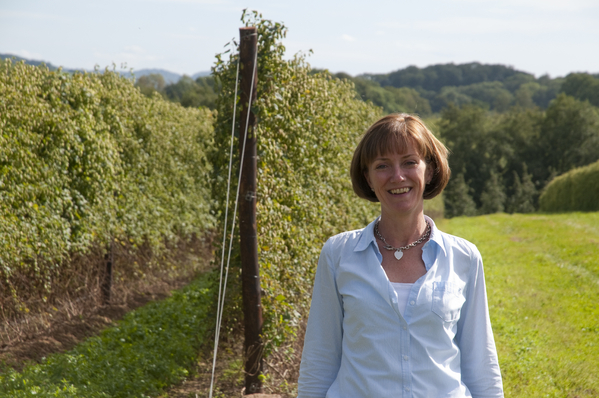 British hops have been given a major boost thanks to a new beer brewed exclusively for the Tesco supermarket group. The beer carries the logo of the British Hop Association, run by hop farmer Ali Capper.
She campaigns vigorously to encourage more brewers to use home-grown hops and Single Hopped Kentish Ale is the first beer sold by a supermarket to have the BHA logo on the label.
The 4.5% beer is brewed by Britain's oldest brewery, Shepherd Neame, based in Faversham at the heart of the local hop industry. The beer was developed by head brewer Richard Frost who uses the renowned East Kent Golding. The back label of the beer explains that the EKG variety's parent was called Canterbury Whitebine and was first grown in 1790. The current crop of EKG is grown at Queen's Court near Faversham.
Ali Capper, who grows hops with her husband Richard at Stocks Farm in Worcestershire, says: "The American trend that has led to a world-wide resurgence of interest in craft brewing has been a double-edged sword at home in the UK. The interest in brewing with high quality raw ingredients has helped create jobs in the industry but unfortunately brewers don't always choose British-grown hops. In copying the trend, many British brewers have sought to emulate not only the trend but also the exact beer style. Imports of New World hops have substantially increased in recent years."
In an attempt reverse the trend, Ali and Richard Capper have developed a new hop, Endeavour, at Stocks Farm that's a cross between an American Cascade and an English hop. It offers the citrus notes demanded by many British craft brewers but has less aggressive notes and more subtle fruitiness. 
 It has been taken up by major independent brewer Marston's and is used in its rolling programme of pale ales with a different hop variety for each new brew.
Single Hopped Kentish Ale is available in Tesco stores and costs £1.89 a bottle.
R.P. tasting note: The beer has a bright bronze colour with spicy and peppery hops on the nose, blood orange fruit, hints of almonds and rich biscuit malt. Bitter hops, chewy malt and tangy fruit fill the mouth. Tart orange notes dominate the finish, balanced by hop resins, almonds and juicy malt. The finish is long, lingering and quenching.