News
New pub-restaurant lights up Exeter Quay
Added: Thursday, November 6th 2014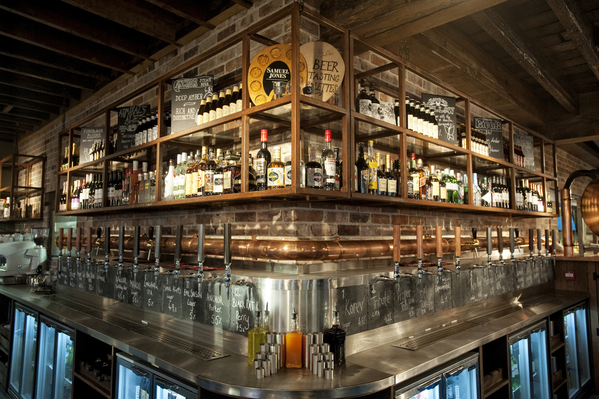 A brand new pub-restaurant, the Samuel Jones, created by St Austell Brewery, one of the South West's leading breweries, has opened on Exeter's vibrant quayside.
The brewery has invested £1.5 million in transforming a derelict 19th century former bonded warehouse in Commercial Road on The Quay into a barbecue and smokehouse-inspired venue, which now boasts the most extensive range of craft beers in the West Country.
St Austell Brewery delegates celebrated the new venue at a launch event (4 Nov) alongside special guest Denise Chantrey, the great grand-daughter of Samuel Jones himself, who was a former Mayor of Exeter and a prominent wine merchant who commissioned the building in 1878. Denise poured the first pint alongside her sister Vivian Morgan and St Austell's head brewer Roger Ryman.
The Samuel Jones serves a range of 18 craft ales from around the world including the USA and New World. During the evening samples were enjoyed by guests including Exeter Chiefs head coach Rob Baxter and members of the first team including Tom Johnson and Dean Mumm.
The historic venue is situated in Exeter's waterfront district. It includes a 3,117 square foot main area and 586 square foot unit alongside, which has been transformed into an industrial-feel pub and restaurant. The first floor will be sub-let and used to create five residential flats.
St Austell Brewery's catering and development manager Nick Hemming led the new kitchen staff as they delivered a selection of food for guests to taste. The new menu will include meats that have been smoked and cured in-house and cooked on chargrills and in barbecue ovens in an open, theatre-style kitchen.
Adam Luck, St Austell's estates director, said: "We were delighted to be joined by Denise and her sister Vivian to pour the first commemorative pint at the official opening of the Samuel Jones. The Samuel Jones is a new concept for St Austell Brewery as we wanted to create a venue with a unique selection of craft beers and an innovative menu designed for customers to enjoy matching food with different beers.
"The quayside is a fantastic location and we look forward to playing a major part in the continued growth and resurgence of the area."
St Austell Brewery has been brewing real ale in Cornwall since 1851, and runs 170 historic and picturesque pubs, hotels and inns across Devon, Cornwall and Somerset. The brewery has bought two new pub venues in the last year, and completed a £2million investment in a new cask operations plant at its base.
The brewery recently scooped two prestigious industry honours for the third year in a row at the 2014 Publicans' Choice Awards. St Austell Brewery has once again been named the UK Regional Brewer of the Year, and its flagship Tribute Ale won the title of Best Regional Cask Ale Brand.
The Publicans' Choice Awards are the only awards voted for entirely by pub licensees across the country, making them highly respected awards within the brewing trade.
*Pictured below: Neil Perry and Samantha Theobald-Rowe ready to serve customers