News
Shipwreck beer brought back to life
Added: Sunday, October 26th 2014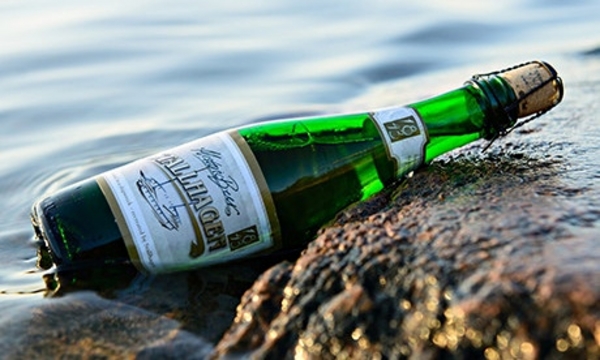 A 19th century beer discovered in a shipwreck off the coast of Finland has been painstakingly recreated by brewing experts in Belgium, working with the small craft brewery Stellhagen based in the autonomous archipelago of Ǻland off the Finnish coast.
The beer was found by divers in 2010 in a wreck that has been traced back to 1842. Research suggested the beer had originated in Belgium and the government of the Ǻland islands approached Gert De Rouck, who heads the Brewing Technology Research Department at Leuven University in Belgium, to see if the beer could be recreated.
Analysis in the laboratories at Leuven found the beer had been made by "spontaneous fermentation" using wild yeasts, which strongly suggests it was brewed by one of the lambic breweries in Belgium.
Brewmaster De Rouck and his team analysed the bottles of beer that had survived since the middle of the 19th century at a depth of 50 metres. The brewers were able to identity that the beer had been made with barley malt and wheat and had been fermented by wild yeasts and other micro-organisms. The beer experts used the same ingredients to make several trial brews before they were satisfied they had created a beer close to the original.
Gert De Rouck, who worked at the De Troch lambic brewery before moving to Leuven, is an expert in the field of spontaneous fermentation and the activity of micro-organisms during the production of beer.  
"Based on the micro-organisms in the bottles, we were able to figure out which type of yeast and bacteria were used by the beer's 19th century brewers," De Rouck says.
As a result of the work at Leuven, a commercial beer is now being produced by the Stallhagen Brewery in Ǻland. The chief executive of the brewery, Jan Wennström, says: "The beer is delicious and offers consumers a taste of history.
"It's Champagne-like, with soft bubbles. Very little hops were used and it's golden yellow with none of the typical bitterness or hop aroma of a modern beer. The taste profile is closer to wine than beer."
Two versions of the beer, both 4.7%, have been produced at Stallhagen. Historic Beer 1842 is sold in numbered handblown replica bottles in a gift box. 2,000 bottles have been made and cost £89 or 113 euro each. They are available on Viking Line ships.
A second version is sold in 37.5cl bottles, with Champagne-style corks and cradles and costs six euro. Stallhagen plans to sell this version worldwide and profits will support scientific projects, including archaeological research in Finnish waters. Stallhagen is looking for a British distributor: www.stallhagen.com.
Roger Protz comments: This is a fascinating piece of research and, using Gert De Rouck's expertise, there's little doubt the original was lambic beer. I disagree with Jan Wennström on one point: he says the beer had very little hop content. But lambic brewers are not seeking hop bitterness in their beer. They use aged hops not for bitterness but to prevent oxidisation and keep unwanted bacteria at bay.
The pale gold beer throws a dense collar of foam with fine bubbles. The aroma is reminiscent of sherbet lemons and has a faint hint of the "horse blanket" mustiness found in lambic and gueuze beers. The palate is dry and bittersweet with continuing lemon fruit and juicy malt notes. The finish is dry, gently fruity with just a hint of acidity at the end. It's a well-made, refreshing beer but it lacks the tart acidity of a true lambic.