News
Surrey Hog bristles with chocolate delight
Added: Saturday, October 11th 2014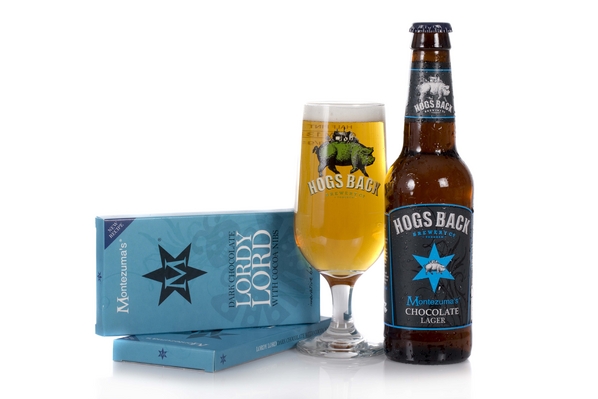 Hogs Back Brewery in Tongham, Surrey, award-winning brewers of the famous T.E.A., and Montezuma's Chocolates, have launched a brand new chocolate lager in time for National Chocolate Week which runs this year from 13th to 19th October. The new brew has been awarded Gold at the International Beer Challenge 2014. 
To create this light honey coloured and highly aromatic lager, Hogs Back teamed up with Montezuma's of West Sussex, one of the UK's most innovative and award-winning chocolatiers.
The two companies had been working on the concept for six months, testing a range of methods of production and styles of beer. The original plan was to produce a dark chocolate ale, but surprisingly a much lighter lager seemed to carry flavour best. 
The lager is based on the recipe used for the fast-growing Hogstar lager, and was brewed with five different hops and special botanicals before maturing for five weeks to deepen and knit the various flavours.
The problem in trying to develop such a product has been that chocolate cannot be added direct to beer during brewing because of the fat content, and often in the past dark roasted malt has been used in brewing to achieve the chocolate character. However the team approached the challenge from a different angle, taking Montezuma's Lordy Lord chocolate bar to produce an infusion by a process of maceration and gentle extraction. This was then used during the production of the lager. 
The beer has a light, fresh, refreshing character carrying a rich but well-balanced chocolate and hop flavour, evident both on the nose and on the palate.
Simon Pattinson, Founder of Montezuma's, commented: 
"As projects go, beer and chocolate is probably about as good as it gets! The head on collision of a famous British beer maker and innovative British chocolate maker has been as exciting as it has been rewarding, with results that taste as good as the pedigree should suggest.
"This is one of the few chocolate lagers in the world and definitely a challenge to perceived wisdom, but give it a go and be prepared to open your mind to a lager that flies in the face of convention; try it with a square or two of Montezuma's Lordy Lord chocolate bar for good measure!" 
Rupert Thompson, owner of Hogs Back Brewery, added:  
"This has been a fascinating experiment for our head brewer Miles Chesterman and his team to work on. We have not ended up quite where we expected to – you would intuitively think a dark chocolate beer would be dark – this isn't, and that makes it quite intriguing. It will also be interesting to match it with foods – chocolate puddings are notoriously difficult to complement with wines but could work very well if this lager were added to dessert menus." 
Montezuma chocolate lager is 4.5%  33cl bottles, and retails at £2 (or £20 for a 12-bottle case) from the Hogs Back Brewery shop ; and at £2.25 on Montezuma's website (http://www.montezumas.co.uk/chocolate-gifts/Chocolate-Lager-Hogs-Back.html). In late October, it will also retail between £2.00 and £2.30/bottle in 250 Co-operative stores in South England. http://www.hogsback.co.uk/shop/