News
Guinness brings Dublin Porter back to life
Added: Tuesday, September 9th 2014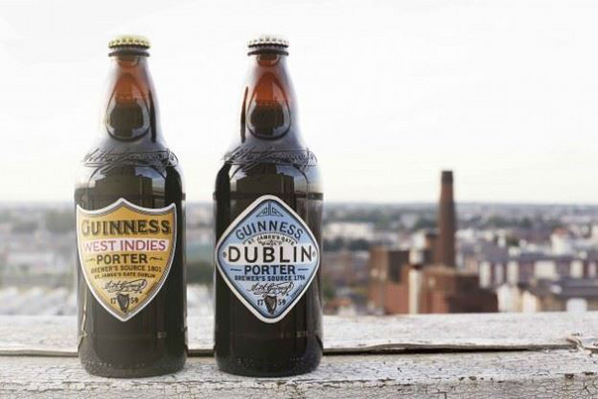 Two porter beers from the late 18th and early 19th centuries have been launched by Guinness in Dublin, based – the brewery says – on authentic recipes culled from ancient brewers' logs. The beers reflect the early history of the brewery launched by Arthur Guinness in 1759. By 1787 he had switched from ale to porter in order to compete with the dark beers flooding into Ireland from breweries in London and Bristol.
The two new beers are Dublin Porter and West Indies Porter. The Dublin version is based on a recipe dating from 1796 while the beer destined for export to the Caribbean comes from a brewers' log dated 1801.
Guinness has installed a pilot brewery in Dublin where beers using old recipes and innovative new brews are trialled. The initiative is clearly designed to counter the impact of the wave of new small craft breweries in Ireland that have brought a wide range of beers to the attention of consumers, including new versions of porter and stout.
Porter was a beer style developed in London early in the 18th century. It was a blend of pale, brown and aged or "stale" beer. It was first called "entire butt" but was given the nickname of porter as a result of its popularity with the porters working the markets and docks of the capital. At that time, the strongest beer in a brewery was dubbed stout and the most powerful versions of porter were called stout porter.
In Dublin, Arthur Guinness employed a brewer from London to show him how porter was produced. His version became known as "Plain" to distinguish it from stronger stout and it rapidly became the drink of the Dublin working class. It was immortalised in the writings of Flann O'Brien and J P Donleavy. O'Brien famously had a drinker in a Dublin pub telling his companion "A pint of Plain is your only man" while Donleavy wrote "When I die I want to be buried in a vat of Guinness Porter and taken round all the pubs in Dublin".
In common with English brewers, Guinness became a major exporter of beer. One version, Foreign Export Stout Porter – now known as Foreign Export Stout or FES (7.5%) – became the base for the strong versions of the beer brewed in Africa and for some European countries. Guinness has long enjoyed an enthusiastic following in the Caribbean and West Indies Porter at 6% reflects the version of beer sent there by ship, with a high level of alcohol and hops to help it survive the journey.
Dublin Porter has a modest strength of 3.8% and I doubt that was the strength of the beer served in pubs and bars in the Irish capital in the 19th century. By that time, brewers were using hydrometers to measure the level of alcohol in their beers and records in London reveal that porters had an average strength of 7.1%.
People engaged in heavy manual labour demanded beer made with high levels of alcohol to both restore lost energy and give them essential proteins at a time when diets were poor. A beer measuring just 3.8% would have been dismissed as fit only for children or nursing mothers. Guinness may be missing a trick with a 3.8% beer considering the interest today in the strong ales of Belgium, styles that have been taken up with great enthusiasm by craft brewers in Britain and the U.S.
Eventually porter, both in England and Ireland, went out of fashion and stout became the favoured version of dark beer. At one stage of the 19th century, Guinness was the biggest brewery in the world as a result of its energetic exporting policy. It sent beer to all parts of the British Empire and overtook sales of Britain's biggest brewer, Bass.
Today, as a result of the world-wide beer revolution and the great interest shown in old beer styles, porter is being made in Britain, the U.S., Australia and New Zealand. Most of the new wave craft breweries in Ireland have the style in their portfolios and they are now joined by the brewery whose name and harp logo are synonymous with dark beer.
The tasting
Dublin Porter (3.8%): A creamy malt and cappuccino coffee aroma with hints of dark toffee and peppery hops. Bitter hops build in the mouth, overlain by smooth, creamy malt and a growing toffee note with a hint of burnt fruit from darker, roasted malts. The finish is bittersweet to start but ends dry and bitter, with some acidity, while the creamy character resembles a milk stout, with a continuing smooth coffee feel. It's a very drinkable beer but would benefit from a higher level of alcohol.
West Indies Porter (6%): The beer has a luscious aroma of herbal and spicy hops with a big hit of toffee, liquorice and coffee from the dark malts. The palate is a fine balance of rich, roasted grain, espresso coffee and bitter hops with continuing toffee and liquorice notes. The finish is sweet to start but burnt fruit, bitter coffee and spicy hops build to a bitter finale, but with a continuing balance of creamy malt and liquorice. Refreshing and full-bodied.
Both porters are now on sale in Britain and Ireland and retail in the UK off trade at £2.20 for Dublin Porter and £2.65 for West Indies..