News
Priest blesses Christmas beer in Lewes
Added: Friday, September 5th 2014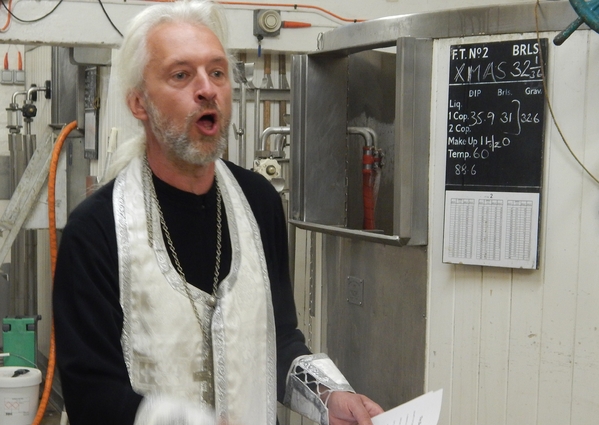 A priest in the Russian Orthodox Church, Father Toby Sims, blessed the Christmas Ale in a ceremony at Harvey's Brewery in Lewes, East Sussex, on 4 September. Father Sims is a former opera singer who joined the church five years ago and spent several years in a seminary in Sergiev Posad in Russia before returning to Britain and settling in Lewes, which has a flourishing Russian Orthodox community.
Father Sims is also a keen home brewer and he offered his services to Miles Jenner, managing director of Harvey's, to bless this year's Christmas Ale. The blessing was conducted in both English and Russian and involved the priest walking round a fermenting vat containing the beer and sprinkling it with holy water.
Father Sims said that if, according to the Bible, water could be turned into wine there was no reason why beer could not enjoy a similar transformation.
Along with his religious duties, Father Sims plans to become a commercial brewer. He is studying for a Diploma in Brewing with the Institute of Brewing and Distilling and hopes eventually to follow in the footsteps of the famous Trappist brewers in Belgium.
Having been blessed, Harvey's Christmas Ale will now mature on a bed of Fuggles hops for several weeks before it's released for drinking later in the year.
*Harvey's has also brewed another beer with powerful religious associations. A 6% Priory Ale commemorates the Cluniac Order of the Priory of St Pancras in Lewes, which was known to have its own brewery in 1264. The beer is based on the known ingredients that would have been used by the monks in the 13th century and is brewed with malted barley, oats and wheat and boiled with hops and yarrow. The beer was then conditioned in vats with ale cost – also known as tansy – rosemary and thyme. The beer celebrates the 750th anniversary of the Battle of Lewes.