News
'Keep taking the Pils' says BrewDog
Added: Tuesday, September 2nd 2014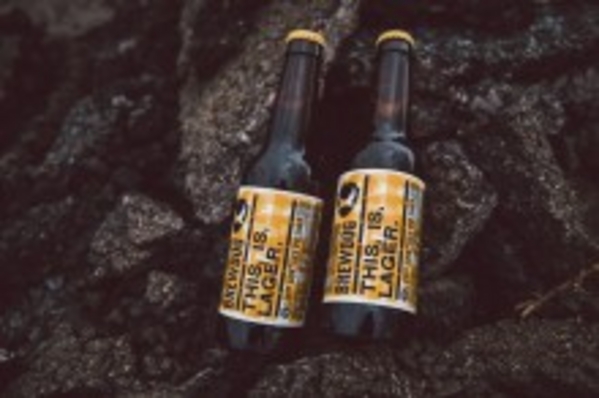 Scottish craft brewer BrewDog has set its sights on obliterating what it calls the "insidious culture around lager drinking" cultivated by decades of mass marketing by launching a beer that takes the lager style back to its roots. This. Is. Lager. will be a 4.7% Pilsner designed to offer lager drinkers a craft beer alternative to the mass-produced lagers that still dominate the British market.
This. Is. Lager. is brewed with 100% malt and 10 times the hops of most industrial lagers. To demonstrate the difference, BrewDog is offering free 1/3 pint tasters of This. Is. Lager. at all of its British bars from 12 noon–12 midnight on Wednesday 3 September.
James Watt, co-founder of BrewDog commented: "This.Is. Lager redefines a beer style that has for so long been defined by shallow, listless beers undeserving of the name. For years, global breweries have spent millions convincing the British public that lager is a beer style best served as fizzy, tasteless liquid cardboard propped by snappy straplines, glamorous advertising or counterfeit stories of foreign provenance. We hope to perpetuate a movement of craft breweries blazing a new trail for lager, proving it's a misunderstood, neglected beer style."
James Watt says BrewDog is making This.Is.Lager part of its core range to convert those unfamiliar with craft beers as it plots to destroy the binge drink culture that has long over-shadowed the industry. 
"Lager is often demonised or derided as the choice drink of chavs and louts, which is the result of laddish marketing that diverts attention away from taste and enjoyment and undermines the potential of lager as a creative and artisanal beer style," he added.
"If we can redefine lager in the UK, we will redefine our relationship with alcohol. We can actually start to reverse binge drunking trends currently being tackled by toothless and misguided legislative proposals unlikely to ever see the light of day. With the volume-driven industry leaders trying to pull the wool over drinkers' eyes and the government try to leglisate their way out of a media disaster cul-de-sac, it's time we treated drinkers like adults and gave them an alternative to stack 'em high, sell 'em cheap beers with no soul or taste.
"Gone are the days of lager being synonymous with extra-cold taps, lads on tour, fake Aussie accents, Burberry baseball caps and pot bellies. That is not lager. This.Is.Lager," he added.
Draft House founder takes swipe at BrewDog Propel Newsletter 3 September: The founder of the Draft House chain of bars, Charlie McVeigh, has taken a swipe at BrewDog which is launching a lager today amid a barrage of rhetoric against "mass-produced lagers". McVeigh said: "It is difficult not to be riled by the latest intemperate emanation from BrewDog Towers. So our friends in Aberdeen are now going to teach the world about lager? Try telling that to the Czechs and Germans who invented clear, golden effervescent beer hundreds of years ago and have continued to do so with a ferocious commitment to quality and consistency ever since. We have launched Tank Beer at our Seething Lane site. This involves Pilsner Urquell (brewer of the very first true lager) delivering weekly fabulous fresh unpasteurised beer from their Plzen brewery for the enjoyment of our customers. Dare I say it but THIS IS LAGER. I am not sure that the Czechs would be impressed by the claim that lager is "a beer style that has for so long been defined by shallow, listless beers undeserving of the name". While I am sure they would recognise a recipe which contained "100% Malt" would they find a beer with "ten times the hops" to their taste? Would that even be lager? Or just another unbalanced, over-hopped 'craft beer'? I love the fierce attitude that BrewDog brings to the debate, and I even like some of their beers. I am always impressed by the knowledge and commitment of their staff. But I think a little respect for the lager drinker and the original creators of lager is in order."