News
CAMRA call to stop Tesco pubs grab
Added: Tuesday, August 12th 2014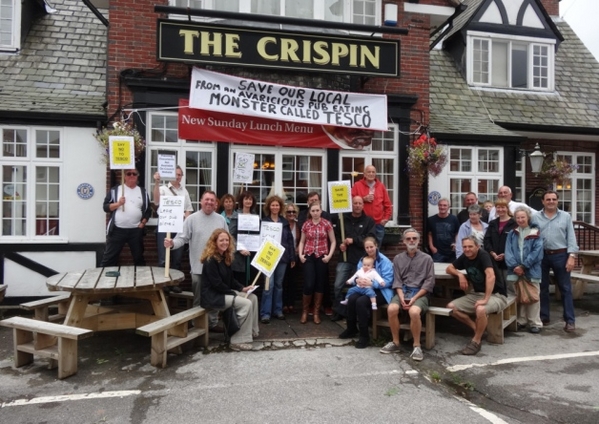 A new campaign launched by CAMRA at the Great British Beer Festival today hopes to see 55,000 festival-goers lobby their MP, as the UK pub closure rate rises to a whopping 31 per week.
The CGA – CAMRA Pub Tracker figures are being released as part of CAMRA's new "Pubs Matter" campaign, which calls on the government to recognise that pubs matter and make a simple change to the law in England so a planning application is always required before a pub is demolished or converted into another use.
Currently pubs can be demolished or converted to supermarkets, estate agents and a range of other use* without planning permission.
"Popular and profitable pubs are being left vulnerable by gaps in English planning legislation as pubs are increasingly being targeted by those wishing to take advantage of the absence of proper planning control. It is utterly perverse that developers are able to demolish or convert a pub into a convenience store or many other uses without any requirement to apply for planning permission. A pub is an entirely different proposition to a convenience store, estate agent or funeral directors and the planning system needs updating to reflect this fact. It is wrong that communities are left powerless when a popular local pub is threatened with demolition or conversion into a Tesco store," says Tom Stainer, CAMRA Head of Communications.     
This week CAMRA will be encouraging festival-goers at the Great British Beer Festival to take action and lobby their MP using specially designed postcards -- these can then be posted into boxes around the venue to be sent to the relevant MPs by CAMRA, which in the past has had huge success with similar campaigns such as the scrapping of the Beer Duty Escalator.
"It is time for the government to stop standing by while pubs are being targeted due to gaps in planning law, which is why this week we will be empowering 55,000 festival goers to call for the government to take much needed action - as well as highlighting the pubsmatter.org.uk website on the back of every one of our 1,000 GBBF volunteer t-shirts," Tom Stainer added.
 The weekly pub closure rate has risen to 31 per week from 28 in December 2013 and 26 in March of the same year, with suburban areas being the worst hit, with 3% of the nation's suburban pubs lost over the past six months.
Stephen Langdon is part of a group of locals trying to save the Maiden Over pub in Reading, which has been threatened with conversion to a Tesco supermarket,  
"We found out just a couple of weeks ago that our valued local pub is shutting. My first thought on learning that Tesco were involved was that they would struggle to get planning permission for change of use -- I was stunned when I learned that there was no requirement for this at all. The reality is that our local pub, a genuine community venue and the only public meeting place within a large residential area, is very likely to disappear, and the local community has had scarcely any opportunity to voice an opinion on the matter."  
The Pubs Matter campaign is being launched at the Great British Beer Festival, CAMRA's flagship event. The festival will see more than 55,000 beer lovers attend the week-long event, which will feature some 900 different real ales, ciders, perries and international beers across a total of 29 different bars.
The facts on why Pubs Matter
Pubs support more than one million jobs and inject an average of £80,000 into their local economy each year.
Research by CAMRA found that two pubs are converted to supermarkets every week between January 2012-2014.
69% of pub-goers believe that a well-run community pub is as important to community life as a post office, local shop or community centre.
75% of all adults believe that pubs make a valuable contribution to life in Britain.
44 MPs have already signed a Parliamentary Early Day Motion in support of closing the planning loopholes. http://www.parliament.uk/edm/2014-15/208 
For further information on the Pubs Matter campaign or to submit your campaign as a case study visitwww.pubsmatter.org.uk 
* Pubs can be demolished or converted to a range of different uses without planning permission, including supermarkets, pet shops, funeral directors, dry cleaners, estate agents, cafes and restaurants. 
CASE STUDIES OF PUB CAMPAIGNS CURRENTLY FIGHTING TO STOP CONVERSIONS:
Pub Name: Buckingham Inn
Address: 141 Whitecross Road, Hereford HR4 0LS, West Midlands
Details: Tesco bought the lease of the former Buckingham Inn in March 2014. The local Hereford branch of CAMRA strongly opposed the plans. However the store is due to open by the end of the year.
Pub Name: King's Head
Address: 242 Coggeshall Rd, Braintree, Essex CM7 9E, East of England
Details: An application was made in December 2013 to convert it into a Tesco Express store.
Nineteen objections were received by the council and campaigners submitted a petition with 400 signatures. But despite the objections, the council granted planning permission for a new shop front and Tesco is due to open at the end of the year.
Pub Name: The Chequers (pictured below)
Address: Lodge Road, Bristol, BS15 1JA
Details: Tesco has bought the lease of the former pub and is in the process of converting it into a convenience store, due to open at the end of the year.
Pub Name: The Crispin
Address: Church Street, Chesterfield, S45 0AB, Derbyshire
Details: Pub purchased by Tesco. The local community (including the local Chesterfield CAMRA branch) is currently campaigning to save the pub. See image above of campaigners outside the pub.
Pub Name: The Crown
Address: Playhatch, Reading RG4 9QN, South East England
Details: Tesco planning to convert the local pub - despite opposition from local residents.. An online petition against a new Tesco store in East Reading has received 275 signatures and a "No to Cemetery Junction Tesco" Facebook page is "liked" by 393 people.
Pub Name: The Queen's Arms
Address: 2 Manor Road, Didcot, Oxfordshire, OX11 7JY
Details:  The local community -- including a 2,000 strong petition, and the parish council, are popposing the conversion of the former Queen's Arms to a Tesco store. The campaign group recently took part in a protest outside the site.
Pub Name: The Ship
Address: Aldwick Street, Bognor Regis, PO21 3AP
Details: The pub has been purchased by Morrison's which plans to convert it.
Pub Name: The Skipton
Address: Skipton Road, Harrogate, HG1 4PS, Yorkshire
Details: Local residents and councillors have been campaigning to prevent the Skipton from being converted to a Tesco Express. This follows the recent conversion of two other pubs in Harrogate to small supermarket stores.  
Pub Name: The Tramway
Address: 1 London Road, Kessingland, Lowestoft, NR33 7AA, 
Details: This 110 year old pub and hotel is under threat from a sale to Tesco. The local campaign group is currently investigating a community-buyout of the pub before it is sold to Tesco - more information athttp://www.savethetramway.co.uk/.