News
Students brew classic IPA with UK hops
Added: Monday, July 7th 2014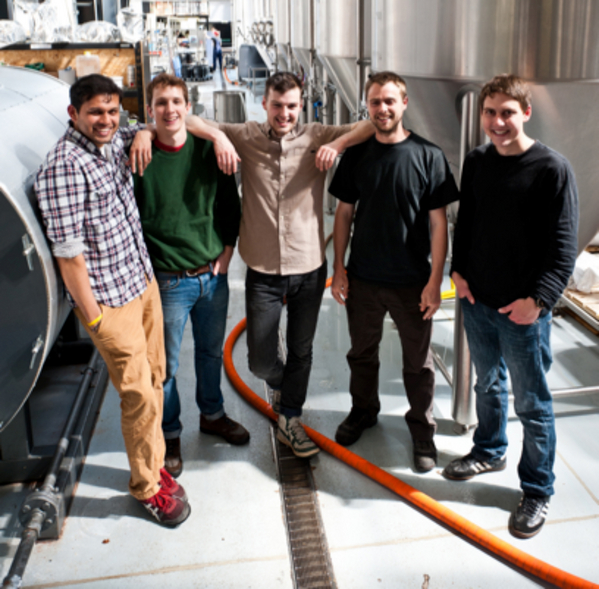 A team of students from Heriot-Watt University, Edinburgh, are bucking the recent trend in craft beer, by brewing a British-style IPA brewed exclusively with British hop varieties.
The popularity of beer has exploded in recent years and new breweries are filling their fermenters on a daily basis. The majority of beers produced today are stuffed full of hops from the US, Australia and New Zealand, and for good reason. The flavours and intensity these hops lend to beers has kept a new wave of beer drinkers satisfied for the past five years. This has led to growing concerns over supplies of hops and global shortages are threatening, driving prices through the roof. Pressure has increased on farmers to produce more hops and for brewers to use their supplies in creative and conservative ways.
The Natural Selection Brewing team has stepped up to this challenge by producing a beer that is classic in its inspiration but modern in its interpretation. Instead of focussing on the hops of the New World they have decided to focus on the hops of home producing a British-Style IPA brewed exclusively with British hop varieties.  
Natural Selection brewing say that "We wanted to challenge ourselves and challenge the beer drinking public to try something new, and so we produced the style they know best with hops that many have never experienced."
While brewing a British IPA with all British hops may not seem like a radical move on the part of the young brewing team, they are part of an exclusive band of brewers to brew such a beer. The team are incredibly proud of their efforts. "For five months we worked with countless varieties of UK hops to try and squeeze the best out of what this country has to offer. We won't lie, it wasn't always plain sailing and at times we almost threw in the towel and gave into the allure of the New World hops. By choosing modern British hop varieties from the past 20 years, including this year's developmental hop from Charles Faram, we were able to produce a beer that had flavours that were reminiscent of the IPA we know and love, but that was still distinctly British. This beer serves as a tribute to the hop farmers of Kent." 
Natural Selection Brewing is a project by five MSc students at the International Centre for Brewing and Distilling, Heriot-Watt University. The project is a collaborative effort between the students, and Stewart Brewing company who let us brew at their brewery and help instil some knowledge, giving us a leg up in the brewing industry. 
From L-R: Amaey Mundkur, Doug Rowe, Jonathan Hamilton, Ben Thompson and Craig Thomas
The project involves designing, branding, marketing and selling a beer in Edinburgh and beyond. Described as more phoenix than a cuckoo brewing project, the team and beer style changes each year. To date we have seen a red ale called Finch, a summer wheat beer named Anorak, and a New World Saison called Origin.  
We decided to brew an IPA that was classic in its inspiration but modern in its interpretation. Instead of focussing on the hops of the New World, the world that Darwin himself visited, we decided to focus on the hops of home by brewing an IPA using only British grown hops. Mutiny on the Beagle uses a blend of four different UK hops all developed in the last 20 years including developmental hops from last year's harvest.
The beer launches on July 9th 6pm-11pm at Summerhall courtyard, a huge space which we hope to fill with beer fans from across Edinburgh. Not only will this be the public's first opportunity to try Mutiny, there will be live music, food provided by Jones and Sons BBQ, and beers from both Stewart Brewing and Summerhall's resident brewery Barneys. There are various pourings in bottleshops throughout July and events in Newcastle (Free Trade Inn, 16 July) Glasgow (Drygate, 17 July), St Andrews (St Andrews Brewpub, 19 July), a special pub quiz (Mathers, Edinburgh 23 July) and a final evening of food pairings and one-off beers at the Hanging Bat, Edinburgh 30 July.
*The hops used are: aroma --Admiral and First Gold; bittering -- Pilgrim; dry hopping -- Admiral, First Gold and Development Hop #1391.