News
Medieval beer marks Magna Carta signing
Added: Thursday, July 3rd 2014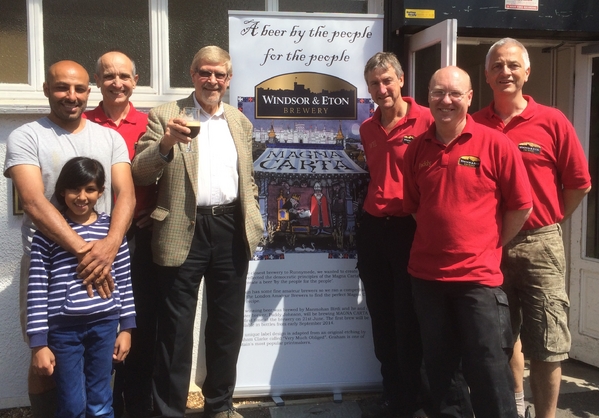 Magna Carta, a beer that will celebrate the 800th anniversary of the signing of the "Great Charter" in 2015, will be unveiled in September by Windsor & Eton Brewery. The brewery is close to Runnymede on the Thames where King John bowed to the demands of leading barons for limited democracy and the right of habeus corpus.
The beer, which will be available in cask and in bottle-conditioned format, uses herbs and spices, mirroring the custom of brewing in the Middle Ages to add "gruit" as a flavouring for beer and to balance the biscuit character of malt. The brewery ran a competition with London Amateur Brewers – a group of dedicated home-brewers – for the best recipe for a Magna Carta ale. Twelve beers were produced and the best was brewed by Manmohan Birdi – known as Man -- an osteopath from Rotherhithe in South-east London. He brewed his own prototype version of the beer and then helped "mash in" a commercial brew at Windsor & Eton. (Man is seen above with his daughter Jani and the founders of the brewery and the writer.)
Man Birdi used pale, crystal and black patent malts in his beer, along with dark caramelised sugar. Two English hops – East Kent Goldings and Fuggles – added bitterness and Man also added ground ivy, liquorice and yarrow. He wanted to use bog myrtle, a common addition to medieval beer, but he was unable to find samples of the plant. He bought his ingredients from a herbalist in SE London.
At the brewery, caramelised sugar was replaced with invert sugar and Man and his daughter Jani spent an hour or two breaking chunks of sugar into slivers that were then transferred to the copper for the boil with hops, herbs and spices.
Man's prototype is 6.6% alcohol but the commercial brew will be stronger at around 7.2%, which means the bottle-fermented version will be ideal for laying down for a year or two. Man's version was dark copper in colour and had a big hit of liquorice on the nose, with rich malt, herbs and spices. Bitter and peppery hops build in the mouth with a continuing powerful liquorice note alongside dark grain and herbs. The finish is bittersweet with herbs and spices starting to dominate, along with notes of hop resins and rich, dark grain.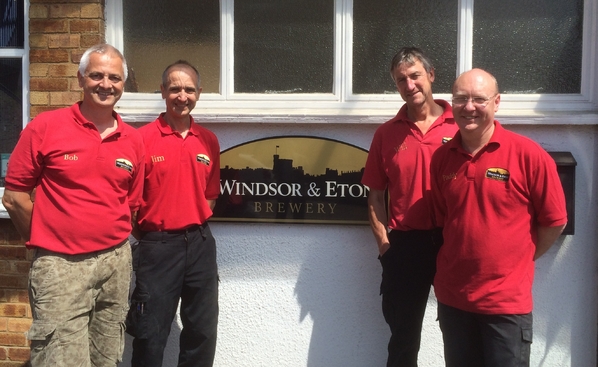 Down-to-earth brewery in posh town
Windsor & Eton brewery is at the end of a residential street, with trains rumbling over a Brunel railway arch a few yards away and the castle standing sentinel over the Royal Borough in the background. If Windsor and Eton are posh – homes to kings, queens and public school – the founders of the brewery are mercifully down-to-earth: 'Four blokes in their mid-50s who wanted to start a brewery,' in the words of Paddy Johnson, the head brewer. He and Will Calvert had worked for Courage at the Reading Brewery while Bob and Jim Morrison brought engineering and marketing skills from their previous jobs. They found a site in 2009 and on 23 April 2010 – both St George's Day and Shakespeare's birthday – launched their first brew of Guardsman Best Bitter.(Pictured left to right: Bob and Jim Morrison, Will Calvert and Paddy Johnson.)
The four didn't borrow any money. They invested their savings or mortgaged their houses to install a custom-built brewing plant made in the home of brewing, Burton-on-Trent. Fittingly, it's a very English piece of kit, based on mash tun and copper but as the fermenters are conical, with yeast cropped from the bottom, they are able to brew a proper lager as well as ales. The lager – conditioned for six weeks and using a yeast culture from the Czech Republic -- is called Republika, a brave name to use in Windsor but the people up in the castle don't seem to mind. When the Queen visited the Pope in Rome earlier this year, she took him a bottle of Coronation Ale brewed specially for the occasion by W&E and some of the brewery's Maris Otter malting barley is grown on one of the royal farms.
Guardsman, the flagship beer, is English to its fingertips, brewed with Maris Otter and Fuggles and Goldings. Windsor Knot genuflects with a hop called Sovereign and one from the Commonwealth, Nelson Sauvin from New Zealand. Kohinoor IPA recalls the day of empire with jasmine petals and cardamom seeds added to malt and hops while Knights of the Garter is a fashionable golden ale with big citrus notes form Admiral and Amarillo hops.
*Follow the progress of Magna Carta Ale and its availability on www.webrew.co.uk. Below, the label for the beer.