News
Wetherspoons hits Dublin with cask beer
Added: Monday, June 30th 2014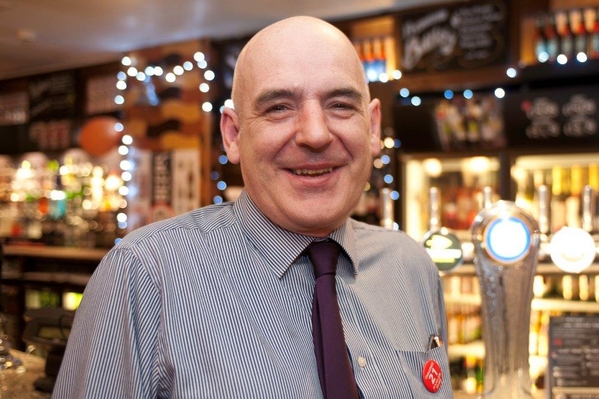 Real ale will hit Dublin in a big way when British pub operator JD Wetherspoon opens its first pub in Ireland in Blackrock, Dublin, on 8 July. The company has spent €2.38 million (£1.9 million) developing the outlet, on the site of the former Tonic Bar, in Temple Road, Carysfort Avenue.
The Three Tun Tavern will be managed by John Hartigan (above) and will specialise in cask ale, serving a wide range of beers, including many from local and regional brewers. There will be up to 12 handpumps on the bar – the biggest number of any pub in the Irish Republic.
Among the beers are Tom Crean's Irish Lager from Dingle Brewery, Franciscan Well Rebel Red from Cork and craft beers from Eight Degrees Brewing, including Howling Gale, Knockmealdown Porter and Barefoot Bohemian Pilsner. British cask ales that will feature include Adnams Broadside and Ghost Ship.
The new pub will offer a contemporary drinking and dining experience, while drawing on the rich and varied past of the area. At the heart of the pub, the curvaceous oak bar reflects the essence of a tun, a large beer cask or barrel, while the interior design is based upon the concept of "faded grandeur", in homage to the grand houses of 18th century Blackrock, many of which have since disappeared.
Exposed brick walls and textured plaster sit side by side with polished panelling and refined light fittings, to create a shifting visual landscape of modern and bygone eras.  There is also a "reading room", with panelled ceiling and vintage books dedicated to Blackrock's most famous author, James Joyce.
Photos, a local history board, commissioned artwork by local artists and information boards relating to events, historical buildings and characters of the area will be displayed in the pub. Included in the artwork are original works from Dublin-born impressionist artist Gerald Hegarty, who lives and works in Blackrock. A lithograph from Dublin-based Renate Debrun is also part of the collection, as well as an original John Alexander Halliday piece, titled View From Deepwell, which depicts a view from the terrace at Deepwell, across Dublin Bay.
Manager John Hartigan, who is Irish and has run a Wetherspoon's pub in North London, said: "My team are looking forward to welcoming customers into the pub and we are confident that it will be a great addition to the Blackrock community."
The one thing missing from the pub will be Guinness as Wetherspoon has failed to reach agreement with the Irish giant.