News
Highgate: end of Dark Mild era in Walsall
Added: Tuesday, June 17th 2014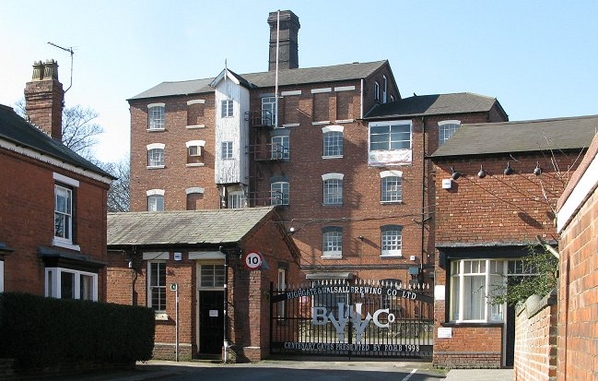 The long, slow death of the Highgate Brewery seems to have finally reached burial point with the Victorian site in Walsall, West Midlands, going under the auctioneer's hammer for £850,000. It marks the end of not just a magnificent brewery – packed with copper vessels and wooden fermenters – but also of dark beers that refreshed generations of working people in the local factories and leather works.
A property group thinks the site will make excellent apartments. As it's Grade-II listed, the facade will have to remain intact but Highgate Dark and Old will not see the light again. The death of the brewery has nothing to do with lack of interest in the beers but is yet another saga of corporate greed and stupidity, with the company endlessly sold on in a grisly game of pass-the-parcel.
The brewery in Sandymount Road – incongruously sited at the end of a row of residential villas – opened in 1899 specifically to refresh workers in the local leather factories. Using local water rich in iron and chloride, the brewery concentrated on dark beers, with Mild and Old "parti-gyled". This means that when a batch of 5.2% Old was made, brewing water or liquor was then added to produce the 3.2% Mild. The recipe called for two tonnes of Halcyon pale malt, 65 kilos of black and 15-20 kilos of crystal malt for every 100 barrels brewed. The hops were Fuggles and Goldings.
Mashing took place in two ancient tuns originally made from wood and re-lined with stainless steel but retaining hand-raised wooden lids. Boiling took place in two burnished coppers with internal calandrias (heating tubes: similar to a coffee percolator) topped by funnels known as Chinese hats. The fermenting room was packed with a variety of round and square vessels, once made from wood but lined to keep bugs at bay.
Maltose syrup and caramel were added to the grains. The Mild had a complex aroma and palate of dark fruits, chocolate and liquorice and a dry, nutty flavour. The hops were Fuggles and Goldings. Old Ale had a massively fruity and roasted character with a bittersweet palate and finish in which bitter hops and rich fruit combined.
At its peak, Highgate produced 100,000 barrels a year and owned 400 pubs. In 1914 a woman head brewer, Agnes Mountfield, was appointed and she remained in office until 1939. In the same year, Highgate was bought by the large Mitchells & Butlers brewery in Birmingham, which in turn was taken over Bass of Burton-on-Trent in 1961.
Bass made much of the fact that Highgate was the only brewery in its group to make only dark beers but it nevertheless decided to close the plant in 1995. It was rescued by a management buy-out led by Steve Nuttall and head brewer Neil Bain, who raised £600,000 to buy the brewery.
Stripped of its pubs, Highgate struggled and it was eventually sold to the Aston Manor brewing company, which made keg beer and cider. In 2007 Aston Manor sold Highgate to the Global Star company, now Empire Star, which sold it on to property developers.
In spite of a vigorous campaign by Friends of Highgate Brewery, brewing ceased and now the buildings will be turned into apartments. It's the sad end of a brewery that was one of many in the Birmingham and Black Country region that specialised in dark mild. It's not known what will happen to the splendid brewing kit: no doubt a few skips will be ordered by the new owners to dispose of equipment that's surplus to requirements but are of great historic value.