News
MPs praise Norwich stars of City of Ale
Added: Tuesday, June 10th 2014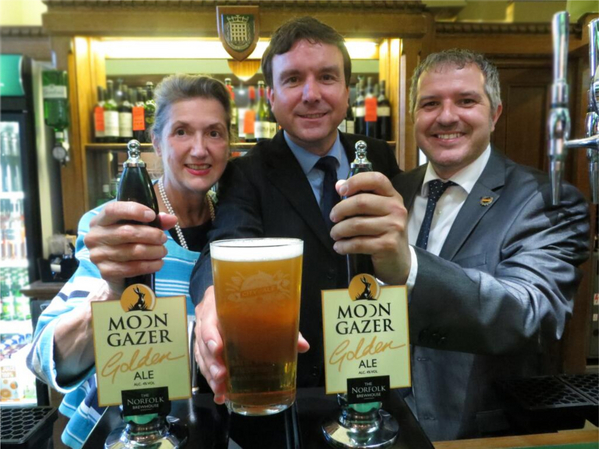 Norwich City of Ale has put pubs in the spotlight, MPs said after meeting the key organisers of the annual event on 9 June. They were invited by the Parliamentary Beer Group to meet at Westminster and discuss the secrets of their success.
City of Ale was represented by Dawn Leeder and Phil Cutter, joint organisers of City of Ale, along with Nick Bond, head of Visit Norwich, Stefan Gurney, executive director of Norwich BID, and David Powles, assistant editor of the Eastern Daily Press.
The members of the Beer Group praised the organisers for working together to bring beer drinkers into local pubs and also attracting people to Norwich from other parts of the country.
The delegation explained that City of Ale was launched in 2011 and today the event includes 44 pubs, 39 breweries, 247 local ales and more than 200 events.
Andrew Griffiths MP, chair of the Beer Group, said: "All too often we are trying to react to negative stories about the brewing and pub industry. It's very easy to write a story about anti-social behaviour or binge drinking or the negative effects of alcohol." But he said MPs in the group believed in the positive side of the industry, including the jobs it creates and the impact it can have on a community.
"It's great to see people promoting all the good things about pubs," he added.
The MPs said they would circulate information about City of Ale to all members of the House of Commons with the suggestion that other towns and cities might follow Norwich's lead. Dawn Leeder said the attributes a place might need to replicate Norwich's success was an historic compact, a walkable city and a strong brewing tradition.
Pubs Minister Brandon Lewis, the MP for Great Yarmouth, said City of Ale was doing something unique. "Beer festivals get people together but this is getting people into pubs," he added. "There's more to pubs than beer. Pubs are a really safe place for a drink, to go with the family and have some food with friends."
*Pictured above: Dawn Leeder and Phil Cutter with Andrew Griffiths MP.