News
Top chefs launch own beer to match food
Added: Saturday, June 7th 2014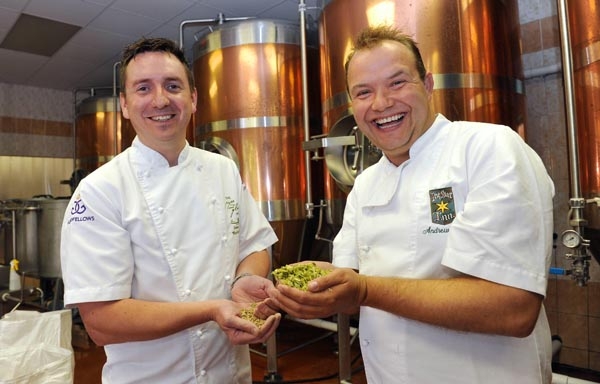 Two top Yorkshire pub chefs have collaborated to launch a beer specifically designed to accompany food. Two Chefs Honey Beer, 4%, is brewed with Yorkshire honey and a touch of lemon thyme. The honey is fermented out and the beer has a dry palate and finish, overlain by a creamy honey note and a touch of lemon, with a good balance of juicy malt and hop bitterness.
The beer has been created by The Great Yorkshire Brewing Company for James Mackenzie of the Pipe & Glass near Beverley (pictured left) and Andrew Pern of the Star, Harome. Both pubs are acclaimed for their food: Mackenzie has a coveted Michelin star and Pern has won the gastro-pub of the year award. But they're not wine snobs and realise that pubs have to serve good beer, which is just as welcome at the dining table as wine.
At their pubs you will be able to enjoy such dishes as tagliatelle of corned-fed guinea fowl, battered oyster and lemon balm fritters, dairy goats' cheese soufflé, Barnsley chop, East Coast lemon sole, risotto of wild garlic with broad beans, and Wye Valley asparagus with duck egg and fennel, washed down with glasses of succulent Honey Beer. They plan a dark winter beer as well that will be a rewarding companion to hearty dishes. The beer is also available in bottle and can bought from online: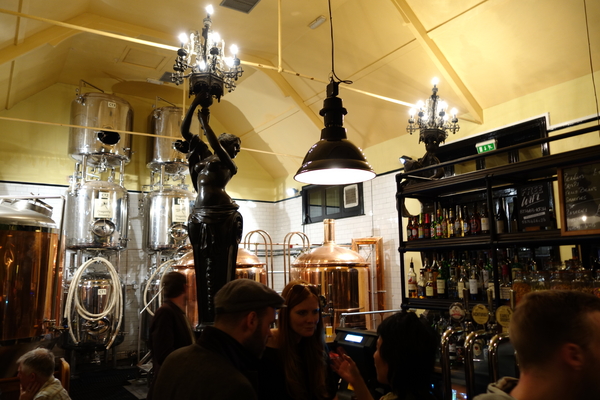 A superb pub in Acton, West London, the George & Dragon, 183 High Street, London W3 9DY, has re-opened with its own in-house brewery and again with an emphasis on beer-and-food matching. The pub is a former coaching inn on the road to Oxford, and became a coffee house in the 18th century. It has a number of wood-panelled rooms with open fires and settles. The bar is sited at the back of the pub and beyond it is a new micro-plant, the Dragonfly Brewery (pictured above).
The gleaming vessels were built in China and they can produce 1,000 litres of beer per batch. The brewer is Conor Donoghue from Dublin who has worked in other London brewpubs, including the Botanist in Kew, before taking over brewing duties in Acton.
You won't be surprised to learn that Conor turns his hand to a brilliant stout, Dark Matter, along with a Best Bitter called 2 O'Clock Ordinary, Early Doors pale ale and a German-style wheat beer called Achtung. The beers are excellent and bursting with malt and hop character: Conor uses no fewer than six different American hops in his pale ale.
I was fascinated to find that while 2 O'Clock Ordinary is sold only on hand pump and Achtung is a pressurised beer, Dark Matter and Early Doors can be sampled in both cask and "craft keg" form: filtered but not pasteurised, with low gas content but served at a lower temperature than cask ales.
The pub is keen to match the beers with food and offers such culinary delights as pork pie and chilli, sausages and English mustard, black pudding fritters with beetroot ketchup, salmon and salt cod fishcakes, Dark Matter rarebit, beer fondue with garlic soldiers, and sweet potato and pulled pork hash. The beers are used in such dishes as the rarebit and the fondue.