News
Pub lovers join forces to save their locals
Added: Monday, March 31st 2014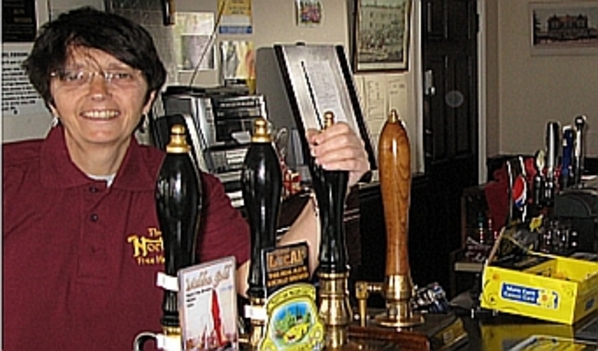 New research released by CAMRA, the Campaign for Real Ale, shows that more than 50 pubs in Britain are run by their communities -- and many of them faced closure before they were saved by local people. The rapidly growing list of community-owned pubs, released to mark the start of April's Community Pubs Month, represents a growing trend of communities saving their local pub by buying and running it themselves.
"The Great British pub is something unique and deserving  of protection and it is inspiring to see so many communities across the UK fighting to save their local by raising the money to purchase it themselves. With 28 pubs closing every week there is still much more that needs to be done to protect pubs, but it is heartening to see that the desire and drive to save pubs is something which is clearly there among the pub-going public,"  says CAMRA chairman Colin Valentine.
One example of a communit-owned pub that is thriving is the Norton Community Pub in the tiny village of Cold Norton in Essex (licensee Debbie Guppy is pictured behind the bar). The Norton was the first community pub to be included in CAMRA's Good Beer Guide yet was threatened with permanent closure in 2007, when the villagers formed a committee to run the pub and safeguard its future. Shares in the pub were sold and raised more than  £100,000, £20,000 over the original target, with 70% of the share uptake coming from the villagers themselves and the remaining 30% comprising individual CAMRA members from Essex and further afield.
Another example at the opposite end of England is the Old Crown in Hesket Newmarket, Cumbria (pictured below),which is believed to be the first co-operative pub in the country, formed more than a decade ago in 2003 and owned by 100 local residents. Julian Ross led the bid by locals to take ownership of the pub,
"People say they don't care about making a return on their investment. They want to preserve something that is important for the community. This is a cosy, friendly pub, which you can go into whether you're wearing your wellies, walking boots, or a suit, and you won't come out without speaking to someone. Regulars and visitors alike always find a warm welcome, great home cooked food (including the famous Old Crown curries), a friendly smile and a truly superb range of real ales," Julian says.    
Many of the pubs that have most recently been purchased by their local community came about after being listed as Assets of Community Value, or ACVs. This means that if they are threatened with closure the local community is notified and given a six month period to raise the money to purchase the pub.  
Community Pubs Minister Brandon Lewis pledges support for Community Pubs Month:"Pubs are at the heart of thousands of villages and towns across the country providing an essential place for millions of people to get together, this is why campaigns such as CAMRA's community pubs month are vital in getting people to go to their local," he says.   
"The government is also playing its part to support the local pub by abolishing the previous government's cider tax, cutting red tape on live music in pubs and, as the Chancellor announced in the budget, by taking another penny in tax off a pint.  We have also given people the power to list local buildings as assets of community value to protect them from sell off, and so far this has included 300 pubs and I know that working with CAMRA and its members we will get that number higher still."
CAMRA has announced it has reached its target of 350 pubs listed as Assets of Community Value across the country and that the campaign's sights are now set on adding a further 100 in the next 12 months.
For more information on Community Pubs Month visit www.communitypubscampaign.org.uk  
Case study: On-going community campaign to purchase a pub
The White Swan, Charlton (SE7 8UD)
In early 2014 the Charlton Society, the local amenity group, applied to list the White Swan as an Asset of Community Value (ACV) after worries about the pub's future. At the same time Punch Taverns, the White Swan's freeholder, put the pub up for sale at £950K – clearly priced "suitable for alternative use".  As Punch has taken to leasing pubs directly to Tesco, without the protection of ACV, the property was under genuine threat of being lost forever as a pub.  
But on 14 March, in a four weeks turnaround time, ACV was granted by Greenwich Council, and now the Charlton community is considering how best to bring the pub into community ownership with a £1 million fund-raising project ahead.
List of Community owned pubs
| | |
| --- | --- |
| PUB NAME | ADDRESS |
| Angel | 15 Cross St, Grosmont, Monmouthshire, NP7 5EN |
| Anglers Rest* | Bamford, Derbyshire, S33 0DY |
| Barge Inn | Honeystreet, Wiltshire, SN9 5PS |
| Beauchamp Arms | Dymock, Gloucestershire, GL18 2AQ |
| Bull, The* | Sheep Street, Great Milton, Oxfordshire, OX7 3RR |
| Butchers Arms | Crosby Ravensworth Penrith, Cumbria, CA10 3JP |
| Cadeleigh Arms | Tiverton, Cadeleigh, Devon, EX16 8HP |
| Cherry Tree | Laburnum Drive, Willingham, Lincolnshire, LN3 4AS |
| Crown | Dilwyn, Hereford, Herefordshire, HR4 8HL |
| Cwmdu Inn | Cwmdu, Llandeilo, Carmathenshire |
| The Dolphin | Bishampton, Worcs, WR10 2LX |
| Dykes End | Fair Green, Reach, Cambridgeshire, CB25 0JD |
| Earl of Chesterfield | Shelford, Nottinghamshire, NG12 1EQ |
| Farriers Arms | The Forstal Mersham |
| Fleece Inn | Hillesley, Gloucstershire, GL12 7RD |
| Foresters | Carlton in Coverdale, North Yorkshire, DL8 4RU |
| Fox & Goose* | Hebden Bridge, West Yorkshire, HX7 6AZ |
| Fox & Hounds* | Charwelton, NN11 3YY |
| Fox & Hounds | Ennerdale Bridge, Cumbria, CA23 3AR |
| George and Dragon | Hudswell, Richmond, North Yorkshire, DL11 6BL |
| Golden Ball | Bishopshill, York, YO1 6DU |
| Green Man | Mill End Green, Toppesfield, Essex, CM6 2DN |
| Green Man, The | 2 Lower St, Thriplow, Royston, SG8 7RJ |
| Greyhound Inn* | Grizebeck, Cumbria |
| Heneage Arms | Hainton, Lincolnshire, LN8 6LX |
| Holly Bush Inn* | Seighford, Staffordshire, ST18 0BX |
| Hope, The | 48 West Street, Carshalton, Surrey, SM5 2PR |
| Jolly Brewers, The | 5 Fen Road, Milton, Cambridge, CB24 6AD |
| Jolly Farmer | Cookham Dean, Berkshire |
| Kings Arms* | Shouldham, Kings Lynn, Norfolk, PE38 0BY |
| Merrie Lion | Brook Street, Fenny Compton, Warwickshire, CV47 2YH |
| New Inn | Shipton Gorge, Dorset, DT6 4LT |
| Norton Community Pub, The* | 54 Latchingdon Road, Cold Norton, Dengie, CM3 6JB |
| Old Crown Pub | Hesket Newmarket, Wigton, Cumbria, CA7 8JG |
| Pengwern, The | Y Pengwern, Church Square, Llan Ffestiniog, Gwynedd, LL41 4PB |
| Plough and Fleece, The | High Street , Horningsea, North East Cambridge, CB25 9JG |
| Punchbowl Inn | Battisford, IP14 2LQ |
| Raven Inn, The | Ffordd Rhiw Ial, Llanarmon-yn-Ial, Ruthin, CH7 4QE |
| Red Lion | Arlingham, Gloucestershire, GL2 7JH |
| Red Lion, The | The Green, Preston, Hitchin, Hertfordshire, SG4 7UD |
| Rose and Crown | Slaley, Hexham, Northumberland, NE47 0AA |
| Royal Oak Inn, The | Meavy, Devon, PL20 6PJ |
| Saith Seren Pub | Chester Street, Wrexham, Wales, LL13 8BG |
| Seven Stars | Marsh Baldon, Oxfordshire, OX44 9LP |
| Shurlock Inn | The Street, Shurlock Row, West Berkshire, RG10 0PS |
| Sorrel Horse | Hollesley Rd, Shottisham, Suffolk IP12 3HD |
| Star Inn | Lidgate, Suffolk, CB8 9PP |
| Star Inn, The | 2 Back Hope Street, Salford, North Manchester, M7 2FR |
| Stoke Canon Inn | High St, Exeter, Devon, EX5 4AR |
| Tally Ho* | Hungerford Newtown, West Berkshire, RG17 0PP |
| Three Horseshoes | Thursley, GU8 6QD |
| Tyn-Y-Capel | Minera, Wrexham, LL11 3DA |
| Village Swan | Ivinghoe Aston, Bucks Mid-Chilterns , LU7 9DP |
| White Hart | Wolvercote, Oxfordshire, OX2 8QA |
| White Horse, The | Brancaster Staithe, Upton, Norfolk, PE31 8BY |
| Yarcombe Inn, The | A30 between Honiton and Chard, Yarcombe, EX14 9BD |
*Pub listed as an 'Asset of Community Value' (ACV)