News
Orkney's island hopping ale makes waves
Added: Sunday, March 30th 2014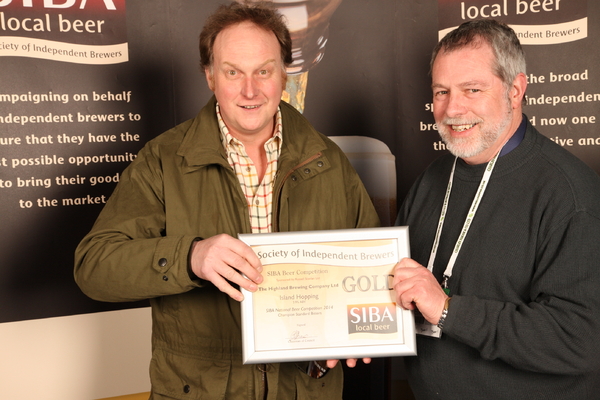 A cask ale from the innovative Highland Brewing Company has been proclaimed one Britain's top champion beers. 
The fast growing Swannay Brewery on Orkney Island is toasting the Gold award triumph for Island Hopping  (3.9%) in the standard strength class at the SIBA (Society of Independent Brewers) National Beer Competition 2014.
It was one of just a handful of beers to win a Gold award, from around 2,000 that entered the initial regional heats of the competition. The 300 finalist beers were judged by a panel of industry experts and beer enthusiasts at the annual BeerX celebration of British beer in Sheffield.
Celebrating the latest SIBA success, founder and head brewer Rob Hill said: "We were delighted to win the Scottish competition but this is a fantastic win against serious competition from some of the finest brewers in the country -- and the ultimate endorsement that we are consistently brewing top class cask ale.
"We are enjoying sales growth of some 30 per cent year-on-year and this win further boosts our confidence to plough ahead with our plans to invest in growing the business for the future."  
Brewed with American and New Zealand hops, the hoppy pale beer first beat all 80 challengers for the title of Scotland's best standard strength ale (less than 4%) at the regional contest in Glasgow last November. It was the second consecutive year of triumph for Highland at the top Scottish contest – winning in 2012 with Pale Ale (4.7%).
SIBA chief executive Julian Grocock said, "The number of smaller brewers has grown rapidly over recent years, meaning there are ever more brewers competing for the top prizes. To progress to the national finals is impressive in itself, and to then come through to win one a Gold award is a real achievement. Our hearty congratulations go to Highland Brewing Co.
The award is the second national accolade for Highland already this year. At the CAMRA (Campaign for Real Ale) National Winter Ales Festival in February, Orkney Porter (9%) claimed bronze in its class.
And at the Dorchester BeerX Festival, the brewery's Duke IPA (5.2%) took the top Beer of Festival title. This is a fiercely contested CAMRA event for the West Country.
A family-run, 20 barrel brew-length plant (5,760 pints), Highland Brewing Co was founded in 2005. Since then the beers have won world acclaim -- including Champion Cask Ale for Orkney IPA at the Brewing Industry International Awards 2011.   The brewery is now poised for investment in new plant for further growth as the beers reach customers across the UK.
Highland's ales are supplied directly to some 300 outlets throughout the Orkney Islands, mainland Scotland and the North East of England while also reaching many outlets throughout the UK via leading wholesalers.
*Pictured: Highland's Rob Hill receiving his Gold award from SIBA chairman Guy Sheppard.