News
Digging up history in a Cornish beer bottle
Added: Thursday, March 20th 2014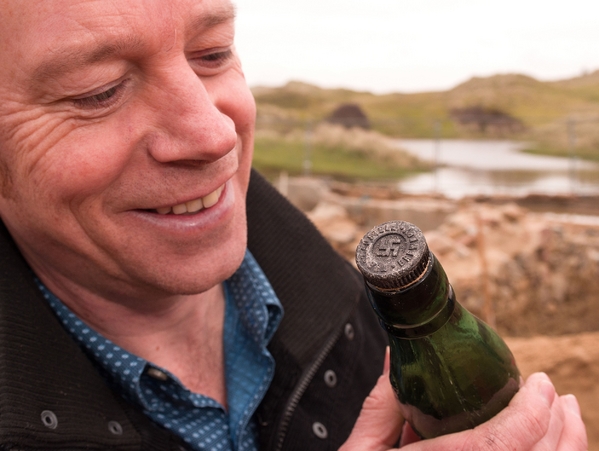 Archaeologists unearthing the secrets of St Piran's Oratory in the shifting sands at Perranporth, Cornwall, have discovered what might have been sustaining the patron saint of Cornwall through his long slumber across the years – a vintage bottle of Walter Hicks Ale from St Austell Brewery. 
The bottle, thought to date from around the time of the encasement of the oratory back in 1910, is in immaculate condition and came out of the sand intact with a swastika inscribed on top. This was a feature of early brewery bottle tops representing the Sanskrit symbol for brewing and fertility, later removed once the symbol had been adopted elsewhere as the badge of a more sinister master. 
According to site manager and lead archaeologist James Gossip, the bottle was most likely left in the sand by a thirsty worker back in 1910 when the oratory was encased in a concrete structure in an attempt to protect it from the encroaching sand and waves. This was later removed in the 1980s, allowing the current excavations to expose the original stonework of the ancient oratory – and the leftovers of its previous explorers. 
St Austell Brewery archivist Chris Knight (pictured above), informed of the find by St Piran Trust Chief Eileen Carter, was delighted with the discovery, "There are plenty of stories about St Piran and his fondness of the hop, so it's appropriate that some quality local ale managed to find its way on to such a hallowed site. 
"There's a small amount of the original ale left in the bottom of the bottle as well so, who knows, we might just be able to work out which of Walter's ales played its small part in the conservation of the site." 
For more information about this and other vintage brewery artefacts, contact the St Austell Brewery Archive Research project at archive@staustellbrewery.co.uk