News
Author Danny Wallace brews beer with Truman's to boost Nicholson's pub festival
Added: Thursday, March 20th 2014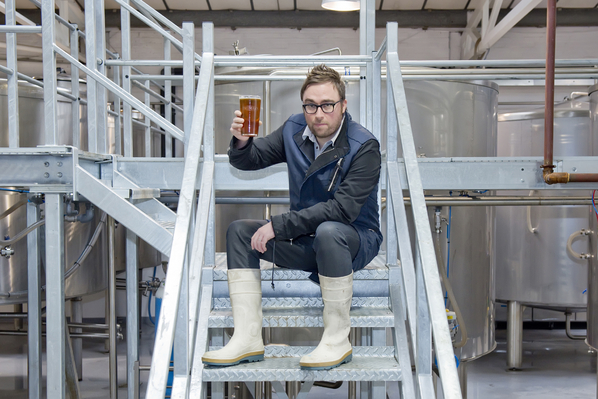 Nicholson's Pubs will launch the new collaboration beer by British journalist, author and presenter Danny Wallace and Truman's Brewery during the forthcoming Nicholson's Spring Ales Festival. Tom Ditto IPA (5% ABV) has been created to mark the release of Wallace's new novel Who is Tom Ditto? published by Ebury Press on the 24 April. Nicholson's will be the first to exclusively distribute the beer nationwide across its 77 pub estate during its festival which takes place during the 24 March–19 April 2014.
Wallace, pictured above in Truman's Brewery at Hackney Wick, has long professed an admiration for historic pubs and coincidentally includes two of Nicholson's London pubs, the Bear and Staff and the Dog and Duck, in the new book.  Reflecting the east London home of the main key character, Nicholson's worked with Truman's, one of the greatest names in east London brewing, to help provide a truly fitting beer to celebrate the novel's arrival. 
The American-style IPA combines the best of British and US hops including Challenger, Centennial and an experimental hop called Wallex to mirror the dual settings of London and New York in the book.  The secondary character in the book - Pia (an anagram of IPA) resulted in a classic pale gold IPA brew, offering hoppy aromas of citrus zest and fresh red fruits.  Full of juicy hoppy flavours, it has a refreshing seam of bitterness to balance the malt sweetness. 
"Working with Danny was a blast – he really wanted to get into the nitty gritty of brewing and understanding what makes beers 'tick'.  After a great deal of chewing malt, smelling hops and tasting beer – Tom Ditto IPA was created," said James Morgan, Truman's Brewery founder.
"I have done my best to brew the greatest beer of all time, which I fully intend to enter into the Booker Prize next year," says Danny Wallace. "The judges will find it intoxicating and moreish, and at 5% ABV, they'll certainly be thinking about it the next morning. I hope that fans of both Truman's beers and Nicholson's pubs will giveTom Ditto IPA a try, because the book will certainly be a lot funnier after a couple of pints."
The writer, presenter and Sunday Times best-selling author has written six non-fiction books, including Yes Man which became a hugely successful film with Jim Carrey in the lead role.  As well as contributing to Shortlist and GQ, his first novel Charlotte Street was published in 2012 and has been optioned for film by Working Title. 
As well as exclusively showcasing the beer throughout the four week festival, Wallace's new book will be promoted across the 77 pub estate through POS and book signing events will take place across selected Nicholson's Pubs in key regions in May. 
Ben Lockwood, Assistant Brand Manager for Nicholson's Pubs, says "We're always looking for innovative beers to showcase during our festivals and to have something as seasonally refreshing and interesting as Danny Wallace's beer will be a highlight for us.  Danny is a great ambassador for British pubs with a real enthusiasm for beer as well, so we're pleased to be able to use this in a really engaging and innovative way for the benefit of our ale loving guests."
To find your nearest pub visit www.nicholsonspubs.co.uk or follow @Nicholsonspubs on Twitter and on Facebook for news updates, events and offers during the festival.
Who is Tom Ditto? by Danny Wallace is published in hardback by Ebury Press on 24 April, priced £12.99.
To find out more about Danny Wallace visit www.dannywallace.com or follow him on twitter @dannywallace