News
SIBA unveils national beer champions
Added: Friday, March 14th 2014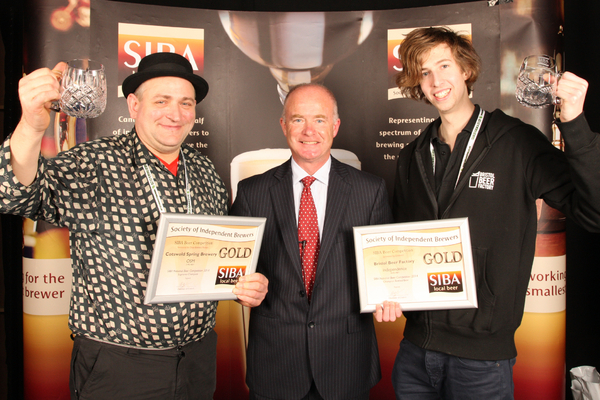 The Society of Independent Brewers (SIBA) has announced three Supreme Champions and 60 medal winners in its National Beer Competition 2014.  The winners were unveiled at the organisation's BeerX event in Sheffield. 
Top honours and the Supreme Champion titles went to: OSM (Old Sodbury Mild) from Cotswold Spring Brewery in the cask category; Fuller's London Porter in keg and Independence from Bristol Beer Factory in bottled beer. Each was selected from the Gold medal winners for their category.
All Gold, Silver and Bronze medal-winning beers were chosen at a judging session on Tuesday which marked the start of BeerX.  A panel of around 100 brewers, industry experts, local licensees and beer enthusiasts assessed the 300 finalist beers, which had all earned their place in Sheffield by winning a medal at one of SIBA's eight regional beer competitions. 
SIBA chief executive Julian Grocock said: "With close to 800 brewers now within SIBA's membership, competition for a medal is intense at both regional heats and the national final. To win a place at the final judging at BeerX is an achievement in itself and we applaud all our finalist brewers as well as the medal and trophy winners. 
"While coming away with an award is of course a tremendous accolade, every brewer here today is a winner. For many of our finalists, the BeerX Festival of Beer is a unique opportunity to put their brews in front of new drinkers outside their heartland. Helping our members to expand distribution of their beers has always been one of SIBA's key goals and we hope that BeerX results in additional sales for many of them."
Mark Frankcom of Cotswold Spring Brewery said, "It is an extraordinary accolade to be judged the best cask beer by our peers at this great beer competition. We're very proud of OSM, which is based on a traditional local recipe and produced from 100% malted ingredients."
For Bristol Beer Factory, brewer Jonny Mills said, "We are always trying to make the best possible beers, and it is wonderful to win the top award at the best beer competition in the UK."
All Bronze, Silver and Gold award winners received their certificates and trophies on stage at BeerX from BBC Radio food and drink broadcaster Nigel Barden and SIBA commercial director Nick Stafford.
Caption to image above:(l-r) Nik Milo of Cotswold Spring Brewery; SIBA commercial director Nick Stafford and Jonny Mills of Bristol Beer Factory.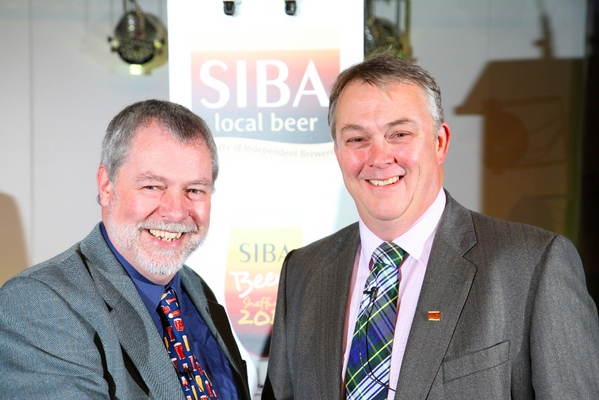 The Society of Independent Brewers (SIBA) has named Guy Sheppard of Exe Valley Brewery as its new chairman, succeeding Keith Bott. At its AGM in Sheffield, members also voted for a change in SIBA's structure which will merge the management of the trade association and the commercial arm, until now run as a separate entity.
The new unifying structure follows an in-depth strategic review of SIBA, developed around a vision for the organisation to "build the future of British beer" and examining both its trade association activities including political lobbying, training and membership services, as well as its successful commercial wing.
Underpinning the recommendations of the review was a desire to put members at the heart of SIBA.  Under the new structure, the unified board will comprise 24 trustees from SIBA's eight regions, a new managing director and finance director, as well as three non-executive directors.  The trustees will, as currently, set strategy for and ratify decisions by the executive, led by the MD.
Proposing the motion to change the structure, Bott said, "SIBA is unusual if not unique among trade bodies as having a thriving commercial arm in addition to our conventional trade association activities. Bringing these two aspects of the organisation together puts us in a far stronger position to move forward and help our members to thrive within a favourable political, commercial and social environment for British beer.
He continued: "SIBA brewers have been at the forefront of the resurgence of interest in British beer and we're delighted with the change in perceptions of beer among consumers, retailers and politicians, which recognises beer as the responsible alcoholic drink. Last year's cut in beer duty was a powerful signal from the government that beer deserves their support, and we hope to see that continued in next week's Budget, with a duty freeze."
SIBA's commercial arm, founded in 2002 by commercial director Nick Stafford, has grown to a substantial business with sales of £12m last year, largely due to the success of the Direct Delivery Scheme, DDS, which has secured listings for thousands of local beers in pubs that would otherwise have been closed to them. Last year, DDS supplied SIBA members' beers to around 2,400 pubs and sales through the scheme increased by 24% by value.
Bott served as chairman from 2002-2006 and then from 2011-14. He said: "I'm delighted to be handing the chairman's baton to Guy, who has been a valued SIBA trustee for many years. He takes office at the start of a new, exciting chapter for SIBA and I am confident that he will do an excellent job, helping to take the restructured organisation forward to the benefit of our members and of British beer and brewing overall."
Guy Sheppard co-founded Exe Valley brewery, in Silverton, Devon, with Richard Barron of Barron's Brewery, established in 1984. He is now the sole owner and remains a hands on brewer at the brewery, which produces 25 barrels a week.
Sheppard is a lifelong ale lover, reintroducing real ale to Exeter University, where he studied accountancy. He started his own wholesale business distributing cask beer in the South West, which he sold to The Beer Seller. He was treasurer for SIBA's South West region for many years and head of the region twice, as well as helping to organise SIBA's first ever beer festival at Tuckers Maltings in Newton Abbott in 1991. He has been a member of SIBA's Commercial Board since it started.
The AGM also ratified the election to vice chairman of Jim Kenyon of Hereford Brewery.
Caption toimage above: l-r new SIBA chairman Guy Sheppard of Exe Valley Brewery with retiring chairman Keith Bott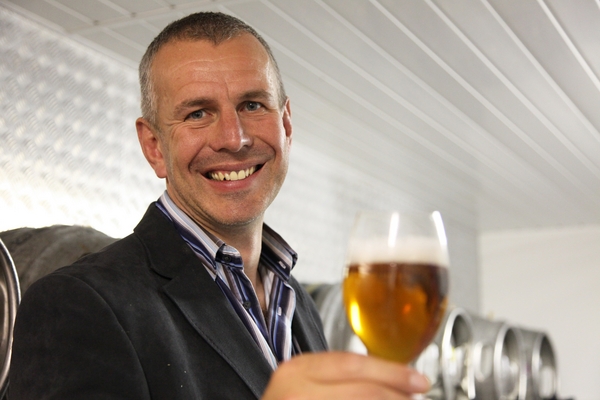 St Austell Brewery is celebrating a national award for its popular IPA, Proper Job. The beer won the Draught Premium Bitter category at the finals of the Society of Independent Brewers (SIBA) National Championships, held at the BeerX event in Sheffield on March 11th. 
The award follows an outstanding rise in demand for Proper Job ale in recent years. Sales are currently up by more than 35 per cent year on year with significant growth in draught sales. 
The SIBA Championships is one of the most recognised events in the industry diary. With nearly 800 members, the SIBA organisation represents the interests of emerging and independent brewers. The event is a chance for brewers to recognise the achievements of their peers. 
Roger Ryman, head brewer for St Austell Brewery (pictured above), said: "We are delighted that Proper Job won at the SIBA awards. Proper Job is a real treat of a beer which customers love, and it is fast becoming one of our most successful and most award winning ales. We are pleased to announce that owing to demand, Proper Job will be on sale in a 5 Litre keg from April." 
SIBA chief executive Julian Grocock said, "Competition for a medal is intense at both regional heats and the national final. To win a place at the final judging at BeerX is an achievement in itself and we applaud all our finalist brewers as well as the medal and trophy winners." 
Proper Job is a powerfully authentic IPA with a modern twist. It is brewed with a blend of imported hops; Cascade, Chinook and Willamette for a punch of citrus, pine resin and hint of spice for a classic IPA. It refreshes and revitalises the palate making it a wonderful partner for classic Indian curries or rich BBQ's.  
Last year Proper Job IPA scooped Silver and Bronze at the prestigious Great British Beer Festival held at the Olympia exhibition centre in London. The ale was entered into the finals of the national awards after being awarded Gold in the South West heats for best Golden Ale in the South West in the cask and bottled categories.