News
Punch crisis could mean ruin for tenants if pubco goes bust and they lose £22.6m
Added: Saturday, February 15th 2014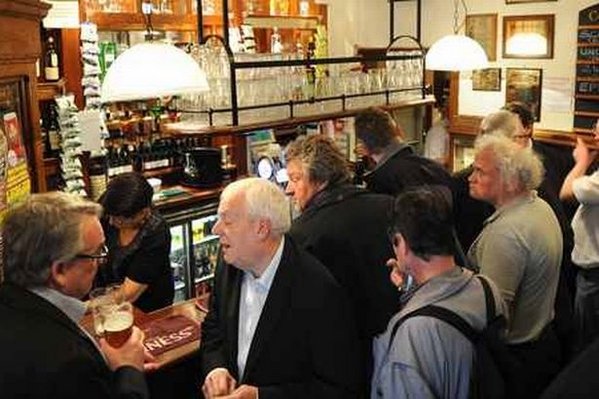 Punch Taverns' tenants could lose as much as £20,000 each if the giant pub company goes bust. The tenants are organising a group to demand their voices are heard and they are not left at the back of the queue if Punch, which owns 4,000 pubs, is forced into liquidation as a result of a debt pile estimated at £2.3 billion.
Punch dropped a restructuring plan on 14 February when one group of bondholders – organised through the Association of British Insurers -- withdrew its support. The group controls a large chunk of shares and it has the power to block any deal it disagrees with.
But tenants feel they are being left in the cold and their voice isn't heard. If Punch were to go into liquidation, tenants could lose their "in-goings" – the deposits they have to pay when they take on a Punch lease or tenancy. The deposits held by Punch total around £22.6 million.
Chris Lindesay, tenant of the Punch-owned Sun Inn in Dunsfold, Surrey, is co-ordinating a network of the pubco's tenants to communicate and share advice.
"There's £22.6 million that doesn't belong to Punch and that should be put on one side," he said. "It's not their money. It should not be sitting on their balance sheet as an unsecured liability.
"A lot of tenants are saying 'Where's my deposit gone if Punch goes into liquidation? Who do I pay rent? Do I buy myself out?' We're hearing nothing."
Greg Mulholland MP, chair of the Parliamentary Save the Pub Group, wrote to Punch chief executive Stephen Billingham about the deposits but said: "I asked Stephen Billingham if he would act to rectify this and to separate the deposits to ensure they would be safe but he has simply ignored the question.
"It was clear that Punch Taverns' creditors were not going to back the proposed restructuring and, with the writing on the wall, they have managed it seems to secure what may only be a stay of execution."
Greg Mulholland added: "Now there's a pause, the bondholders, who must surely realise the pubco model is dead, should talk direct to Punch tenants about a realistic and sustainable future."
Chris Lindesay said tenants were terrified about what could happen to them. "The board's proposals will just give funds to U.S. vulture groups."
The power of the major bondholders can be seen on the business website Bloomberg:
Bloomberg says senior note holders are resisting the company's pleas to back a £2.3 billion restructuring because the bonds would survive a default. The most senior notes, some of which the company said will be repaid at face value if terms are breached, are trading at about 105% as creditors hold out for a better deal.
Bondholders in the group include Kansas Capital, Legal & General, Prudential, Standard Life and Aviva. A group of five hedge funds including Glenview Capital Management own more than 50% of the company's equity and have backed its proposals. There is more than £170 million of cash contained within the two securitisations. This would be used to repay some of the senior-ranking notes at par in case of a default.
Carol Ross of the Roscoe Head in Liverpool – the only pub in the city to appear in every edition of the Good Beer Guide since 1974 (pictured above) -- said she had spoken to several Punch licensees who are all worried about the "feeble response" the pubco has given them on the issue of deposits.
"They are horrified there appears to be no provision to protect our deposits in case Punch goes into liquidation," she added. "The money they have on account from us is in case we don't pay rent – it's supposed to be held in a secure account earning interest. At the end of the day, the losers will be the licensees."
Punch's problems stem from a wild borrowing spree before the financial crisis in the last decade caused a major downturn in pub business. There have been four attempts to solve the debt crisis but there are 16 different classes of bonds and the shareholders have so failed to agree on a joint approach. The meeting on 14 February had to be abandoned in order to hold further talks with shareholders.
If no deal is reached, then the two boards that run and own the pubs, known as A and B boards, are in danger of going into administration, leaving investors with nothing.
If and when a bondholders' meeting is finally agreed, three-quarters of the vote must be in favour of the proposals on the table. If no agreement is reached, an administrator is likely to be appointed.
Tenants, as creditors, would be at a disadvantage as large companies that supply Punch with food, drink and other services used their muscle to head the queue. There are already rumours that some suppliers are refusing to supply Punch but this is refuted by the company.
Tenants fear that if the pubco does go into administration, the 4,000 pubs would be sold off in small parcels and they would lose their rights under new owners.
*A spokesman for Punch Taverns says: "If a Punch tenant or lessee leaves their pub they will get their deposit back less any monies owed to us. If Punch sells the pub to a new landlord, the new landlord is contractually obliged to repay the deposit if the tenants subsequently leaves the pub.
"We remain hopeful that a consensual restructuring will be agreed. All stakeholders accept this is the best way forward. If an administrator is appointed he will not have the legal right to change the position on deposits, so the tenants will be protected."