News
'Rural gem' wins CAMRA top pub award
Added: Wednesday, February 12th 2014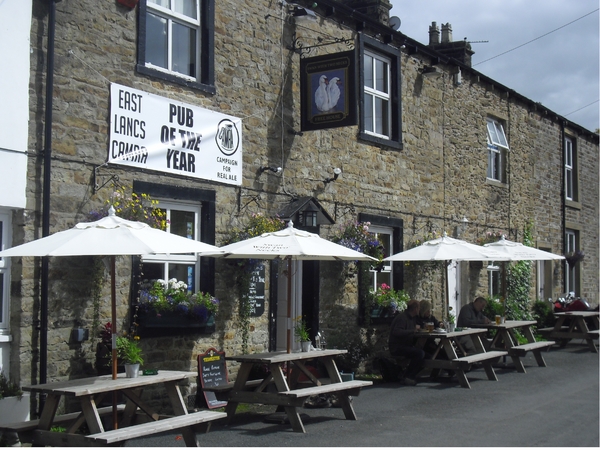 A sleepy village pub has been thrust into the limelight after being named the best in Britain by CAMRA, the Campaign for Real Ale.
In an idyllic setting across from a small stream and surrounded by green fields, The Swan with Two Necks in Pendleton, Lancashire, has beat off competition from more than 57,000 pubs across the country to be crowned CAMRA's National Pub of the Year. 
Steve Dilworth, landlord of The Swan with Two Necks, says the pub is something of a hidden gem and hopes that the award will provide a boost for the surrounding community.
"We are delighted and proud to have been judged CAMRA's National Pub Of The Year. We've been at The Swan with Two Necks for 27 years and think of it as our hidden gem. This is a fantastic achievement not only for ourselves but our dedicated staff -- and a great boost for our community."
Pubs are judged by CAMRA on a variety of criteria such as atmosphere, level of service, value for money and community focus, with extra weighting given to the quality of real ale, cider and perry.  Any landlords looking to make their pub the best in Britain might want to take note of Steve's somewhat unorthodox advice on getting the best out of his real ale, as he claims "Talking to the barrels has finally paid off!".    
CAMRA's Pubs Director Julian Hough says that being named the overall Pub of the Year is a massive achievement,
"The Swan with Two Necks really is the best of the best, having beaten rival pubs at every step, in a process which starts at a local level and takes a full 12 months to complete. It is a wonderfully welcoming pub that serves a fantastic pint, and is popular with regulars and visiting tourists alike, in a quintessentially British, rural setting."
CAMRA's Good Beer Guide 2014 certainly encourages a visit, "The home-made food here comes in portions ideal for hungry walker. There is outdoor seating in the garden and in front of the pub, looking out onto a small stream running through the beautifully kept village. Cosy open fires blaze in winter months". As you'd expect the beer is also an important draw, with the house beer Golden Pippen by Copper Dragon alongside guest ales from micro-breweries such as Phoenix, Dark Star and Salamander all worth a try.
To win the National Pub of the Year competition The Swan with Two Necks first had to win its local competition, then fight off tough competition at the regional stage, then finally be put forward as one of four finalists – and then named overall winner, a process that takes a full 12 months and hundreds of hours of judging by dedicated CAMRA volunteers and competition judges.
The three other finalists are, in alphabetical order, the Hope in Carshalton, the Horse and Jockey in Stapleford, and the Old Spot Inn in Dursley.
The presentation of the National Pub of the Year award will take place at the Swan with Two Necks, Pendleton, Lancashire, BB7 1PT at 1pm on Wednesday 12 February.