News
Supermarket takeovers destroying pubs
Added: Thursday, February 6th 2014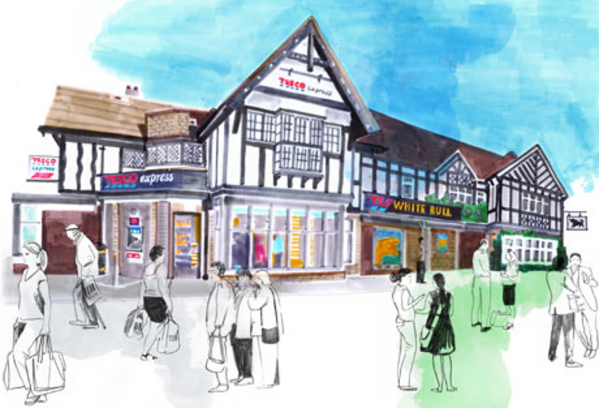 Research conducted by CAMRA, the Campaign for Real Ale, shows that rwo pubs a week were converted to supermarkets during 2012 and 2013.
CAMRA says losing two pubs a week in this way is unacceptable and supermarkets are being accused of specifically targeting pubs for redevelopment, often despite the outcry of local residents who want the building to remain in business as a public house.
The figures, based on national research carried out by CAMRA's members, identified 208 pubs that have been converted to supermarkets since January 2012. The research also shows that Tesco is by far the most prolific pub converter, with 110 in the past two years – that's more than three times more conversions than any other supermarket chain. Sainsbury's is a distant second with 29 pub conversions and even the Co-operative, which is part of a movement that backs community pub ownership, come in at third with 23.
 "The big supermarket chains appear to be targeting pubs for conversion, despite the fact that these pubs are often profitable and popular. This behaviour shows a remarkable disregard for the well-being of communities that face losing their valued pubs – leaving local people powerless to step in," says CAMRA Chief Executive Mike Benner.
A key reason pubs are being targeted by supermarket chains is that a loophole in planning law allows a pub to be converted to other uses, including a supermarket store, without planning permission. CAMRA is urging the Government to step in and close this loophole, so local communities would have a say before their pubs are lost, Mike Benner added,
 "Allowing pubs to be converted to supermarkets without planning permission is ludicrous, and something which the Government need to address as a matter of urgency," he says.
Until the planning loopholes are closed CAMRA is encouraging communities to show their support for their local by nominating them as an Asset of Community Value (ACV), which can in some instances help prevent the closure of valued community pubs.
"ACV status means that should the pub be put up for sale the surrounding community can delay the sale, giving them breathing space to look at how the pub can be saved. Over 300 pubs have now been listed as Assets of Community Value, but much more needs to be done to protect pubs. At the very least the Government must act to ensure pubs that are listed as assets of community value can't be turned into a supermarkets overnight.  It is outrageous that even valued pubs listed as ACVs are given virtually no protection from the clutches of the ever-expanding supermarket chains," Mike Benner says. 
Cases such as The Windmill in Sydenham South East London show that even ACV status won't save all pubs until the planning loopholes are closed – with a lease agreement being signed that side-stepped the protection the pub's ACV status provided.
To find out how to register your local pub as an Asset of Community Value visithttp://www.camra.org.uk/listyourlocal
Supermarket converted pubs
| | |
| --- | --- |
| Supermarket | Number of pubs converted |
| Tesco | 110 |
| Sainsbury's | 29 |
| The Co-operative | 23 |
| Other | 46 |
For a full list of the pubs that have been converted and their locations visit:www.camra.org.uk/pubconversions
A full list of the 300 pubs which have been registered as assets of community value is available at www.camra.org.uk/listyourlocal.