News
Top supermarket lists Cornish IPA
Added: Monday, January 13th 2014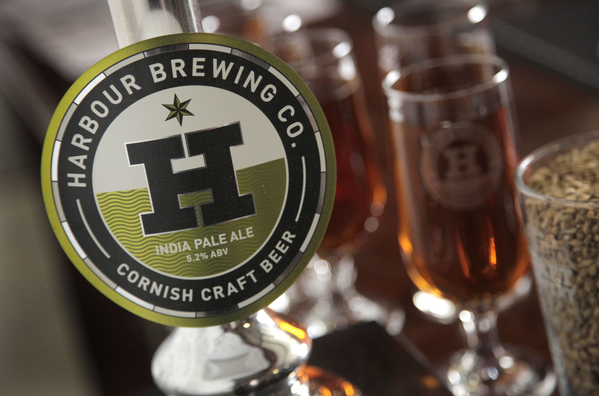 Harbour Brewing Company's IPA is set to hit the shelves in Sainsbury's stores up and down the country. The Bodmin brewer has secured a prestigious spot within the store's respected beer range. The deal is a huge coup for the Cornish brewery and comes on the back of a successful run for the IPA in last year's Great British Beer Hunt competition.
IPA came close to winning the contest, but Sainsbury's beer buyers were so impressed with how the Cornish contender performed that they placed this regular order. For a brewery to secure a major national listing like this within its first two years is unusual.
"It's a big achievement for us and it's good to be flying the flag for Cornwall again with this national listing," said Eddie Lofthouse, partner in the brewery with head brewer Rhys Powell.
"But it's hard work, too, brewing such large volumes, along with bottling and packaging the beer on an ongoing basis. It's good promotion for the brewery, and gets our beer out to a market we wouldn't normally get to."
Harbour fans need not worry that the brewery will be going corporate and focusing on IPA. "We're craft brewers at heart and we have plenty of exciting new beers up our sleeve for 2014," added Eddie. "But as independent brewers without access to a huge number of pubs, we rely greatly on bottled beers sales, which until now have only accounted for a small proportion of our sales."
*Harbour Brewing Company was launched in 2012 on a farm site a couple of miles outside Bodmin, in Cornwall, operating on 10-barrel, American-designed plant. Business partners Eddie Lofthouse and brewer Rhys Powell (pictured below) hatched their plan to open a new brewery having met in a pub in Padstow. Rhys, originally from South Wales, is a Heriot-Watt trained brewer who had been working at Sharp's, in North Cornwall. Eddie has experience in hospitality, having run the family business, the Atlantic Hotel and Doom Bar in New Polzeath, on the North Cornwall coast.