News
Truman's brings back 19th century stout
Added: Wednesday, November 27th 2013
 Truman's, the brewery that was re-born in East London this summer, 24-years after it was forced to close,  is releasing a strictly limited bottle run of the beer it brewed to Christen its new home.
Just 2,000 bottles of Truman's London Keeper 1880 Double Export Stout have been produced. Each 75cl bottle has been hand-signed and finished in ivory wax.  Following four months initial ageing in bottle, it will continue to improve and develop for up to a decade and provide a lasting reminder of the opening of the new brewery at Hackney Wick and the start of the next great chapter in Truman's history.
Bottled without filtration, the beer pours midnight black, with aromas of toasted nuts and dark chocolate. It then delivers an explosion of crunchy, malty flavours with background notes of liquorice and black treacle. The malty sweetness is balanced by hop bitterness.
This piece of brewing history is now available to buy online from the Truman's website (www.trumansbeer.co.uk), priced at £17.99. A limited amount will also be released in cask to selected London pubs in time for Christmas.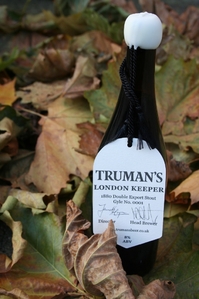 The first Truman's beer brewed in London for 24 years links the old brewery to the new and showcases the quality of the ale that the Eyrie plant can produce. After hours spent looking through Truman's recipe books at the London Metropolitan Archive, Truman's London Keeper – based on the recipe for a Double Export Stout from 1880 – was born.  Head brewer Benedikt Ott says: "A recipe from 1880 just jumped at me. It was an 8% ABV double export stout – but the intriguing thing was that it was brewed with American hops." 
Despite their modern popularity, American hops were only used in the 19th century when the English hop harvest failed. Although it was impossible to find out which hops were actually used at the time, Willamette and Sterling were selected due to their similarity to older hop varieties and suitability for the style.
London Keeper was the name that Truman's has historically given to ales that were designed for slow maturation, the style of beer that has a few years to age, evolve and improve.
The labels were printed by Baddeley Brothers, East London's finest and most historic printers, using the age-old letterpress technique.  The bottles were then hand-sealed with ivory wax. Each label has been individually signed by James Morgan, Truman's founder, and Ben Ott, head brewer.
James Morgan added: "This beer has been a real labour of love for us. We are somewhat sad to see it go!"
For further details, samples and images contact Jack Hibberd on jackh@trumansbeer.co.uk or phone 020 85333575.
*Founded in 1666, Truman's was once a heavyweight of British brewing – by the late 1800s it was the world's largest brewer.  It fell victim to the merger mania of the 1970s and 80s, after which the pubs were sold and the brewery closed.  The company was revived in 2010 with the intention of making Truman's a great name in brewing once again. 
 An investment of £1million has seen the company re-establish its roots in Hackney Wick, just a stroll down the Roman Road from the original brewery in Brick Lane. In August 2013, the first beers brewed in London for 24 years were delivered to the capital's pubs. 
 The team has also recovered the original yeast strain that was used at the Brick Lane brewery in its heyday.  Preserved in liquid nitrogen since 1958 at temperatures of
 -196c, the yeast will ensure that the beer produced is authentically Truman's.