News
Seasonal joy from brewers includes some historic recipes from 19th & 20th centuries
Added: Wednesday, November 27th 2013
Brewers are lining up to offer rich-tasting beers for the Christmas and winter season. Shepherd Neame, England's oldest brewery founded in 1698 in Faversham, Kent, has produced its annual Christmas Ale (7%) with crystallised fruits and spices added to barley malt and Kentish hops. Beer writer Ben McFarland says  "there's a spicy signature to this incredibly complex, cockle-warming winter ale. The nose is reminiscent of raisins, dates and molasses while the palate is vinous with tannin-like notes of leather, vanilla, apricots and a hint of rustic Armagnac on the finish. It's an awesome after-dinner drop."
Sheps has also brought back at batch of its Double Stout (5.2%), based on a Victorian recipe that was written in code, with the code painstakingly broken by archivist John Owen and brewer Stewart Main. It's brewed in solid oak mash tuns and uses locally-grown East Kent Goldings hops. Ben McFarland says "this magnificent example of a classic double stout delivers a velvety-smooth palate of dry, burnt flavours, complemented by roast, cocoa and coffee notes. Black, creamy and delicious, it's a Shepherd Neame masterpiece."
Both beers cost £2 for a 500ml bottle, available from supermarkets and online at www.shepherdneame.co.uk/shop.
The brewery is also offering Yuletide brewery tours and tutored beer tastings. This includes a two-hour hosted tour of the brewery with mulled ale and mince pies and a visit to a recreation of a cooper's workshop. This is followed by a tutored tasting of the brewery's ales and lagers. A tour and tasting costs £12.50 or you can buy a brewery gift voucher for £99 that covers the tour and tasting with one night's dinner, bed and breakfast in one of the following pubs: Sun Inn, Faversham, Millers Arms, Canterbury, Dog & Bear, Lenham, and the Conningbrook, Ashford.
The brewery also offers luxury hampers from £22.95. The Classic Christmas Hamper includes Christmas Ale, a Christmas pudding made with Bishop's Finger ale, plus a bottle each of India Pale Ale, Double Stout and Brilliant Ale. The full range of hampers can be seen on the website: the last date for orders is 17 December.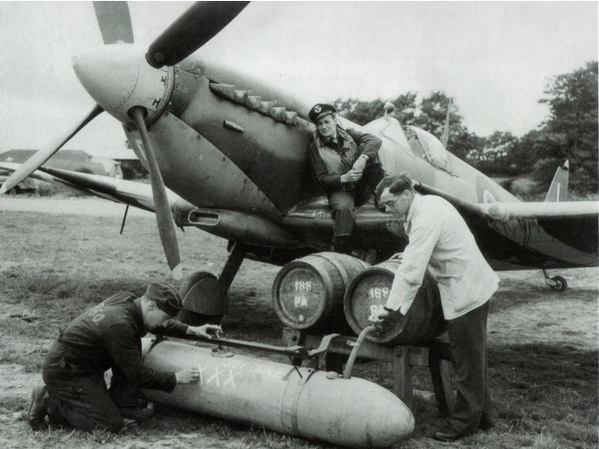 Also in Kent, the Westerham Brewery at Edenbridge has two beers that make ideal winter and Christmas drinking. Double Stout (5.5%) and Audit Ale (6.2%) are based on beers brewed by the Black Eagle Brewery in Westerham. Robert Wicks founded Westerham Brewery in 2004 with a mission to use locally-grown ingredients, including Kentish hops, and to recreate many of the Black Eagle beers.
The brewery was a large one with sales throughout southern England. The beers were especially popular during World War Two with airmen based at RAF Biggin Hill.
Prime Minister Winston Churchill's country estate at Chartwell is two miles from Westerham and he also enjoyed Black Eagle beers. He was determined that servicemen should have regular supplies and he approved of  Spitfires at Biggin Hill being specially adapted so that fuel tanks containing Black Eagle beer could be delivered to members of the armed forces fighting in France and other parts of Europe (image above).
The Black Eagle brewery closed in 1965 at a time of major takeovers and mergers in the brewing industry. The brewery was bought and closed by Taylor Walker of London, which in turn became a victim of closures when it was taken over by Allied Breweries. Westerham's Double Stout is based on a 1939 Black Eagle recipe and is brewed with Maris Otter pale malt, chocolate malt and roasted barley. The hops are Kentish Goldings and Northdown. Audit Ale comes from a 1938 recipe and is brewed with Maris Otter pale malt and crystal malt and again is hopped with Goldings and Northdown. The beers cost £2.30 and £2.40 respectively or a case of 12 costs £27.50 and £28.50. Draught polypins and firkins are also available: www.westerhambrewery.co.uk.
Box Steam Brewery at Holt, near Trowbridge, Wiltshire, takes its name from the Box Steam tunnel built by the great civil engineer Isambard Kingdom Brunel (right) that linked London with Bristol. The brewery has brought out two seasonal beers it feels would have delighted Brunel when he sat down for his Christmas dinner. Christmas Dark (5%)) is described as full-bodied and spicy, with a big fruit character on palate and finish. Christmas Blonde (5.2%) is a strong golden ale with a pronounced grapefruit/citrus aroma followed by a smooth, hoppy, bittersweet finish. The beers are available in both bottle and on draught: www.boxteambrewery.com.
Moorhouse's Brewery in Burnley, Lancs, has rolled out Pendle Porter (5%), a beer designed by brewer Mark Bennett using pale and chocolate malts with roasted barley, with English Fuggles and New Zealand Green Bullet hops. Mark says the Kiwi hops give a pleasant and seasonal pine note to the beer. It has a complex aroma and palate of chocolate, coffee and mint balanced by some astringency from the roasted grain and dark malt. The draught beer is available in Moorhouse's pubs and free trade outlets: