News
Cornwall bristling with anticipation for St Austell's Movember Celtic beer festival
Added: Saturday, November 9th 2013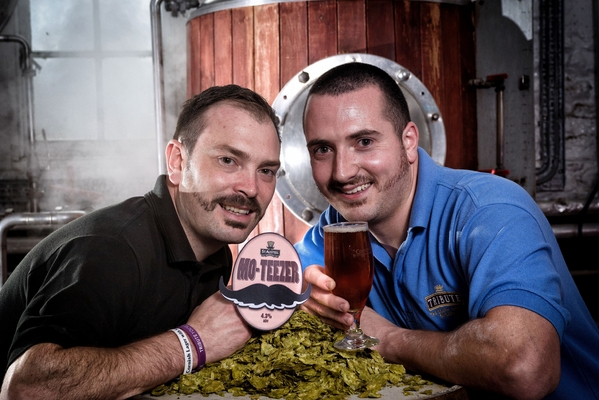 St Austell Brewery craft bristling new brew for Movember
Cornwall's premier independent brewery, St Austell Brewery, has brewed up a new limited edition guest ale to celebrate Movember. St Austell Brewery's very own Movember Tash Society has created Mo-Teezer – a 4.3% light ale with a creamy head to tease the tash.
 Mo-Teezer will be ready just in time for the Brewery's annual Celtic Beer Festival held in the historic cellars of the atmospheric Victorian brewery building on 23 November. The festival will offer ale fans a chance to sample a vast array of more than 130 different ales, stouts and lagers, celebrating the very best South West beers around. 
Andy Kennedy, senior telephone sales executive at St Austell Brewery said: "Movember is something the society has taken part in since 2009, raising over £1,500 for men's health. Each year at the Celtic Beer Festival we see lots of ale fans boasting fantastic moustaches for Movember. So Rob and I thought it would be great to create Mo-Teezer to raise a bit more money for charity and celebrate a month of growing a great moustache." 
Rob Orton, brewing team leader at St Austell Brewery said: "Mo-Teezer will be very malty. I wanted to create a manly beer, a real winter warmer with a full reddy colour. It'll be around 4.3%, and will be an easy drinking ale with a creamy head that we hope will sit nicely on the tash. It's a limited edition brew, so once it's gone, it's gone." 
Over the past 10 years, millions of men and women have participated in Movember by proudly growing mustaches (or being supportive of the mustache-growing process) to help change improve men's health. 
Movember aims to raise awareness of testicular and prostate cancers by getting participants sponsored for growing a mustache for the entire month of November. 
The limited edition beer will be available exclusively at the Celtic Beer Festival and at the Ship Inn on the Barbican in Plymouth. The Ship Inn will be selling it from 15 November as part of its Movember campaign, and proceeds from the sale of each pint sold will be donated to the charity. 
The Celtic Beer Festival takes place on 23 November  at the brewery. The day-long event runs from 11am until 11pm with live bands playing throughout the festival and plenty of entertainment on offer. 
Tickets are available on the door on the festival day only, and cost £10 per person with all profits donated to the St Austell Brewery Charitable Trust. The festival is only open to over 18s and St Austell Brewery operates a strict Challenge 21 policy so if you look younger than 21, you may be asked to provide photographic ID such as a driving licence or passport, or risk being refused entry. 
Beer tokens are on sale costing £1.75 per half pint, £3.50 per pint or £10 for three pints. 
If you would like to make a donation to the team, find out more by entering 'St Austell Brewery MoTache Society' into your search engine. 
For more information, visit www.staustellbrewery.co.uk