News
As the leaves fall, breweries launch a warming range of autumn & Xmas ales
Added: Saturday, October 19th 2013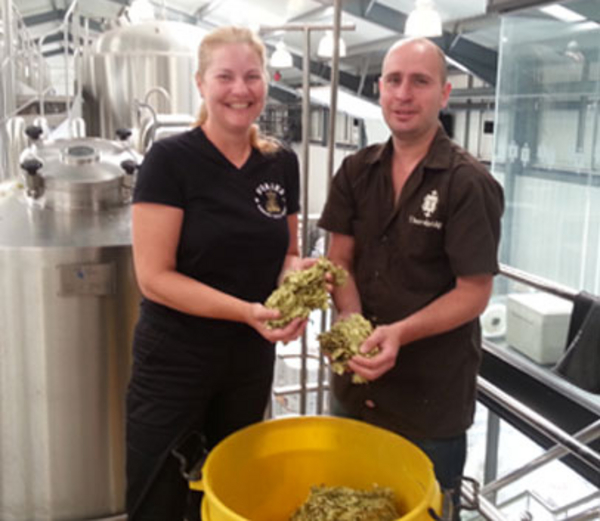 The innovative Thornbridge Brewery in Derbyshire, best known for its Jaipur IPA and Saint Petersburg stout, has launched two new beers for the autumn, one of which – Imperial Raspberry Stout -- is the result of head brewer Rob Lovatt working in collaboration with Jessica Heidrich of St Eriks Bryggeri in Sweden (pictured above).
The second beer is Sour Brown, a strong brown ale that has been matured in Burgundy wine casks with the addition of rhubarb, morello cherries and raspberries.
Thornbridge has had a spectacular rise to bibulous stardom. It was launched in 2005 in sheds in the grounds of Thornbridge Hall, a stately home in the Derbyshire Peak District that was bought by Sheffield entrepreneurs Jim and Emma Harrison. The beers brewed on the 10-barrel plant have won more than 300 consumer and industry awards, and prompted a move in 2009 to a 30-barrel plant near Bakewell.
The new brewery, with custom-built Italian brewing kit, is based in the Riverside Business Park in the heart of the Peak District National Park. The business park is on a site of considerable historic importance: in 1777 Richard Arkwright harnessed the power of the River Wye to drive the spinning frames that created yarn from cotton. It was one of the most significant developments of the century and is recognised as a key launch-pad of the Industrial Revolution.
As well as its mainstream beers, Thornbridge from its early days has experimented with ageing beers. A memorable seminar was held at the hall with tastings of Saint Petersburg that had been aged in oak casks from a variety of Scottish malt whisky distillers. The brewery has also developed recipes that use ingredients not commonly found in regular beers. 
Sour Red is
a beer aged 
in Burgundy
casks
The collaborative beer brewed by Rob Lovatt and Jessica Heidrich is a case in point. The 10% beer is not only infused with raspberries but has a highly complex malt bill of pale, chocolate, light and dark caramel malts with roasted barley. The single hop used is the English Bramling Cross and is joined by fresh Scottish raspberries.
Jessica Heidrich studied at Uppsala University and became a keen home brewer. She has progressed to running a small commercial brewery and also lectures about beer and brewing. The beer she has developed with Rob is dark and has powerful aromas and flavours of liquorice and chocolate, with a delicious and lingering note of raspberries.
Sour Brown, 7%, is a British twist on the new American craze for sour beer, which in turn is based on the lambic and gueuze beers of Belgium that are created by "wild" yeasts in the atmosphere. Some versions of lambic have additions of fruit, most famously cherries and raspberries, known as kriek and framboise. The Thornbridge beer has been aged in Burgundy wine casks with the addition of rhubarb, cherries and raspberries. It's lightly hopped with Styrian Goldings. During its stay in cask, the beer was periodically inoculated with lactobacillus, pediococcus and Brettanomyces – lactic acid bacteria and wild yeast spores.
The beer that emerges from the wine casks pours a deep brown and has complex aromas and flavours of sour fruit and the "horse blanket", earthy character created by lactic acid and Brett yeast. There are also notes of smoke, oak and vanilla from the wood. Rob Lovatt says the beer can be drunk now but will continue to develop in the bottle for five years.
Both beers cost £8.50 a bottle and can be ordered from www.thornbridgebrewery.co.uk.
Daniel Thwaites of Blackburn is a major regional brewer, founded in 1807 and owning an estate of 350 pubs. It has added a 20-barrel micro-brewery, Crafty Dan, where it produces draught and bottled beers – including bottle conditioned – aimed at the growing craft sector. This autumn it has launched an attractive three-bottle pack that's available in Booths supermarkets across the North-west of England and in selected Bargain Booze off-licenses. 
Crafty Dan is
Thwaites' 20 
barrel micro plant
producing bottled
and draught beers
The beers are Triple C, 13 Guns and Big Ben. Triple C, 5.3%, is a golden ale that uses three American hops, Centennial, Chinook and Citra and pale malt only. It has an enormous attack of citrus/grapefruit on nose and palate and has a long, bittersweet finish with continuing citrus notes. 13 Guns also has an American twist, originally brewed to celebrate the Fourth of July and the first 13 founding states of the U.S., which were greeted by a 13-gun salute. It's a 5.5% IPA with a highly complex hop bill comprised of Amarillo, Apollo, Centennial, Chinook, Citra and Kohatu varieties. The malts are pale, caramalt, Munich and rye. The beer has a big citrus and mango aroma and palate with a fresh pine needles note from the hops and a long bitter and hoppy finish.
Big Ben 5.8%, is beer of a quite different character and background. It pays homage not only to the 16-ton bell in the Westminster clock tower but also to an English style of bittersweet mild or brown ale that has been reduced in strength by many brewers since the beer's hey-day in the 19th and early 20th centuries. Thwaites' interpretation is brewed with pale and crystals malts with Challenger, Chinook, Citra, Fuggles, Goldings and Summit hops. The beer is a complex balance of sweet grain and bitter hops, with hints of chocolate and liquorice.
Triple C and 13 Guns will be available in craft keg form for the national pub trade over the course of the next three months. The bottled beers cost between £1.79 and £1.89: watch out for a special introductory offer in Booths. www.thwaites.co.uk.
Box Steam Brewery in Holt, Wiltshire, is a family-owned artisan brewery dedicated to the life and achievements of Isambard Kingdom Brunel, the great 19th-century railway and ship engineer who built the Great Western Railway that linked London to Bristol. Box Steam, owned by the Roberts family, uses a Fulton steam-fired copper, which gives the name to the brewery.
Derail Ale
is one Box 
Steam's beers
marking the
career of
Isambard Brunel
Box Steam's offerings for autumn and winter include Derail Ale (5.2%) and Tunnel Vision (4.2%). Derail marks the fact that even Brunel had his problems and he had to replace two of his locomotives, Thunderer and Hurricane. In spite of the evocative names, the locos proved to be less than reliable and were involved in several crashes. The beer in the IPA style has an intense floral and tart fruit aroma and palate, with a long fruity and hoppy finish. Tunnel Vision commemorates a happier occasion in Brunel's career: the completion of the Box Tunnel that was the final link of the line between London and Bristol. It took thousands of navvies and large amounts of gunpowder to blast the tunnel through Box Hill between Chippenham and Bath. At the time, the two-mile-long tunnel was the longest in the world. The amber ale has a rich nutty and malty character, well balanced by a gentle but firm underpinning of spicy hops.
Both beers cost £2.15 a bottle and are available from www.myBrewerytap.com and selected Wine Rack, Co-op and Budges stores. The beers can also be bought online from the brewery: www.boxsteambrewery.com/shop.
Both beers are also available on cask in pubs in the West Country, including Box Steam's two tied houses, the Cross Guns at Avoncliff and the Inn at Freshford.
STOP PRESS: Box Steam has announced the launch of a special beer for the Christmas period called Evening Star. The 7.5% beer commemorates the 999th and final steam locomotive commissioned by British Rail. The loco was built just 30 miles from where the brewery now stands. The beer is a dark Porter and has coffee and chocolate notes with some vanilla sweetness and bitterness from both roasted barley and hops. It costs £14.50 a bottle and is available from the online brewery shop above.