News
Sharp's man takes control at Molson Coors
Added: Sunday, October 13th 2013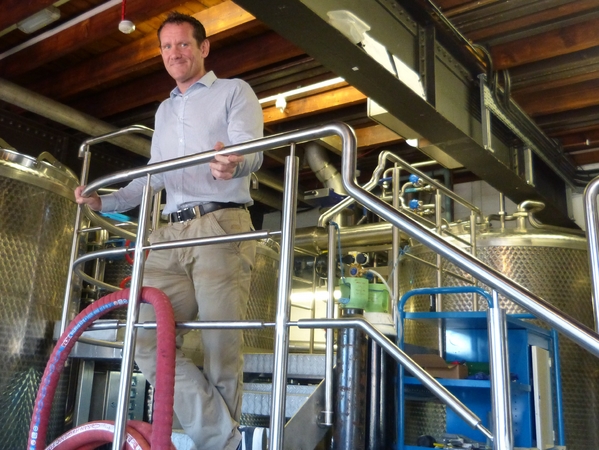 Change is in the air within the craft beer section of Molson Coors. At the William Worthington's Brewery in Burton-on-Trent – part of the National Brewery Centre -- I found not only head brewer Stefano Cossi but also Stuart Howe, renowned brewer at Sharp's in Cornwall. Stuart  (pictured above) now has the impressive title of Head of Craft Brewing & Innovation at Molson Coors, which puts him in charge of operations at Sharp's, Worthington's and Franciscan Well in Cork in Ireland.
He now spends a lot of time in trains, planes and cars and is heavily involved in developments in Cork. Franciscan Well, when I visited it a year ago, was a large brew pub but it was bought by Molson Coors earlier this year. £1m has been invested in building a new brewery that will eventually have a capacity of 100,000 barrels a year. Stuart says there are enormous opportunities for craft beer in Ireland, which already has a couple of dozen breweries offering choice on an island dominated by Guinness and Murphy's.
Sharp's is also earmarked for further expansion. Doom Bar is now the biggest-selling cask beer in Britain and the Cornish brewery, which will produce 190,000 barrels this year, will grow to 250,000 in 2014. But there's a lot more to Sharp's than Doom Bar these days. Brewing is now in the hands of Carl Heron but before Stuart took up his new post he developed a sizeable portfolio of new beers, including several bottle-conditioned ales. They include a golden ale Single Brew Reserve and three Belgian-inspired beers, Spiced Red, Honey Spice Tripel and Quadrupel Ale. At 9 and 10% ABV, they have the weight to make impressive and memorable drinking.
Plans are more modest at Worthington's tiny plant but it will be integrated with the old White Shield brewery on site. Stefano Cossi, who studied food technology in Italy and then brewed with Thornbridge in Derbyshire, is planning to recreate many old Bass recipes.
Burton was a busy day on 8 October. The Worthington Suite at the National Brewery Centre was packed with an enthusiastic audience for the launch of the National Brewery Heritage Trust. It has been set up to support the work of the NBC and to attract the widest possible audience to learn about the long history of brewing in Burton-on-Trent.
The fact that brewers from many parts of the country had travelled long distances to attend the launch spoke volumes for the importance of the occasion. They appreciate that Burton's history is also their history. It was the innovations in Burton in the 19th century that enabled all British brewers to make the pale ales and bitters that are now part of our distinctive contribution to the world of beer.
Burton's key role in brewing – based on the remarkable spring waters of the Trent Valley that are rich in natural sulphates – was brought to a wider audience in 1977 when the Bass Museum opened.
When Bass left brewing in 2000, ownership of the museum passed to Bass's successor, Coors, now Molson Coors. A hammer blow fell in 2008 when Molson Coors announced it planned to close the museum. A vigorous campaign led by then Burton MP Janet Dean led to the museum re-opening in 2010 as the NBC, run by Planning Solutions but with financial support from Molson Coors.
The heritage trust has been set up to back the work of the NBC, which has an array of old brewing artefacts, interactive displays and the in-house micro-brewery named in honour of William Worthington. It supplies beers for the centre's bar and restaurant and to a limited free trade. The beers include a draught version of the iconic, 19th-century IPA, Worthington's White Shield, a cask version of Worthington E, once an infamous keg beer of the 1970s, and Red Shield.
The main aim of the trust will be to protect the Bass archives and make them available for inspection. At present this vast collection of books, ledgers, recipes, prints and photos is kept behind locked doors and getting access is similar to viewing the American gold reserves at Fort Knox.
A couple of years ago, when I was writing my book The Story of Brewing in Burton-on-Trent, I was given access to the archive and was mesmerised for days by the enormous amount of fascinating material held there. It's excellent news that, with the support of the trust, the archive's collection will become more widely available and people will be able to discover the rich history of brewing in the town.
It's a history that reaches back to the days when monks made beer at Burton Abbey. Centuries later, Burton became famous for its nutty, brown Burton Ale, sold not only throughout Britain but exported to Europe and the Baltic. And then in the 19th century, using the new technologies of the Industrial Revolution, Burton became world-famous as the home of India Pale Ale and pale ale. These were beers that revolutionised brewing on a world scale and even inspired the first producers of golden lager in Europe.
Wider access to the archives means that people with an interest in brewing or who wish to carry out research will be able to study the material available. It's an Aladdin's Cave and I urge everyone with a passion for beer to support the work of the trust: membership costs £25 a year and all proceeds will go to supporting the NBC. For further information go to www.nationalbreweryheritagetrust.co.uk.