News
News from the West: Cornish brewers, awards for Star Inn, Bristol goes Bavarian
Added: Monday, August 26th 2013
Cornish brewers have formed an alliance to boost their sales in the West Country and throughout Britain. In a meeting at the St Austell Brewery, they set up the alliance to promote their beers, encourage an exchange of technical knowledge and act as an informal trade association to boost members' buying and selling power.
Chairman Joe Thomson of Penpont Brewery near Launceston says: "We're keen on working together to help promote Cornwall as a beer connoisseurs' destination and as a county that produces an incredibly diverse and high quality range of beers that need to be showcased to the rest of the world.
"Working together, we can do this more effectively. It's an opportunity to plan events that will showcase all the Cornish brewers' beers."
Members have been meeting monthly at one another's breweries and they will get together for a social gathering at the Launceston Beer Festival this month. The brewers that have joined the alliance are: Ales of Scilly, Atlantic, Cornish Chough, Cornish Crown, Driftwood Spars, Frys, Harbour Brewing, Keltek, Hogswood, Padstow, Penpont, Penzance, Rebel, Sharp's, St Austell, St Ives and Tintagel. For more information about the alliance see www.cornwallbrewersalliance.co.uk.
It's been a busy time for the Penzance Brewing Co and its Star Inn at Crowlas with owner and brewer Peter Elvin picking up two awards from CAMRA, the Campaign for Real Ale. He won an award for 2013 Cornish Pub of the Year, which was presented by Cornwall CAMRA chairman Norman Garlick. Norman visited the pub with fellow members who were keen to toast the success of the Star. The award means the Star will now be shortlisted for South-west Pub of the Year, pending an incognito inspection by CAMRA members from another branch.
The Star has been a popular community pub in Crowlas since Peter, from the Scilly Isles, bought it and re-opened the former Usher's house in 1999. In 2008, he started brewing in buildings behind the pub and his beers have gained a big following in Cornwall and beyond.
Peter's second award recognised the quality of his beers as he won a runners-up prize for Beer of the Festival at CAMRA's Salisbury Winterfest earlier this year. The award was for his golden beer, Trink.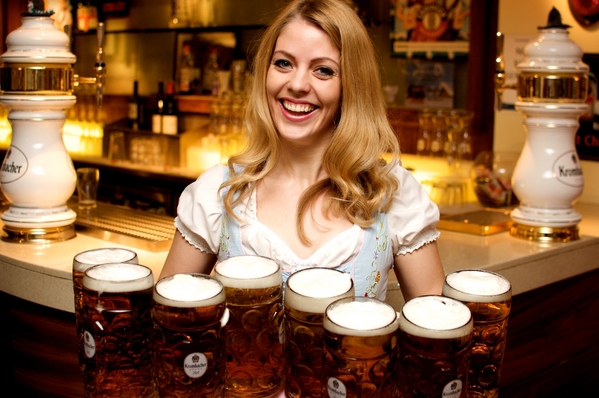 Bristolians will get the chance to try traditional Bavarian food and drink when the first Bavarian Beerhouse outside London opens on Thursday with a gala event. The new venue – the third Bavarian Brewhouse and the first outside London – is based in Bristol city centre on Queen Charlotte Street.
From Friday 31 August the public will be welcomed to experience the restaurant's authentic Bavarian offerings, from hearty food to cold lager, wheat beer, "oompah-tainment" and serving staff in traditional constume.
Owners husband-and-wife team Rene and Sabine Reth chose Bristol as the location for their third restaurant after taking part in a German Beer Fest in the city in 2012. They felt Bristol would be great place for a beer house and they looked for a suitable site.
Sabine says: "Our location on Queen Charlotte Street couldn't be better – we're close to the city centre, the docks, offices and hotels, and we're looking forward to welcoming locals and tourists."
The beer house concept serves traditional Bavarian dishes such as baked pretzels, a wide range of sausages, schnitzels, meat balls and Bavarian cheese. The beers include Krombacher Pils and Erdinger wheat beer: the group is the biggest outlets for both beers in Britain. The first Beer House was opened by Rene and Sabine in Old Street in London in 2005, followed by a second at Tower Hill.