News
Small brewery wins two major awards
Added: Friday, August 16th 2013
Steve Banfield was breathless when he answered the phone, which had been ringing off the hook since his Buntingford Brewery won two top prizes at the Great British Beer Festival in London last week.
"We still can't believe it," he said. "It's an amazing achievement."
The brewery, based on a farm near Therfield Heath just outside Royston, faced stiff opposition in the Champion Beer of Britain competition, held in conjunction with the beer festival. 
Over the course of a year, thousands of cask beers are tasted and assessed by judges trained by the St Albans-based Campaign for Real Ale (CAMRA). Only a handful of beers reach the final and this year they included two beers from Buntingford – Twitchell and Polar Star.
Twitchell (3.8%) won the top gold award in the Bitter class, while Polar Star (4%) won Silver in the Golden Ale category. Twitchell went forward to the final round of judging and was pipped into second place by the overall Champion Beer of Britain, a dark porter from West Yorkshire.
Buntingford was founded in 2001 by Steve Banfield and he moved the brewing operation to Greys Farm in 2005. Farm and brewery are part of an environmental project geared to encouraging wildlife and using local ingredients. Steve uses Maris Otter barley that grows on the farm, which is then malted at Warminster Maltings in Wiltshire.
Water for brewing comes from a borehole on the farm. When beer has been made, the water passes through a filtration system and then runs in to a specially designed pond that attracts wildlife.
The fields where barley grows have been turned into a natural habit that also encourages wildlife, including rare birds such as the corn bunting.
Steve Banfield is a refugee from the IT industry. His brewer is Catherine Murphy who was a robotics engineer. Both worked for a while for the Belvoir Brewery in Leicestershire, where they learnt the skills of beer-making.
Catherine is officially a "brewster", an Anglo-Saxon word for a female brewer. Centuries ago, when brewing was mainly a domestic process, it was carried out by women. Catherine, along with a growing number of other women brewers, is restoring a tradition lost with the rise of male-dominated commercial breweries from the 18th century onwards.
Buntingford can produce 15 barrels at a time and is brewing four times a week. Beer is delivered to pubs within a 30-mile radius of the brewery in Hertfordshire, the Cambridge area and into parts of Bedfordshire. The Six Bells in St Michaels is one St Albans pub where you will find the brewery's beers from time to time.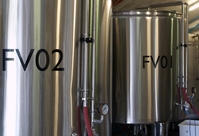 In keeping with his company ethos, Steve is not keen to widen distribution in order to save on carbon footprints. But he will find – as brewers before him have found – that there will be a clamour for his beers from near and far now he's won two prestigious awards.
Twitchell is a traditional English bitter. Its name comes from a Hertfordshire dialect word for a narrow alley or passageway, similar to the Yorkshire "twitten". Both Royston and Baldock have a number of twitchells off their main streets. The beer is made with Maris Otter pale malt with some wheat malt and a tiny amount of chocolate malt for colour and flavour. Three hops are used: Cascade and Phoenix from the United States and English Goldings.
The beer has a biscuit malt aroma balanced by tart citrus from the American hops and a peppery note from the Goldings, with a gentle hint of chocolate from the dark malt. The palate is dominated by juicy malt, chocolate and tart fruit, with a long and lingering finish that finally ends dry, bitter and hoppy.
Polar Star is a golden ale, made with lager malt and American Summit hops. A light toasted malt note on nose and palate balances a powerful blast of citrus/grapefruit from the hops. The beer ends dry, bitter and fruity and is wonderfully refreshing.
I suspect both beers will get wider recognition once the news of the awards becomes better known.