News
Pub that came back from the dead used to launch campaign against giant pubcos
Added: Friday, May 3rd 2013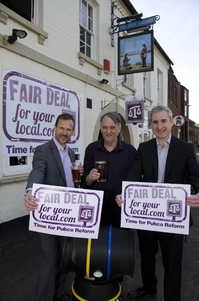 The Fair Deal for Your Local Campaign has been launched by 10 leading organisations: CAMRA, the Federation of Small Business, Forum of Private Business, The Guild of Master Victuallers, Fair Pint, Licensees Supporting Licensees, Licensees Unite, Justice for Licensees, Pubs Advisory Service, and Greg Mulholland MP, chair of the All Party Parliamentary Save the Pub Group
The campaign was launched at the Jolly Anglers in Reading. The venue was chosen as it is now a successful locally-owned freehouse, having failed as pubco tied pub, which was closed and boarded up in 2009.
The campaign is calling on the government to give local pubs a fair deal through much needed reform of the tied model operated by large pub owning companies. Some of the large pub owning companies are taking far more than is fair or sustainable from pub profits, making it difficult for many licensees to make a living and causing pub closures.
The government is committed to introducing a statutory code of practice for the large companies that will enshrine in law the long accepted but largely ignored principle that the tied licensee should not be worse off than a free-of-tie licensee.
 The Fair Deal for Your Local campaign believes that the only way to ensure fairness is to include in the new code an option for the tied landlords of large companies to pay rent only to the pub owning company.
The consultation ends on 14 June 2013 and people across the country are being urged to have their say and back a fair deal for local pubs.
People are being asked to show their support for a Fair Deal for Your Local by signing up online at www.fairdealforyourlocal.org, by taking part in the government's consultation and by lobbying their MP to support a fair deal for Britain's pubs.

Comments from those backing the Fair Deal for Your Local campaign:

John Westendorp (pictured centre with Mike Benner of CAMRA and MP Greg Mulholland) was the landlord of the Jolly Anglers, under Enterprise Inns, when the pub closed, boarded up and put up for sale but with a restrictive covenant by Enterprise, which attempted to stop it being a pub again. Following a vigorous local campaign, the restrictive covenant was removed and the pub was bought locally. John was asked if he wanted to come back as the landlord and he agreed. He now is paying a fairer, lower rent and at the same time can now buy beer direct from breweries, at a fraction of the price he was paying when tied to Enterprise.

John Westendorp says: "A the manager of a free house I feel sorry for the people tied up with the pub companies changed extortionate rates for the beer. The sooner they can be relieved of this so much the better; because this will lead to more people using pubs which is good for all communities."

Greg Mulholland, Co-ordinator of the Fair Deal for Your Local campaign and Chair of the Parliamentary Save the Pub Group: "It is high time we had a fair deal for our local pubs up and down the country. The Great British pub is a unique institution and important for communities, the economy and for tourism. We have lost too many of them due to the unfair business practices of the large pubcos. It is time Government stopped the overcharging by the pubcos. If they do, our hard working licensees can at last make a fair living, which will not only save pubs, but will also be a huge boost for the economy locally and nationally. Show you love Britain's pubs and sign up to support a Fair Deal for Your Local today atwww.fairdealforyourlocal.com!" 

Mike Benner, CAMRA's Chief Executive:  "CAMRA warmly welcomes the government plans to stop large pub companies damaging Britain's pubs by charging pub licensees high rents alongside inflated beer prices. As a consumer group we are delighted to throw our weight behind the Fair Deal for Your Local campaign"

Clive Davenport, Federation of Small Businesses: "The Federation of Small Businesses supports the Fair Deal for Your Local campaign. We welcome the action being taken by the government to introduce a statutory code of practice for pub companies. To make sure that our local pubs get a fair deal, publicans of the large companies should be given the option of purchasing beer from other sources and rents to the pub owning company should be in line with market prices and independently assessed. Pubs are important small businesses and a fair deal for our local pubs will help the economy." 

Phil Orford, Chief Executive, Forum of Private Business: "Plans for a new code of practice governing the pub sector is the first step towards properly enforcing fairness in the sector. This is an issue we firmly believe in, and consider it the best route to making life for struggling publicans that bit better. Many are trying to run businesses with both hands tied behind their backs due to the models they are forced to follow, so it's really pleasing to see at the heart of the consultation a tied licensee will not be worse off than a free-of-tie licensee. This is key to ensuring publicans have more autonomy to make their businesses a success and it can't happen soon enough."

Simon Clarke, Fair Pint Campaign: "We wholeheartedly support the Fair Deal for Your Local campaign which offers the Great British pub the prospect of a prosperous future.  The Fair Pint Campaign have been participating in the effort to encourage much needed reform in the pub industry for over five years. Now the Fair Deal for Your Local campaign is calling for real reform is to offer some fairness, flexibility and freedom to tied licensees by ensuring the statutory code has a 'Market Rent Only' (MRO) option contained within it. A MRO option simply means that tied licensees will be given the chance to choose to remain in their current tied agreements, if they think they are being operated fairly, or to swap onto a rent only agreement, paying a fair market rent to the pub owning company and allowing them to purchase products for sale in their pubs from any source". 

Dawn Hopkins, Licensees Supporting Licensees: "Licensees Supporting Licensees fully support this campaign to get a Fair Deal For Your Local. We are all in the trade and fully understand from the grassroots the challenges facing publicans out there.  These are tough times for any business, however when your business 'partner' takes the lion's share of any takings through unrealistic rent and hyper-inflated prices for stock then your chances are not realistic. This unfair balance is, single handed, the biggest cause for pub failure in the present climate. This fails local communities and all pub goers in general. It is time for a change where no tied pub should be at a disadvantage to any free of tie pub." 
Chris Wright, Pubs Advisory Service: "The Pubs Advisory Service know from the coalface what life is like for too many pubco tied tenants. The Fair Deal for Your Local campaign believes that the government's commitment that a tied licensee should be no worse off can only be delivered through a Market Rent Option and this is completely supported by the PAS. It goes to the heart of ensuring that people entering or working in this industry are going to be getting a transparent and fair deal when renting or leasing a pub." 
Inez Ward, Justice For Licensees: "The pubcos have been given since 2004 to reform, they have consistently and ignominiously failed to produce adequate independent self regulation at a great cost to licensees, consumers and the pubs of this land. It is imperative that government now steps in with a Statutory Code to prevent the questionable practices of the pub companies and to re-address the issue of balance between risk and reward, for far too long consumers and licensees have had to pay for the incompetence and irresponsibility of some corporate being. A fair deal for your local is not too much to ask for, when a part of Britian's history, heritage and culture is at stake."

Paul Naylor, Licensees Unite the Union: "Licensees Unite stand fully behind the Fair Local for Your Local campaign. It is high time we had a fair deal for pubco licensees who for years have struggled. It is time for these licensees to have the option to pay an independently assessed market rent only. We believe his is the only way the Government's commitment to ensure that tied licensees are not worse off than free of tie licensees can be delivered. It is time for a fair deal for our locals!" 
Bill Sharp, Chairman, Guild of Master Victuallers "Britain is in desperate need for a fair deal for their local pubs. Whether urban or rural, the archetypal 'local' can be found across the land, binding communities together, offering social interaction and a tourist attraction, supporting local businesses and Britain's agriculture. Far too many pubs have been closed and too many tenants have lost their businesses homes, investments and livelihoods to the pub companies rental model that leaves many on incomes below a minimum wage. The process of reform has barely moved and government intervention is much needed to offer some justice in what has become an extremely unbalanced relationship. Don't let your local close due to a lack of action, get online and show you care and have a voice. Show your support by signing up to a Fair Deal for Your Local at www.fairdealforyourlocal.com . Do it now !
Below: CAMRA chief executive Mike Benner discussing the campaign with Jo Swinson MP. See video on www.camra.org.uk