News
Top American pale ale sets sail for Britain
Added: Monday, April 22nd 2013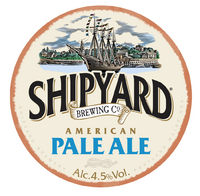 Marston's aims to quench the growing thirst for New World craft beers by building on the existing collaboration with Shipyard Brewing Co, which will see the launch of Shipyard American Pale Ale in a draught 30 litre keg format in May. 
This collaboration is the next stage of a partnership established between Ringwood and Shipyard to distribute Old Thumper in the U.S. more than 15 years ago. American Pale Ale is a new interpretation of Shipyard's Independence Pale Ale, which has been a success on Marston's guest cask ale programme and will be brewed in collaboration with the Marston's brewing team at their Park Brewery in Wolverhampton.  At 4.5% and bursting with a citrus hop aroma, American Pale Ale is crafted using four American hops:  Chinook, Cascade, Columbus and Centennial. James Coyle, sales director for Marston's, says: "The popularity of craft beer is grwoing and is forecast to rise over the coming years as British consumers search out new beer experiences. Our rsearch has shown the market for 'craft beers' combines more established continental speciality beers with an emerging market of American and British craft brewers producing lighter lager/pale ale hybrid beers with more fruity hop character, which we classify as New World craft beers. 
"We feel that the launch of Shipyard's American Pale Ale will further quench the thirst of British drinkers who have been swift to adopt American craft beers." 
Similar to the recent growth in world lager, New World craft beer is seeing volume growth in an overall declining British beer market, with sales now equating to a third of all speciality beer sales. 
James Coyle adds: "The emergence of New World craft beer represents a profitable opportunity to build on the success of established Old World speciality beers of Belgium, Germany and the Czech Republic. Our collaboration with Shipyard is just the beginning of what is set to be a very exciting time for Marston's in terms of new product development." 
Shipyard Brewing co from Portland, Maine, is an Am,erican micro-brewery foudned in 1994, famous for tis Export Ale and such characterful brews as Pumpinhead and Monkey Fist IPA. The breery was recently ranked the 15th biggest micro-brewery in the U.S. 
Fred Forsley, founder of Shipyard adds: "This collaboration with Marston's provides a great platform to bring our beers to a wider audience. The emergence and growth of the US craft beer market in the UK is a very exciting opportunity and we look forward to American Pale Ale providing British drinkers with an enjoyable drinking experience."
Fred Forsley will visit Marston's to sample trial brews to find the one that will make the final cut for the launch in May.