News
Old World meets New World with IPA that's brewed on both sides of the Pond
Added: Wednesday, April 3rd 2013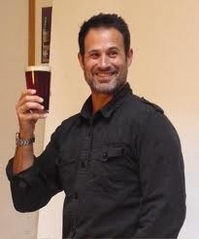 Bedford brewer Charles Wells has teamed up with leading American independent Dogfish Head from Delaware to produce a ground-breaking collaborative craft beer. The partnership has unveiled Dogfish Head DNA New World, a 4.5% India Pale Ale, available in cask in Wells and Young's pubs and some free trade accounts in London.
DNA has been in development in the United States for some months and follows meetings between Charles Wells head brewer Jim Robertson and Sam Calagione of Dogfish Head (pictured).  The beer will be rolled out more widely in keg and bottle variants later this year
"While there's been a stream of craft beers coming to market, we've taken a new approach to creating a beer that is a true amalgamation of two internationally recognised brands," explained Tim Sprake, International Sales and Agency Director of Charles Wells.  "Rather than simply mashing new ingredients together, we've taken a special reduction from 60 Minute IPA, a popular Dogfish Head beer in the US, and integrated it into our own brewing process.  In other words, we've taken the very DNA of one beer and added it to the brewing process of another.  As a result we've produced a beer that is unique and diverse and a little bit special."
The pioneering collaboration will be replicated when Dogfish Head pitches Charles Wells brewing yeast into the United States version later this year.  This will be an IPA brewed in the "Old World" style and is planned to launch at Philly Beer Week at the start of June, when representatives of Dogfish Head and Charles Wells will be on hand to introduce drinkers to the new beer. Commenting on the partnership, Sam Calagione, founder and President of Dogfish Head, said, "We have great respect for the people and brewing heritage at Charles Wells and it's been really rewarding to work on this project together.  At Dogfish we use many culinary-inspired ingredients in our brewing process but borrowing the concept of sauce reduction to intensify the complexity of a beer, while established in the world of gourmet chefs, is a new twist in the world of commercial brewing."
DNA New World IPA is available as a seasonal cask variant in selected Charles Wells and Young's/Geronimo's pubs for the month of April and is described as a marriage of East Coast US and East Anglian brewing credentials.  Dogfish Head DNA New World IPA brewed by Charles Wells using the brewing DNA from the Dogfish Head brewery in Delaware, offers a unique experience for the drinker. "Dogfish Head brings an off-centred approach to the art of brewing and has a loyal following in the States," Tim Sprake said.  "We believe that by combining the expertise of both companies we have produced a beer like no other that will stimulate interest in both the Britain and the US.  We're hoping to excite drinkers who may never have drunk ale before by getting them to sample DNA New World IPA and enjoy its great taste and inspire them by this novel approach to brewing."
DNA New World IPA is brewed with 100% Maris Otter pale malt. It's hopped with Galaxy in the copper and is dry hopped in cask with Simcoe. The hops create 32 units of bitterness. The beer has a rich biscuit malt aroma and palate balanced by leafy hop resins and a big citrus kick from Simcoe.
*Image shows Jim Robertson showing Sam Calagione the brewing kit at the Charles Wells' brewery in Bedford