News
Lacon's falcon to fly again in Yarmouth
Added: Saturday, March 30th 2013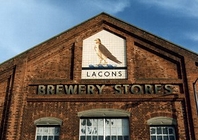 LACONS TO SPONSOR CITY OF ALE PARTY
The Norwich City of Ale festival will be celebrating the return of Lacons beer when it launches on May 23.
Lacons craft brewery – brewing again after a 45-year hiatus – has been selected as sponsor for this year's festival's launch party at St Gregory's Church.
Three new Lacons ales, brewed by brewer Wil Wood, will be available at the party.
Lacons managing director, Mick Carver felt the City of Ale was the right event to celebrate the resurrection of the Lacons brand:
"Without a doubt Norwich is the City of Ale. And the festival embraces the city's passion for great beer thus we are very proud that City of Ale selected us as sponsors for the launch night allowing us to celebrate not only the festival but also Lacons ales," he said.
Dawn Leeder, Co-Chair, Norwich City of Ale said: "We're delighted that Lacons is sponsoring the Launch Party. Lacons was a much-loved local brand and its resurgence is bound to generate enormous interest."
Details of the three new beers have yet to be released but each has been handcrafted using original Lacons yeast strains that Mr Carver discovered at the Norwich based National Collection of Yeast Cultures.  In total eight original yeast strains have been on ice there since the Lacons Brewery shut in 1968.
Mr Carver explained: "Throughout the brewing process we proudly embrace tradition and maintain an active 'by hand approach', which ensures our beers are lovingly crafted from start to finish. This hands on approach ensures that every pint lives up to Wil's high expectation of making the best beer possible."
The celebrations begin with the City of Ale bus parading through the city led by Morris Dancers, to St Gregory's where speeches will be followed by an evening of entertainment, food and, of course, beer.
Launch Party tickets are £5 to include two free pints of beer, food and entertainment. 
LACONS FACTS:
The new Lacons Craft Brewery in Great Yarmouth will produce over 28,000 pints (400 casks) of beer weekly at the current site using a 20barrel brewing plant within the next 12 months. However, production will commence at 100 casks per week at launch in May.
The iconic Falcon logo still seen on many pubs and former licensed premises in the region will also be brought into the 21st century.  The new image will be released in the next few weeks.
The Lacons Craft Brewery will officially open on May 21 with a ceremony including an original Lacons dray. 

 
Lacons Brewery and its renowned Ales were an integral part of life in Great Yarmouth, Norwich, Cambridge and beyond until 1965, when the national brewer Whitbread purchased it. Just 3 years later in 1968 Whitbread closed the brewery ending a rich chapter in the regions brewing history. 
The Lacons name was first associated with brewing beer in Great Yarmouth in 1760 and represents a time when the town was known for its ales.
In the mid 1800s Lacons Brewery decided to sell to the London market and by 1866 it was despatching upwards of 50,000 barrels yearly to London, 20,000 to other locations, as well as the local market
For press enquiries please contact Louisa Griffith-Jones, LGJ Public Relations on 07908 870537 or Louisa@lgjpr.co.uk