News
Marston's unveils Single Hop beer range for 2013 building on 2012's big success
Added: Thursday, March 28th 2013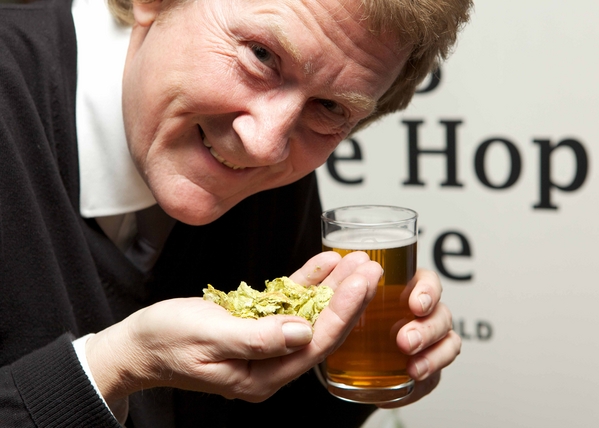 Marston's, one of Britain's major brewers of cask beer, has unveiled its latest range of Single Hop Beers for 2013. Using the same base beer – 4% pale ale – six hops will be used over the course of the year from England, the United States and New Zealand.
The 2013 campaign follows last year's Single Hop range of beers, described by Marston's as a "phenomenal success". The Single Hop line-up for 2013 will be:
*East Kent Goldings
*Pacific Gem from New Zealand
*Amarillo from the U.S.
*Endeavour, a new English hedgerow hop
*Wakatu from New Zealand
*El Dorado from the U.S.
Each beer will be on sale for two months, starting with East Kent Goldings. Simon Yates (pictured), who brews the beer range at Banks's brewery in Wolverhampton, said at the launch in London:
"Looking at the hops for our 2013 Single Hop programme, the alpha acids – the main bittering compound -- in the East Kent Goldings have moved up from 5% to 6.5% from the 2012 crop, which is counter-intuitive in a cool, wet summer. This will bring more oomph to its flavour profile, without hopefully losing its delicacy.
"The Goldings will also provide an interesting contrast with the newly-launched Endeavour (July/August), grown near Worcester. This is a new English hop born from American Cascade and English hedgerow hop parentage, and we are expecting flavours better known from our UK Bramling Cross hop, but deeper and more complex.
"Pacific Gem from New Zealand has the sweet lime flavours of its Pacific Jade cousin, which we have used previously as part of a wider hop grist. Its compatriot, Wakatu, our September/October hop, is already used by micro-brewers in New Zealand and it should be a wonderful autumnal brew.
"Finally, the American duo will see Amarillo, which was originally discovered growing wild in a field of Liberty hops: its orange and grapefruit flavours should be spot-on for a balmy May/June. I will be excited the taste the tropical flavours of the new El Dorado hop, already being trialled by Maryland's Flying Dog brewery and others. It should provide an explosively fruity cracker for Christmas."
What to look for
East Kent Goldings: aroma earthy and spicy; palate sweet and caramel.
Pacific Gem: aroma fruity and blackberry; palate dark fruit and oaky.
Amarillo: aroma grapefruit and lemon; palate citrus with floral notes.
Endeavour: aroma spicy and autumn fruits; palate blackcurrant and citrus.
Wakatu: aroma floral and sweet citrus; palate complex, light and dark fruits.
El Dorado: aroma apricot and pineapple; palate citrus and sweet fruit.
Suggested food matches
East Kent Goldings: This delicate and floral hop creates a real classic English ale and it needs traditional British foods – think ale-battered fish and chips, sausage and mash, comforting pies, a Sunday roast, mellow British cheeses or a ploughman's lunch.
Pacific Gem: This hop is a big beast so match it with spicy or richer dishes or those with a chilli edge – chorizo, chilli con carne, spaghetti bolognaise or alla puttanesca (pasta with tomato, chilli, capers and garlic), richer curries and tandooris.
Amarillo: This peachy American all-star loves spicy or sweetly aromatic dishes – sticky spare ribs, sweet and sour, Moroccan tangines, rice with nuts and raisins, chicken and pork stews with apricots or dried fruits, and a wide range of curries, from rogan josh to tandoori.  Old-fashioned puddings and fruit tarts should also hit the spot.
Endeavour: This new British hop is impressively deep, so meats and richer foods will be its lover – Scotch eggs, pâtés and terrines, richer salamis, pork, venison and games dishes, thumping great stews and pungent cheese.
Wakatu: This New Zealand hop likes mid-weight foods to set off its fragrant flavours – sweeter pâtés, prawns in filo pastry, spring rolls, vegetable tempura, scampi in a basket, ginger chicken stir fry, cheesecake or apple crumble.
El Dorado: Blitz your senses by pairing this American hop with juicy American specialities – hamburgers with fries, chicken burgers with lashings of mayo and chargrilled steaks.