News
News Roundup: Chiltern, the U.S., Labour and duty, Turkey pub, Ossett's top award
Added: Tuesday, March 19th 2013
The Chiltern Brewery, Buckinghamshire, has teamed up with innovative design agency, Dirty Design, to create a series of clever, fresh, ground-breaking and industry re-defining pump clips that change existing ideas about this 'point of sale' concept. 
What they have developed is a range of full-scale curved pint glass pump clips in superb visual colour representation with a wrap around beer barrel "hoop" in "weathered metal", that creates a stunning visual effect. The clips are made of curved fomex with deliberate use of finished textures – gloss for the glass and satin for the head.  
The eye-catching clips also display concise tasting notes – another important development -- and the % vol to inform the consumer at the point of purchase and to act as the perfect promotional tool for the brewery.  
 "We are one of the oldest micro-breweries in the country and as part of our recent rebranding exercise inspired by the celebration of our 30th anniversary in 2010, we decided it was time to look closely at the whole concept of pump clips – both from the industry perspective and as part of our clear new draught ale identity," says head brewer at Chiltern, Tom Jenkinson. "We are thrilled with our 'perfect palette of pints' with an innovative design and clear tasting notes to whet the appetite."  
Background
 Pump clips are a key marketing tool for a brewery. In a competitive market, against big name beer brands, a company such as the Chiltern Brewery has very little time – possibly only a number of seconds – to communicate with the consumer and successfully sell its product. Market research suggests that customers are often unwilling to ask bar staff for help when ordering and need more immediate information to guide their choice. 
"We have worked very closely with the manufacturer to redefine what is possible in terms of materials" says Tom Jenkinson. "By accurately representing our own branded beer glass along with the colour of the beer we reinforce our brand message.  The aim is to break down barriers to customers less confident in choosing which beer to buy by clearly displaying the style on the pump clip image – a picture says 1,000 words. Our brewery name and logo has also been clearly displayed."
The Chiltern Brewery previously had three designs for pump clips --one for each decade it had been in existence. The current ones were designed in 2000, some 13 years ago.  Since then the market has moved on considerably in terms of how and where beer is sold as well as customer tastes and pump clip manufacturing techniques.
Brewers Association: Craft Continues to Brew Growth
Volume and Sales Significantly Outpaced the Overall Market in 2012
Boulder, CO • March 18, 2013— The Brewers Association (BA), the trade association representing small and independent American brewers, today released 2012 data on U.S. craft brewing1 growth. In a year when the total U.S. beer market grew by one percent, craft brewers saw a 15 percent rise in volume2 and a 17 percent increase in dollar growth, representing a total barrel increase of almost 1.8 million.

With production at 13,235,917 barrels in 2012, craft brewers reached 6.5 percent volume of the total U.S. beer market, up from 5.7 percent the previous year. Additionally, craft dollar share of the total U.S. beer market reached 10.2 percent in 2012, as retail dollar value from craft brewers was estimated at $10.2 billion, up from $8.7 billion in 2011.

"Beer is a $99 billion industry to which craft brewers are making a significant contribution, with retail sales share hitting double digits for the first time in 2012," said Paul Gatza, director, Brewers Association. "Small and independent brewers are consistently innovating and producing high quality, flavor-forward craft brewed beer. Americans are not only responding to greater access to these products, but also to the stories and people behind them."  
In 2012, there was an 18 percent increase in the number of U.S. operating breweries, with the total count reaching 2,403. This count includes 409 new brewery openings and only 43 closings. Small breweries created an estimated 4,857 more jobs during the year, employing 108,440 workers, compared to 103,583 the year prior. 

"On average, we are seeing slightly more than one craft brewery per day opening somewhere in the U.S. and we anticipate even more in the coming year. There is clearly a thirst in the marketplace for craft brewed beer, as indicated by the continued growth year after year," added Gatza. "These small breweries are doing great things for their local communities, the greater community of craft brewers, our food arts culture and the overall economy."  
Note: Numbers are preliminary. A more extensive analysis will be released during the Craft Brewers Conference in Washington, D.C. from March 26-29. The full 2012 industry analysis will be published in the May/June 2013 issue of The New Brewer, highlighting regional trends and sales by individual breweries. 
1 The definition of a craft brewer as stated by the Brewers Association: An American craft brewer is small, independent, and traditional. Small: Annual production of beer less than 6 million barrels. Beer production is attributed to a brewer according to the rules of alternating proprietorships. Flavoured malt beverages are not considered beer for purposes of this definition. Independent: Less than 25 percent of the craft brewery is owned or controlled (or equivalent economic interest) by an alcoholic beverage industry member who is not themselves a craft brewer. Traditional: A brewer who has either an all malt flagship (the beer which represents the greatest volume among that brewers brands) or has at least 50 percent of its volume in either all malt beers or in beers which use adjuncts to enhance rather than lighten flavour.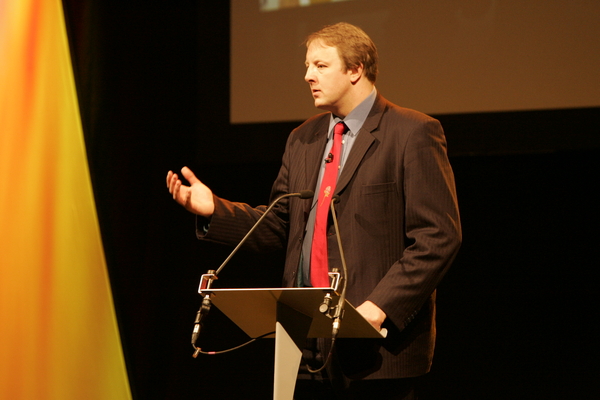 Labour may keep Duty Escalator, says Shadow Small Business Minister
Labour might have to retain the Beer Duty Escalator if it is in government after the next election, Shadow Small Business Minister Toby Perkins MP (pictured above) told brewers at SIBA BeerX in Sheffield.
Pressed by delegates for a commitment to end the escalator, the MP for Chesterfield said he "recognised" the impact annual duty rises above inflation have had on pubs, and would make the industry's case, "but a Labour Chancellor would have to address the deficit."  Other industry sectors, such as construction, would also be making the case for special treatment by the Treasury, said Perkins.
The MP also told delegates that he personally supports minimum pricing, but insisted a Labour government "will not see minimum pricing as a stealth tax, but as a brake on irresponsible pricing, no more and no less".
He said minimum pricing would help to address the price differential between on-trade and off-trade alcohol, and the related issue of pre-loading.  "Pubs are not getting the benefit of money spent on alcohol, but are dealing with many of the problems that spending causes," said Perkins.
On the issue of reform of leased and tenanted agreements, Perkins said that "Labour does not opposes the beer tie in principle" but believes anyone signing a pubco agreement "should be no worse off than if they were free-of-tie." He called on pubcos to offer a fee-of-tie option as a standard choice for incoming tenants and lessees.
Labour would also make it a requirement that any proposed new legislation included an assessment of the impact on small business.
"No one needs to tell you how diverse the pub industry has become over the past few years. We have a diversity of pubs that are the envy of the world, but many of the problems they face are similar," he said. "We can't solve all the problems facing pubs, but we can ensure that  anyone entering the industry has a fair crack of the whip."
Beer Academy Sommelier's Turkish Delight
Beer Academy Sommelier Jane Peyton has trained the staff of the newly launched Bosphorus Brewing Company in Istanbul on the merits of matching beer and food. The Bosphorus Brewing Company is Istanbul's first brew pub and opened in November 2012. It is owned and run by Britons Phil and Jill Hall, both long time Istanbul residents.
 Jane trained bar staff and the chef in how to match the pub's menu with beer, how to appreciate and identify the styles and flavours of a variety of styles of beer. She said "Pilsner lagers are by far the most popular brands in Turkey and few people have had the chance to sample different beer styles.  Phil and Jill brew a whole range of beers from easy drinking blond ale to a chocolaty stout.  A fantastic canvas to show people that beer doesn't all taste the same – and start them on a voyage of discovery to find out more. "
 Head brewer Phil said, "Our customers are mainly ex-pats who work in Istanbul or locals who have developed a taste for beer when they have been travelling or living overseas.  They not only want to be able to buy great beers, they expect our staff to be knowledgeable about what they serve. As a Beer Academy Sommelier, Jane was able to tell the team all they needed to know – and inspire them to become beer champions themselves. It's worked because now we regularly overhear the staff enthusiastically talking to customers about the beer production and styles.'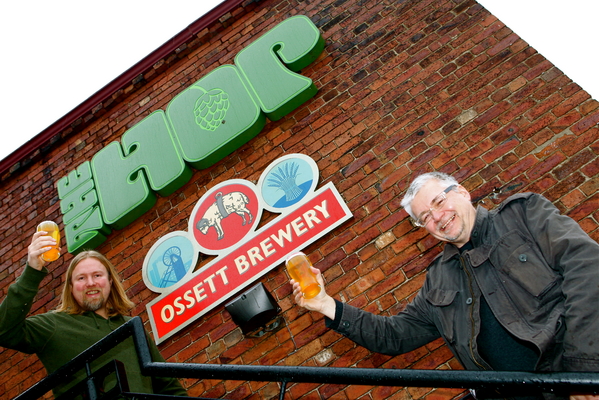 BREWER TOASTS 'PUBS OSCAR' ACCLAIM
West Yorkshire's award winning Ossett Brewing Company is celebrating an industry "Oscar" for the success of its pub estate. Pictured above are joint managing directors Jamie Lawson and Mike Inman.
The 16-year-old brewer was crowned Best Microbrewery Pub Company at the highly prestigious national Publican Awards 2013. Judges praised the successful mix of community and music pubs all focussed on cask-conditioned ale. 
Ossett's 19 pubs are located across the region in Calderdale, Huddersfield, and Knaresborough as well as the home Wakefield area. The estate has grown rapidly since the first pub – the Black Bull in Liversedge -- opened in 2003. It now includes brew pubs the Fernandes Brewery Tap, Wakefield, the Rat, Huddersfield, and the Riverhead in Marsden. There are also The Hop venues -- live music themed pubs located in Leeds, Sheffield and Wakefield.
The awards' tough judging process included undercover pub visits and rigorous interviews with judges, including city analysts, industry consultants, business journalists and pub guide editors.
Judges applauded how the pubs and brewery cross contribute to each other and the vision and understanding of what makes a great pub experience – "showing that a genuine love of pubs beats any corporate cookie cutter approach". They praised the guest ale policy and were impressed with the synergy between cask ale and live music in The Hop venues -- "unthinkable five years ago to imagine cask ale as the default drink of choice in venues focused around live gigs". *
Toasting the acclaim (see photograph) Mike Inman, Ossett's joint managing director, said:  "We are delighted to pick up the award for Best Microbrewing Pub Company. This is like a Pub Oscar. It is the highest recognition from our industry peers and colleagues for our successful formula of cask ale led community and music pubs -- all enjoying success despite the economic climate when many pubs are closing.
"While we are a small company, we have a very talented group of staff and this award - more than any other -- is a recognition of everyone's hard work, from those at the brewery to all those working at our 19 pubs."
Ossett's award was among just 18 presented by TV star Rob Brydon at a glittering ceremony in London's Grosvenor House Hotel.
The Publican's Morning Advertiser's group editor Rob Willock said:  "In these challenging trading times it is fantastic to see our award winners continuing to grow their businesses and bring innovations to their customers."  
Ossett Brewing Co was founded in 1997 by brewer Bob Lawson and has become famed for it single variety hopped pale beers. Brewing capacity is currently 200 brewers' barrels-a-week (more than 57,000 pints). The brewery now delivers directly to hundreds of pubs throughout northern and eastern England and nationally through leading wholesalers.
Ossett has won many brewing awards with its core brands: Excelsior, Silver King, Yorkshire Blonde, Big Red and Pale Gold.
*The Publican Awards' are organised by the Publican's Morning Advertiser to recognise the achievements of pub companies.