News
News Roundup: Converted shop is Pub of the Year; AB InBev to expand Goose Island beers; Sambrook's launches pale ale with a German twist; beer booms at Purity
Added: Wednesday, February 13th 2013
The Baum, Rochdale, Lancashire, has been crowned the best pub in Britain by CAMRA, the Campaign for Real Ale. CAMRA's National Pub of the Year competition recognises all the criteria that make a great pub, including atmosphere, decor, welcome, service, value for money, customer mix, but most importantly, the quality of the beer. 
The building is next door to the Pioneers Museum, the original Co-op store. It has been a pub for around 30 years and was converted from Morris's Hardware Store in the 1980s. Simon Crompton, one of the owners, started work in the Baum in 1993 and became manager in 1994. In 2005, Simon and his wife Heidi, who co-owns the business, bought the pub just two days after having their first child. 
When she heard the news, Heidi Crompton said: "We were ecstatic to hear that we had been voted CAMRA's National Pub of the Year. We are very proud of the team that have played an important role in the Baum's success and it is a testament to their hard work that the consumers have recognised our pub with this prestigious award."
She added: "We are a family-run pub with our values influencing every aspect of the business in relationships with our staff and suppliers. We are dedicated to the 'buy local, shop local' initiative, always willing to support independent businesses. The support from the regular customers and local CAMRA members is valued and we would like to thank everyone for their continued support." CAMRA's Good Beer Guide 2013 describes the pub as "a split-level hostelry with old world charm next door to the world's first co-operative store. The Baum has eight handpumps, one dedicated to cider, and a large variety of continental bottled beers. Excellent food includes vegetarian dishes, with a tapas menu available throughout the week. There is an upstairs dining/function room. The large rear garden, over looked by a conservatory, contains two full-size pétanque pistes." 
CAMRA's Pubs Director Julian Hough was delighted with this year's winner and said, "I would like to congratulate Simon, Heidi and all of the staff at the Baum on winning CAMRA's national award. This close to town pub has a winning formula which is well supported by customers. The range of quality products and their fresh modern approach means I'm delighted to crown the Baum our National Pub of the Year. Go and see it for yourself and experience what a brilliant pub it is". 
Peter Alexander, Chairman of Rochdale, Oldham and Bury branch of CAMRA said, "Clearly we are absolutely thrilled that the Baum has been chosen as CAMRA's National Pub of the Year.  While we locally know how good a pub the Baum is, it is fantastic to have this confirmed by senior judges who have never visited it before.  Given that the Baum was up against some tremendously fierce competition, Simon and Heidi have done a tremendous job. There is no higher accolade in pub awards and we in the local CAMRA branch are very proud to have Britain's best pub in our area. "  
The three other finalists were: Bridge End Inn, Ruabon, Wales – winner of CAMRA's National Pub of the Year last year and the first Welsh winner of this award. Taken over by the McGivern family in 2009, it sells five different real ales. Address – 5 Bridge Street, Ruabon, Wrexham, LL14 6DA. Website – www.mcgivernales.co.uk 
Conqueror Alehouse, Ramsgate, Kent – Ramsgate's smallest free house, where ale and cider are served straight from barrels. It offers a quiet, music and TV free atmosphere in which to enjoy a pint or two. Address – 4C Grange Road, Ramsgate, Kent, CT11 9LR. Website – www.conqueror-alehouse.co.uk 
Tom Cobley Tavern, Spreyton, Devon – a former CAMRA National Pub of the Year in 2006, it sells 14 different real ales every week, plus 20 ciders in a pub that is 'part of community life'.  Address – off A3124 in Spreyton Village, EX17 5AL. Website – www.tomcobleytavern.co.uk 
Goose Island to grow
Anheuser-Busch InBev, the world's biggest brewer, is to expand distribution of Goose Island beers from Chicago across the United States. When the brewing giant bought Gosoe Island there were fears the range might be redcued but now Honker's Ale, India Pale Ale, 312 Urban Wheat Ale and a rotating selection of seasonal ales are now available on draught nationwide, it was announced last week. The beers will then go on sale in bottles this spring, the A-B InBev-owned brewer said. 
Production will take place at A-B InBev's Fort Collins and Baldwinsville plants to meet expected demand. At the same time, capacity for barrel-aged and speciality beers will be expanded at Goose's Chicago facilities. 
"As a native Chicago line of brands, the national launch will bring one of the Windy City's most acclaimed creations to consumers across the country," Andy Goeler, Goose Island CEO and president, said. Goeler is also A-B InBev's import, craft and specialty VP. Brewers for Goose Island, which wassold for $$38.8 million to A-B InBev in 2011 will oversee production at the A-B InBev facilities, the company said. 
Sambrook's launches Pale Ale
Sambrooks Battersea-based brewery Sambrook's has launched the brewery's first craft keg, Sambrook's Pale Ale (4.5% ABV), in 10 London stockists. Mixing traditional English cask brewing with continental lagering techniques, Sambrook's Pale Ale is a beer born out of innovation. 
Sambrook's founder Duncan Sambrook comments: "You only have to visit one of the growing number of craft beer bars across the capital to realsie how popualr craft keg beer is. But with the exception of a handful of notable cases in Britain, this has primarily been the domain of the American and European craft brewers. So we thought it would be great to create our own unique product in keg." 
Over three months in development, Sambrook's has taken a traditional English Pale Ale recipe and merged this with a German lagering technique called kräusening. Maturing for three weeks in a pressurised vessel, the beer develops its own carbonation, while keeping all the flavours expected from Sambrook's ales. The beer is unpasteurised and unfiltered so has a natural haze. 
Sambrook's Pale Ale stockists include: Ales and Tails, Twickenham; The Cut Bar, Waterloo; Defectors Weld, Shepherds Bush; The Draft House, Northcote Road; The Draft House, Tower Bridge; Manor Arms, Streatham; Sebright Arms, Bethnal Green; The Strongroom, Shoreditch; The White Horse, Parsons Green; and Sambrook's brewery bar, The Boadicea.  
Tasting notes: Using only the best Maris Otter pale malt, the beer is golden and naturally hazy. Packed with a blend of hops from England and New Zealand, the beer has a zesty aroma with a crisp, dry finish. The beer is unpasteurised, unfiltered and naturally carbonated.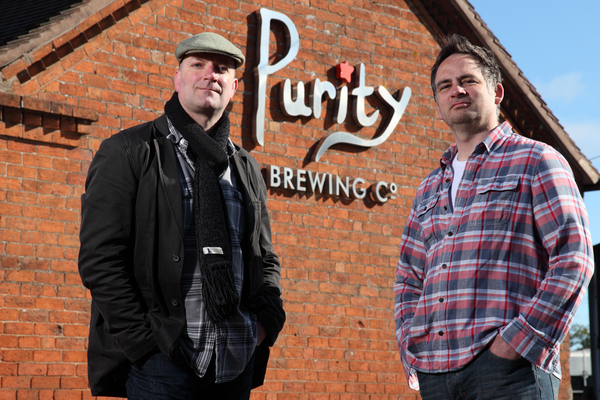 Purity reports growth
Sales growth of 23 per cent to £3.2-million; Accepted on government-backed Growth Accelerator programme Warwickshire-based Purity Brewing Co has reported a positive year of growth for the financial year to September 2012. The brewery's star is shining brightly as it notes the highlights of the past year:          Sales turnover grew by 23% from £2.6-million in 2010-11 to £3.2-million in 2011-12. 
Five new people were welcomed to the team.
An additional delivery vehicle was added to the fleet.
New business included Asda, Spirit, Young's, Scoff and Quaff, Wholefoods, Wilderness Festival. 
Presented with six awards. 
Paul Halsey, managing director, comments: "Over the past year the team focused on getting closer to our customers. We invested in training all staff on beer quality and consistency. These steps, along with the efforts of every individual, helped to deliver the healthy results." 
2013 started with the appointment of a new chairman, Simon Brown. Mr Brown's career to date includes sales and marketing positions across the drinks sector, notably with Grand Metropolitan, Courage and Scottish and Newcastle, where he was on the UK Board. Most recently he led the Jygsaw Brands business prior to its sale. He brings with him a wealth of industry sales and marketing expertise to help push Purity through its next stage of growth. 
In recognition of past performance and future growth potential, Purity was recently accepted on the Growth Accelerator programme, a government-backed initiative that "helps ambitious businesses achieve rapid, high and sustainable growth". Building work is due to be completed on the new brew house in March and the facility is expected to be fully functional by mid-2013. It will be capable of producing three times the current brewing capacity and brewing different styles of beers. 
Mr Halsey concludes: "The opening of our new brew house will be a landmark step for the company. There are plans for further recruitment in the first half of the year and a new beer in the second. 2013 looks set to be an exciting period for Purity." 
*Paul Halsey (left) and James Minkin, founders of Purity, are pictured above.