Feature
How NoLO can you get in 'dry' January?
Added: Monday, January 16th 2023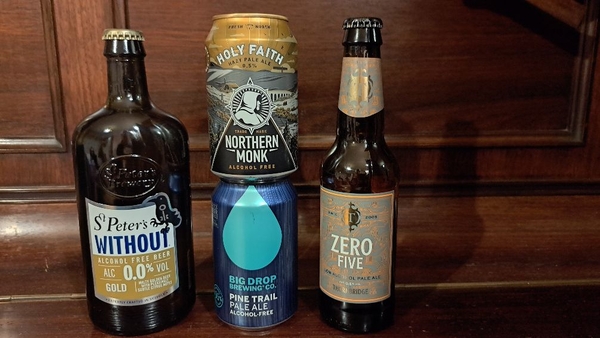 The statistic is stark: 32 pubs closed every month in 2022. The previous year, 400 pubs in total closed. Breweries are also the victims of impossible prices for energy and raw materials: as I write, a craft brewery in Manchester has pulled down the shutters. Several more closed last year.
I am not observing Dry January because I want pubs and breweries to thrive. If you over-indulged over the festive period it's still possible to support your local pub and to drink beer low in alcohol.
Last month I was invited to a Christmas party in a local pub and, as driving was involved, I drank a draught no alcohol beer. Many breweries are now producing what are dubbed NoLos – no or low alcohol beers – and some are well made and tasty.
We have come a long way from the days of Kaliber and Barbican, alcohol free beers that tasted like cold Horlicks. It's now possible to drink NoLos with the smack of malt and hops.
NoLos are made either by distilling the beer to remove the alcohol or by reverse osmosis. The latter method involves beer passing through a series of membranes that remove water and alcohol. It leaves a beer concentrate to which fresh water is added.
There's a good range of NoLos in Morrisons. Northern Monk, based in Leeds, has Holy Faith, 0.5%, that's a very tasty offering. It's brewed with malt and oats and hopped with two American varieties, Citra and El Dorado.
There's a big hit of citrus fruit from the hops on the aroma with a touch of malt. The palate is thin and is dominated by bitter and fruity hops. The finish has a better balance of malt as well as hops. It's a pleasant beer.
St Peter's Without is a 0% beer from a long-running brewery based next to a medieval hall near Bungay in Suffolk and is famous for its oval-shaped bottles. The beer has a big malty/grainy aroma with a sweet palate and a faint hint of hops. The sweet finish has some gentle hop notes to balance the grain but the beer is rather cloying and not to my taste.
In sharp contrast, Big Drop is another Suffolk-based brewery, this time in Ipswich. It specialises in NoLOs and Pine Trail Pale Ale, 0.5%, is malt-driven but has citrus hop notes on the nose. Bitter hops build in the mouth, balanced by biscuit malt and tart fruit. The finish is bitter, hoppy and fruity and is an enjoyable drink. Big Drop beers are available in most supermarkets and also in Fuller's pubs.
Thornbridge Brewery is Derbyshire is the award-winning producer of the superb Jaipur IPA. Its Zero Five Pale Ale (0.5%) is brewed with the addition of orange peel to malt and hops. It has a herbal and fruity aroma followed by a hoppy and fruity finish.
The best draught NoLo I have found is Adnams Ghost Ship (0.5%). I came across it in a fine pub, the Woodbine, just outside Waltham Abbey in Essex. Regular Ghost Ship was on the bar but as I was driving the landlord suggested I try the low alcohol version. It's superb and you'd be hard-pressed not to think you were drinking the real thing.
It's now one of Adnams best-selling brands and is a great drink for every month, not just January.
Fell Brewery in Cumbria has won plaudits for its sustainability programme, using local ingredients wherever possible. It has access to some of the finest and purest water in the country.
It's 0.5 per cent Beck is brewed with pale malt and oats and hopped with Citra, Mosaic and Simcoe. The beer is unfiltered and has a hazy blond colour followed by biscuit malt and citrus fruit on palate and finish. It's an excellent beer and the malt notes balance the tart fruit of the hops.