Feature
Hop on the Tardis for some Dorset ale
Added: Monday, August 22nd 2022
If you enjoy good beer in a lush rural setting you will revel in the ales from the Sixpenny Brewery in Dorset.
And if you're a Doctor Who fan, your tankard will overflow with pleasure when you find Daleks acting as security guards in the brew house.
Not just Daleks. Who's that nuzzling my leg? Not the usual cheery pub Labrador but K9, the robot dog from the long-running sci-fi drama, its lights flashing a warning to any intruders or – even worse – lager drinkers.
Scott Wayland, the founder of the brewery, (pictured right) is also a commercial model maker and he built Daleks and other characters for the BBC.
But now all his efforts go into running the brewery and attracting beer lovers to his taproom in Cranborne, a village in an area of Outstanding Natural Beauty that lies between Salisbury and Blandford Forum.
As well as building models, Scott was a home brewer in Surrey whose life changed when a friend and CAMRA member took him to a beer festival in Battersea. He was bowled over by the range of cask beers on offer and was inspired to launch a small, 2½ barrel commercial brewery.
In 2009 he moved with his family to Dorset to a village with a name -- Sixpenny Handley -- that could have stepped from the pages of a Thomas Hardy novel.
Scott increased the size of his kit to five barrels and then in 2011 moved again to Cranborne village where he has a 20-barrel brewhouse with plant bought from the West Berkshire Brewery.
Brewery and taproom are on a farm site where the brewhouse is in a former cow shed and the cold store was the milking parlour.
The taproom is in spacious stables, with a high raftered ceiling and an impressive bar displaying handpumps of all the current range.
Barley malt is the finest Maris Otter that makes the short journey from Warminster Maltings. Brewing water comes from the public supply but there's a well on site that Scott hopes to connect to. The local water is hard but he adds sulphates to make it perfect for ale production.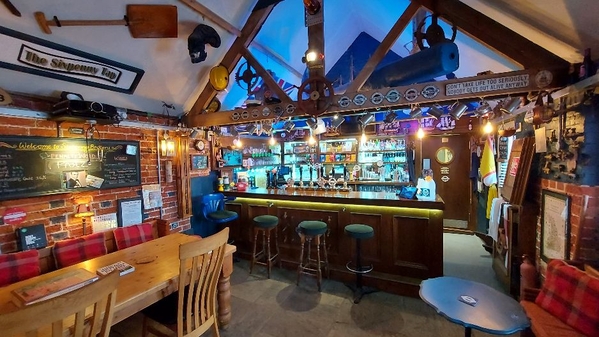 He uses Nottingham Yeast, a culture with a neutral flavour that allows malt and hops to express their aromas and flavours to the full.
Hops vary from brew to brew. Sixpenny Gold (4 per cent) uses Cascade and Columbus from the U.S. and has a big citrus fruit kick but is well balanced by a solid honey malt base.
IPA at 5.7 per cent has a good strength for a modern interpretation of the style. It uses three American hops, Centennial, Chinook and Summit and it has a big fruity, herbal and floral aroma balanced by honeyed malt. The palate and finish are hoppy, fruity and refreshingly bitter.
Rushmore Gold (3.8 per cent) is a summer beer and Maris Otter low colour malt is joined by Nelson Sauvin hops from New Zealand. The hops deliver a superb vinous fruitiness to balance the biscuit malt aroma. Bitter hops build on the palate followed by a quenching finish with hints of gooseberry and continuing biscuit malt notes.
The flagship best-selling beer is Sixpenny Best Bitter (3.8 per cent) with a complex grain bill of pale, crystal, mild ale and caragold malts. The hops are all English: UK Cascade, First Gold and a small amount of Pioneer. It's everything a traditional Best should be: a superb balance of malt and hops, with notes of nuts and butterscotch from the malts, and pine and floral contributions from the hops.
Seasonal beers include Cranborne Chaser in the spring, which varies from year to year. Scott says it was mild ale one year "and sold well – we didn't use the word mild!"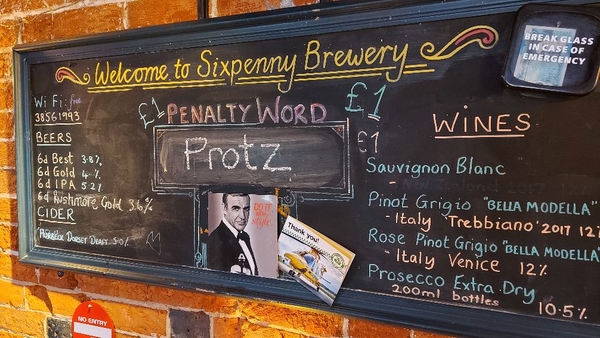 Sixpenny Black is a regular winter Porter while Marley's Ghost was brewed for Christmas one year and had an addition of Cointreau, which made it expensive to produce. Scott is tempted to bring it back but he has to keep a tight grip on costs.
"Barley prices are up," Scott says. "Electricity is £27,000 a year – it was a third less three months ago. A pint costs £4 – it was £3.40."
He produces 880 barrels a year and delivers to free houses and Wetherspoon's outlets within a 25 mile radius. He's lucky to have such major conurbations as Bournemouth, Salisbury and Shaftesbury close by along with many attractive pubs in the New Forest. He also supplies thirsty drinkers at a major rugby club in Salisbury.
The city has some excellent pubs but, Scott says, they are only now beginning to see the return of visitors following the attempt to poison the Russian dissidents, the Skripals, in 2018.
During the pandemic and the ensuing lockdowns, Sixpenny ran a takeaway service of draught and bottled beer. Pubs are open again but Scott has seen a change, with many outlets no longer able to employ experienced staff.
"Pubs need good landlords," he says, "but many pubs don't have trained staff to cellar and serve beer.
"We sell 40 casks a week to pubs and 28 in the taproom. The profit for us is in the taproom."
He has four full-time members of staff. His son Lewis is now head brewer while Kevin Patrick is in charge of social media – vital to encourage people to visit the taproom so remote the brewery address includes the Ordnance Survey number 000171.
There are regular live music events and as many as 250 people crowd the bar and a large courtyard on Friday nights. The yard comes complete with a further reminder of Dr Who – a traditional blue telephone box.
A large blackboard on the taproom wall lists the beers and wines on sale, with a space in the centre for the Penalty Word. Any customer mentioning such penalty words as "lager" have to put £1 in the charity box, which has raised £1,904 for good causes.
On the day of my visit the penalty word was PROTZ. I'm not certain if this was meant as a compliment but I wasn't going to argue with a man who makes Daleks.
•Sixpenny Brewery and taproom, Holwell, Farm, Cranborne, Dorset, BH21 5QP. 01725 762006. www.sixpennybrewery.co.uk.
Photos: Kevin Patrick.