Feature
Adnams joins forces with Sierra Nevada to celebrate 150 years of brewing
Added: Sunday, May 8th 2022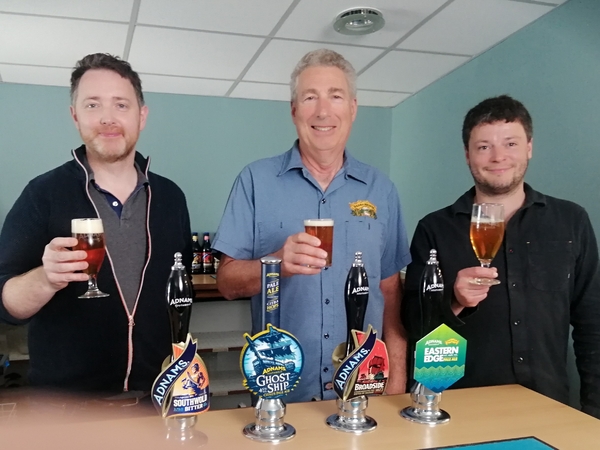 Pictured (left to right): Adnams' production director Fergus Fitzgerald, Steve Grossman of Sierra Nevada and Adnams' head brewer Dan Gooderham.
Suffolk brewer Adnams celebrates 150 years of brewing in 2022 and it's marking the milestone with a collaboration brew, Eastern Edge, with Sierra Nevada, one of America's leading craft breweries.
The name of the 4.8 per cent pale ale reflects the position of Adnams in Southwold on the edge of the North Sea while the Sierra Nevada Mountains in California form the backdrop to the brewery there.
Both breweries also have a keen interest in cask-conditioned beer, sustainability and recycling, which led to talks about a joint brewing operation. Eastern Edge was launched this month with Steve Grossman, Sierra Nevada's beer ambassador, in attendance.
The beer is fermented with a mix of yeasts from both breweries. Malted barley and rye are grown in Suffolk, with some from the farm of Jonathan Adnams, the brewery chairman.
Two hops are used: Cascade and Chinook. Both have their origins in the U.S. but they are now also grown in Herefordshire. Cascade is used to "dry hop" the beer, which means adding additional hops when casks are filled for extra aroma and bitterness.
Eastern Edge has a pale copper colour with pine, biscuit malt, blackcurrant fruit and spicy hops on the aroma. Blackcurrants, honeyed malt and tart hops dominate the palate followed by a dry finish with a fine melding of fruit, malt and hops.
The beer is available in cask, keg and can and will be on sale in Adnams' 36 pubs, the wider free trade and off-sales outlets. Buy online: www.adnams.co.uk.
•Brewing has taken place in and around the Swan Hotel in Southwold since the 14th century. In 1872 Ernest and George Adnams from Essex bought the small plant and turned it into a successful commercial enterprise.
The modern brewery today can produce 115,000 barrels a year with grain, hops and water all recycled to aid the environment. A distillery has been added and has won awards for its gin, vodka and whisky.
Work on the new brewhouse started in 2007. The plant is a German Huppman kit and is based on the continental system of mash mixer, lauter (filtration) vessel and a combined boiling kettle and whirlpool. Four brews a day can be handled, with each batch producing between 90 and 300 barrels. The brewhouse feeds 17 fermenting squares and 11 conical fermenters.
The main malt varieties used are Concerto and Propena.  Hops range from traditional English Fuggles and Goldings to Australian and American varieties. Production director Fergus Fitzgerald visits the Yakima Valley region of Washington State every year to sample hops fresh from the harvest.
For decades Adnams' main cask ales were Southwold Bitter and Broadside but Ghost Ship (4.5 per cent), launched as a one-off beer, has achieved such success that it's now the brewery's main brand. It has spawned a low alcohol version at 0.05 per cent.
Adnams has been a pacesetter in the brewing industry for aiding the environment. A warehouse in Reydon, just outside Southwold, was designed to be mainly below ground to avoid disrupting the view of the countryside. The building has a "living roof" of sedum, natural vegetation that captures rainwater, which is used to clean the building, flush toilets and wash delivery vehicles.
In the brewhouse, steam is captured by a heat recovery system and recycled. Water use has been massively reduced and the gas bill for the complex has been reduced by 30 per cent. Refrigeration has been replaced by more eco-friendly plant while used grain is supplied to local farmers and spent hops are a popular pig feed.
Sierra Nevada Brewery was founded in 1981 in the university town of Chico by Ken Grossman and Paul Camusi. They were keen home brewers who stepped up to commercial brewing and brought the concept of Pale Ale – their first product -- to the attention of beer lovers throughout the U.S. as a result of winning gold medals at the Great American Beer Festival.
Pale Ale was followed by further interpretations of historic English styles, including Porter, Stout and Barley Wine. Big Foot Barley Wine (9.6 per cent) was a sensation, one of the strongest beers ever brewed in the country.
A new brewhouse was installed in 1987 and has been regularly updated and expanded to meet demand. Current production runs at 1,250,000 barrels a year and many new beers have been added to the portfolio, including several lagers. India Pale Ale has not been ignored and versions include Hazy IPA and Fantastic Haze Imperial IPA.
The introduction of Torpedo Extra IPA (7.2 per cent; 65 units of bitterness) not only created enormous interest but also led to a number of other brewers adopting a system that gives greater hop character to beer. The beer is pumped from the fermenting vessel into a conical tank – the torpedo – where it circulates over a deep bed of hops – Citra, Crystal and Magnum – before returning to the fermenter.