Feature
Roscoe's Carol: the scars are healing
Added: Monday, March 21st 2022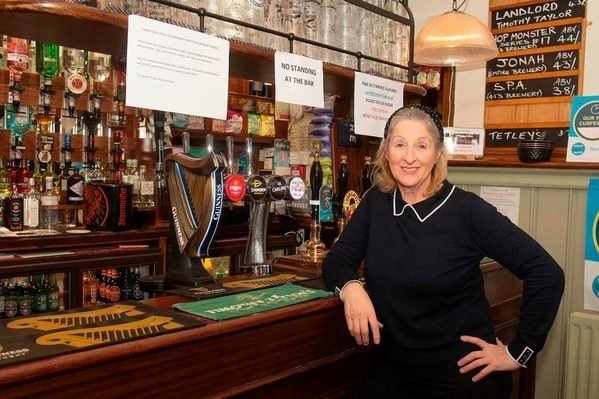 Carol Ross's wounds are healing but the scars run deep. She saved her beloved Roscoe Head pub in Liverpool at the end of 2020 after a long battle with her landlords but she's still full of emotion when she recalls the recent past.
We'd been talking for just a few minutes when she excused herself and went to find a tissue to wipe away the tears.
"I love this pub – that's why it was saved," she says. "And then straight away we had lockdown and I thought 'Do I want to go through this?'
"But we didn't have Covid and we survived because the Roscoe is passionately run."
It needed passion, determination and Liverpool grit for Carol to hold on to the pub she had run since 1997. It seemed for 10 years that the Roscoe might close or Carol would be replaced by a manager who would do the bidding of the pub company that owned it.
The Roscoe needed a tenant who knew what her regulars wanted: cask ale kept in tip-top condition, beer so good that the pub is only one of five that has graced every edition of the Good Beer Guide for 50 years.
From the outside, the Roscoe in Roscoe Street appears small and intimate but there are four comfortable rooms inside, decorated with brewery memorabilia and mirrors. The bar serves impeccable pints of Tetley Bitter and Timothy Taylor Landlord, with guest beers from local brewers.
The pub, named in honour of William Roscoe who campaigned against the slave trade on which the city's wealth was based, was originally owned by Walkers of Warrington. Carol had no problems with the lease she had with Walkers but life changed for the worse when the Thatcher government introduced legislation known as the Beer Orders in the 1990s.
When large brewers were told they had to turn their pubs into free houses, many gave up and left the industry. The "pub co" arrived: non-brewing companies that jettisoned the convivial relationship brewers had enjoyed with their tenants. Out went low rents and affordable beer. Now tenants had pay top dollar for beer while rents went through the roof.
Carol found herself at the mercy of a giant national pub company, Punch Taverns, that had acquired a national chain of thousands of pubs, many from the former Bass empire. Punch forced her to pay an eye-watering rent that rose from £17,000 a year to £20,000 and then to £31,000 following a refurbishment of the pub.
Relations between Carol and Punch soured when the pub company changed her lease and no longer allowed her to choose one guest beer free of the tie. They took her to court for allegedly selling beer outside the tie and she suffered the indignity of Punch sending in a specialist company, Brulines, which ran tests on her cellar to see if she was still taking beers outside the tie.
She wasn't but relations with Punch were by now so appalling she thought they could only improve when it sold the Roscoe to New River Retail's pub division, Hawthorn Leisure. It wasn't to be. Hawthorn refused to allow Carol to have MRO status – Market Rent Only – that would have allowed her to buy her own beers in return for an increased rent. Hawthorn then said that when her lease expired in 2021 they would convert the pub to management. That would mean Carol leaving her home above the pub.
Liverpool & District branch of CAMRA and Friends of the Roscoe won an Asset of Community Value (ACV) status from the local authority for the pub, a type of listing that puts a sale on hold while both sides attempt to solve the dispute.
Hawthorn threw in the towel and offered to sell the pub to Carol for £485,000.
"They gave me just two weeks to find the money," Carol says. "It was hard to get the money together." But she managed to work out a deal with her bank and paid Hawthorn. She won't disclose the final settlement but it was less than the pub co had wanted.
"Now I have a mortgage to pay – I didn't want that at my age," she adds. "But this pub has never been about making money. Now I'm like a kid in a sweet shop. I can buy my own beers and I look after my regulars. I came out the other end." She runs the Roscoe with her sister.
And now Carol has another campaign on her hands – saving cask beer. She finds that many other Liverpool pubs are selling only craft keg and have turned their backs on cask.
"This is the only Liverpool pub that sells cask Tetleys," she says. "Craft is too expensive. We're in danger of losing our beer heritage – we've got to save cask ale."
But with Carol Ross at the barricades you feel real ale has a good chance of surviving.