Feature
Mad Squirrel meets Frank the Tank
Added: Sunday, January 23rd 2022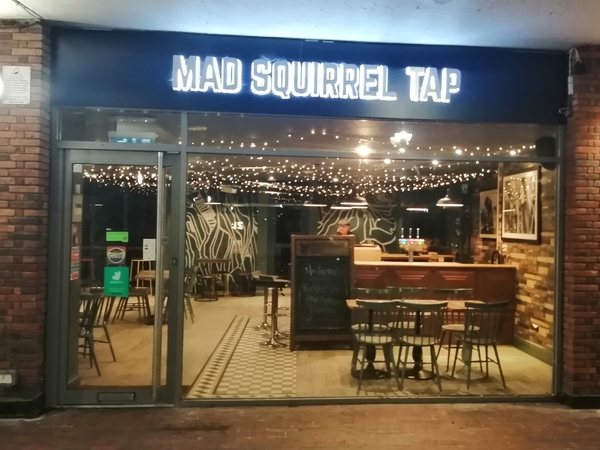 We often ask belligerent people to remove their tanks from our lawns but there's one tank with the benign name of Frank I would be happy to grace my greensward. It has arrived in the Mad Squirrel Taproom in Heritage Close, St Albans, and it offers a new way of serving fresh draught beer.
Mad Squirrel, based on a farm at Potten End near Hemel Hempstead, is an innovative brewery that has brought a wide range of beers to drinkers in Herts and Bucks. As well as the St Albans taproom, there are similar outlets in several other towns where discriminating drinkers can sample beers that include pale ales, lagers, porters and stouts.
The brewery was set up in 2010 by Greg Blesson and Jason Duncan-Anderson. They had both worked in the wine industry and when I visited the brewery I was impressed by the fact that the site had its own laboratory. Greg and Jason are sticklers for hygiene and will blitz any wild yeasts or bacteria that threaten to infect their brews.
Their aim was to bring a range of beers that is familiar to Londoners but will widen the horizons of drinkers in the Home Counties. As well as traditional bitter and a London Porter that has won a number of awards at beer festivals, Mad Squirrel specialises in pale beers that are rich in the hoppy and fruity character of American styles.
The standout beer of the range is Sumo, a 4.7 per cent American Pale Ale, hopped with Mosaic and Summit that bring a nose-tingling citrus note to the aroma and palate of the beer. Sumo accounts for a third of Mad Squirrel's total production and its success prompted Greg, Jason and their team to make the beer available with a new method of dispense.
I first came across tank beer in the Czech Republic where two of the leading breweries, Budweiser Budvar and Pilsner Urquell, developed a system where fresh, unpasteurised beer is served from cylindrical tanks at such large outdoor events as football matches. It's been a great success, to such an extent that both breweries also serve tank beer at a few specialist outlets in this country.
Sumo was for some years a keg beer, which means it is driven to the bar by gas pressure. But the new version is unfiltered, unpasteurised, contains live yeast and is delivered by natural carbon dioxide created by fermentation.
The tank holds 500 litres of beer that stay in good condition for five days. The taproom is on two floors and you will find Frank the Tank on the lower floor. The interest in the system has encouraged the brewery to consider installing a second tank on the top floor.
Live beer from a tank is a system acceptable to the Campaign for Real Ale and this was underscored by a large number of CAMRA members from the South Herts branch attending a celebration at the taproom earlier this month. St Albans has some 50 pubs and there's intense competition to be listed in the annual Good Beer Guide.
The Mad Squirrel tap has been chosen for the 2022 edition and the beer flowed at the party. As well as Sumo, drinkers could choose from 25 beers available. They include two lagers, Helles (4.8 per cent) and Pilsner (4.4 per cent). Helles is a German term for the everyday lager drunk there, with Pilsner a stronger version.
Other ales include Roadkill (6.5 per cent). This is a NEIPA, which stands for New England India Pale Ale. In the United States there's a big divide between the intensely hop-led IPAs brewed on the West Coast and the more balanced versions brewed on the East Coast, with a greater malt balance.
The taproom (closed on Mondays) has a garden for good weather and is in touching distance of the abbey. Enjoy the view and meet Frank the Tank for a fine glass of Sumo.
•First published in the Herts Advertiser, 20 January 2022.