Feature
Beers to get Santa stuck in the chimney
Added: Monday, December 13th 2021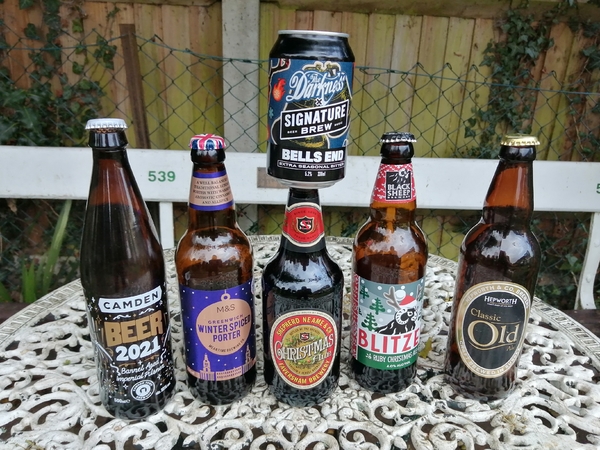 Let's start a festive roundup with a hardy perennial: Christmas Ale (7 per cent) comes from Britain's oldest brewer, Shepherd Neame of Faversham in Kent. The amber beer is brewed with the finest Kentish hops and prize English malts and has a bright, flaring amber colour. The aroma and palate are rich with dark grain, crystallised fruit and spicy hops. It's a perfect dessert beer for a festive meal. It's available on draught in selected Shep's pubs, in branches of Waitrose or online from the brewery shop: www.shepherdneame.co.uk/beer/christmas-ale.
From the old to the new: Signature Brew in East London specialises in producing collaborative beers with rock groups. For Christmas, it has joined forces with The Darkness to produce Bells End, described as an "Extra Seasonal Bitter" (5.2 per cent). The hops are English and the grains are pale malt, wheat and rye. The copper-coloured beer has a big spicy and peppery hop note balanced by creamy malt and dark fruits. www.signaturebrew.co.uk.
The Chiltern Brewery at Terrick near Aylesbury and Wendover in Buckinghamshire has produced a special edition of its Bodgers Barley Wine (8.5 per cent) to coincide with the publication of my new book, the World Beer Guide. The beer is called Roger's Bodgers and is brewed with Maris Otter malt and Challenger, Fuggles and Goldings hops. The beer has honeyed malt, orange fruit and peppery hops on aroma and palate with a long bittersweet finish. It's available from the brewery shop: www.chilternbrewery.co.uk. A special offer of £55 will bring you six bottles of the beer and a signed copy of the book.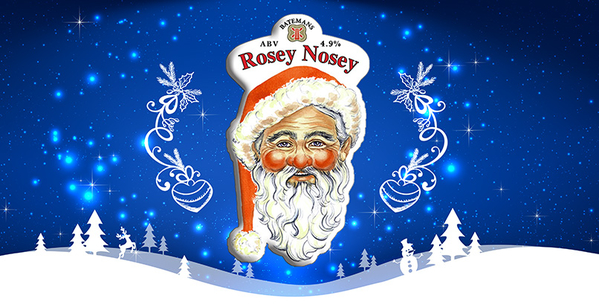 One of the most popular and best-selling Christmas beers is Rosey Nosey from Bateman's Brewery in Wainfleet, Lincolnshire. The 4.9 per cent beer is rich in raisin and sultana fruit and chocolate notes from the dark malts used, with a good balance of hop bitterness from two English varieties, Challenger and Goldings. The beer is available online for £28.95 for a box, or you could buy a Christmas Box Selection that includes two bottles each of Rosey Nosey and other Bateman's beers for £34.95. www.bateman.co.uk.
Camden Brewery's Beer 2021 (10 per cent) is a barrel-aged Imperial Pilsner – it's not an odd choice for a Christmas beer as in the Czech Republic, where Pilsner Urquell was the first golden lager launched in the mid-19th century, the traditional Christmas meal is carp with beer. The Camden beer is brewed with pale malt and Huell Melon, Perle and Hallertau Tradition hops. It has been aged for six months in a mix of brandy, Armagnac and sweet white wine barrels. It has an oak aroma with toasted malt and floral hops. Honeyed malt and oak dominate the palate with floral and fruity hops. The long, bittersweet finish has a nougat note from the malt, balanced by oak and fruity hops. www.camdentownbrewery.com.
Hepworth Brewery in Pulborough, Sussex, has a rich and rewarding gluten-free Classic Old Ale (4.8 per cent) brewed with pale and roasted malts from barley grown in Sussex and hopped with Admiral. It has a roasted grain aroma and palate balanced by spicy hops, followed by a long bittersweet finish dominated by toasted malt but with a good balance of spicy hops. www.hepworth-brewery.myshopify.com.
The Meantime Brewery in London has produced Greenwich Winter Spiced Porter (5.5 per cent) for Marks & Spencer. It's brewed with the addition of cinnamon and allspice to malt and hops and it has a powerful aroma of nutmeg and cinnamon with dark fruits and roasted grain. Spices and sweet malt dominate the palate with a good balance of bitter hops. The finish is spicy, fruity and malty with balancing hop notes.
If you fancy a taste of Yorkshire then follow your nose to Masham, home of the Black Sheep Brewery. Blitzen (4 per cent) is a ruby Christmas ale brewed with Cascade and Goldings hops with an addition of orange peel and Muscovado sugar. There's tart orange fruit and treacle on the nose with peppery hops and roasted grain. The palate is fruity and malty with a good balance of hops, followed by tart, fruity and hoppy finish. www.blacksheepbrewery.co.uk.
In Greene King pubs nationwide look out for Rocking Rudolph (4.2 per cent), a rich malty and fruity ale that's available on cask and in bottle.