Feature
Nottingham: great beer, great pubs
Added: Friday, September 10th 2021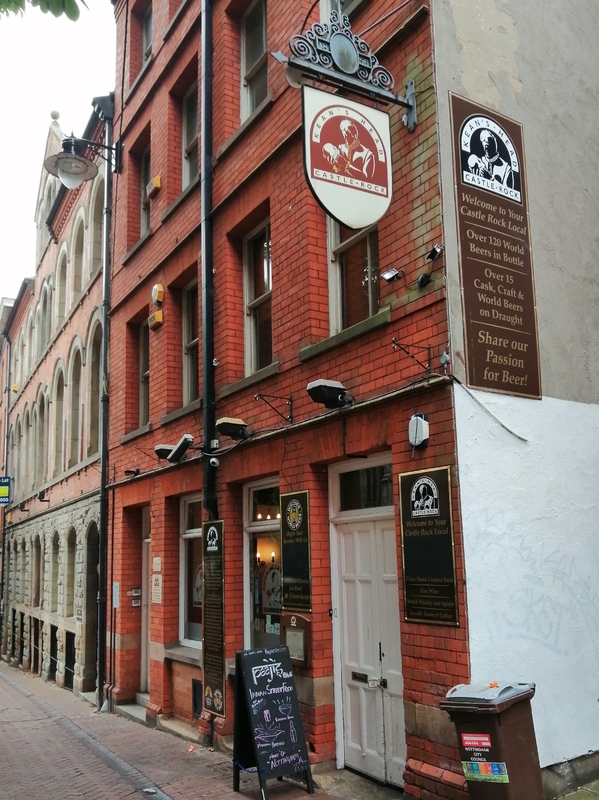 We were supping fine beer from the Navigation Brewery in the Cross Keys in Nottingham and the man sitting next to me said that when he moved to the city 10 years ago he could walk from his home to the Vat & Fiddle, Castle Rock's tap house, without passing another brewery. Today, when he makes the same journey, he passes five.
For decades Nottingham was dominated by two large breweries, Hardys & Hansons with their Kimberley ales, and Shipstones. Both are long gone: there's now a small brewery called Shipstones but it's tiny compared to the original.
Today, there are 18 breweries in the Nottingham area, an indication of how the brewing scene has changed in many towns and cities. The old saying that "nature abhors a vacuum" is never truer where brewing is concerned.
The catalyst for change in Nottingham was Castle Rock, founded by former CAMRA national chairman Chris Holmes in 1998. Today it runs 20 pubs and produces more than 20,000 barrels a year. Its fine ales include Harvest Pale, a winner of CAMRA's Champion Beer of Britain accolade in 2010.
Sheffield has followed a similar course. It was dominated by Bass and Whitbread breweries but they closed, along with Ward's, part of the Vaux group.
Dave Wickett stepped into the breach. He was a CAMRA activist, a member of the Industry and Economics Committee that studied the dominant role of large national brewers.
In common with Chris Holmes, he was an economics lecturer but, tired of "this dismal science", he bought the Fat Cat pub in the Kelham Island area of the city. It became a magnet for beer lovers and in 1990 he opened Kelham Island Brewery that achieved national renown when its Pale Rider was named Champion Beer of Britain in 2008.
The brewery has moved, doubling and tripling capacity to keep up with demand. Sadly, Dave died in 2012 after a brave battle with cancer but the brewery remains in his family's hands. Inspired by his example, there are now some 19 breweries in Sheffield, offering amazing choice for drinkers.
The choice is equally good in Nottingham – as is the range of pubs. I was in the city in August for Craft Beer Week and gave talks and tastings at the Cross Keys and the Embankment. I'm used to such great local pubs as the Lincolnshire Poacher, the Canalhouse and Stratford Haven but was able to add to the list the amazing Embankment near Trent Bridge.
This vast emporium started life as the second Boots pharmacy in the city. My talk was on world beer styles and we enjoyed several brews from Castle Rock and Milestone's Loxley Ale. You will be aware that Robin Hood was also known as Robin of Loxley and as well as the beers we had the castle and a local hero to inspire us.
My talk in the Cross Keys was on the subject of IPA – there's no escaping the rampant beer style. We had the full range of Navigation's pale beers that were augmented by an old favourite. The landlady mentioned she had had a delivery of Draught Bass that morning and, if it had dropped bright, would we like to sample it.
A great roar of "Yessss" went up and we finished the tasting with glasses of Burton's finest.
Round the corner from the Cross Keys I found a recent addition to the Castle Rock estate, the Kean's Head (pictured) in the historic Lace Market. It's named after Edmund Kean, a famous Shakespearean actor in the 18th and early 19th centuries who played leading roles in London and also, as Richard III, in New York City.
The small exterior leads into a spacious bar with scrubbed floors and brick walls decorated with brewery memorabilia. As well as Castle Rock beers there's a changing range of guest ales, with Wild Card from London on my visit.
The perfect start and finish to a trip to Nottingham is a visit to BeerHeadZ, a micro pub next to the train station. This former Edwardian cabman's shelter has plenty of seating and a constantly changing range of excellent beers.
It's worth missing a few trains for.
•First published in What's Brewing, now amended.