Feature
Marston's boss: 'Cask is under the cosh'
Added: Friday, July 9th 2021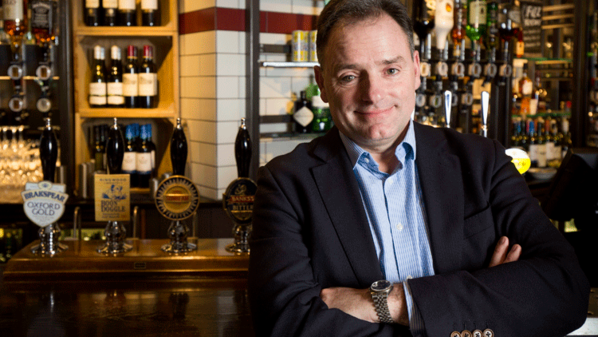 The taxi taking me to Marston's head office in Wolverhampton had to manoeuvre round a line of giant trucks at the entrance, all bearing the logo of Hobgoblin from the group's Wychwood brewery in Oxfordshire.
"That's one of our two top brands, along with Wainwright's," chief executive Ralph Findlay says. That comes as something of a shock from a brewery famous for Banks's and Pedigree cask ales -- but the current brewing industry is no stranger to shocks.
Ralph is due to retire in October after 25 years with a group that was called Wolverhampton & Dudley Breweries when he started his career. He has seen some turbulent times, including the bitterly contested rival takeover bids between W&DB and Marston's in Burton-on-Trent in the 1990s, last year's creation of the Carlsberg and Marston's Brewing Company and in February a failed bid for the pubs division from Platinum Equity Partners, which valued the 1,550 strong pub estate at £555 million.
Ralph and his team have had to battle to keep beer and pubs afloat during the pandemic and lockdowns, followed by the acquisition of Brain's pubs as the Cardiff brewery struggled to stay in business. Perhaps it's not too surprising that Ralph now wants to put his feet up for a while and ponder where he goes next.
He thinks the turbulence in the industry is far from over. "Freehold properties are the main interest," he says and points to Greene King being bought by a Hong Kong property billionaire. And Greene King's former chief executive, Rooney Anand, has been handed a war chest of £200 million by global investment group Oaktree Capital to buy pubs.
"Pubs will bounce back – there's pent-up demand," Ralph says. "City centre pubs may struggle but pubs in urban and suburban locations are great places to be. Community pubs play an important role in people's lives."
He accepts the grim figure from the British Beer & Pub Association that between 2,000 and 3,000 pubs will close for good as a result of the pandemic but he thinks pubs with a good level of income will survive.
"A lot of Birmingham pubs have closed but they were low income outlets. Pubs that make good money will do well."
His views on the future of beer – cask ale in particular – make uncomfortable reading.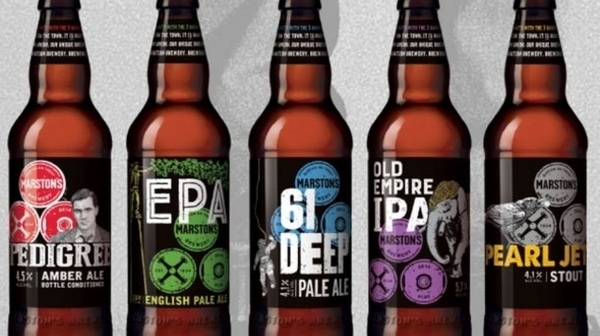 "Cask has taken a terrible hammering," he says. "The beer market is no longer a cask market. It's a changing demographic – young people are not drinking cask and brewers are putting their money behind craft beer."
If Hobgoblin and Wainwright's are now Marston's top brands, what's the future for such famous beers as Banks's Mild and Bitter from Wolverhampton and Marston's Pedigree from Burton?
"Banks's and Pedigree haven't performed well," he says bluntly. "The market is changing and the Banks's market is disappearing. There are no mild drinkers left – the industry has gone.
"The pubs sector counts for everything where cask is concerned. We're working hard to 'premiumise' the sector with branding and glasses, which means we will have to charge more. People will pay £7 for a pint if it's part of a good experience. People expect more from pubs today than just the beer – they want food, too, and sport on TV."
It's the changing nature of the beer market, with more beer being sold in the off trade rather than in pubs, that led to the creation of the new brewing company with Carlsberg in 2020. Ralph says he and fellow director s Alistair Darby and Richard Westwood held talks about the future of beer and looked long and hard at the American market.
"We drew the conclusion that beer had to be about styles, taste and provenance, and that drinkers were bored with mainstream brands. We had to change the mix of beers in our pubs. We bought Thwaites's brands and Charles Wells in Bedford, which gave us McEwan's beers in Scotland. Hobgoblin is our most successful beer and it has a big presence in the off trade. We've added Estrella Damm from Spain, Erdinger from Germany and Shipyard from the U.S.
"Seventy per cent of our beer used to be sold through our pubs but now 90 per cent is sold outside Marston's and mainly in the off trade. We've got a good portfolio of beers but to build on that we needed a partner."
This led to talks with Carlsberg in 2019 and a deal was quickly done and announced in May last year. The Carlsberg Marston's Brewing Company is valued at £780 million with the Danish brewer controlling 60 per cent of the company. Why, when Marston's has six breweries – Banks's, Marston's, Ringwood, Jennings, Wychwood/Brakspear and Bedford – and Carlsberg just one in Northampton, do the Danes have the major share?
"Because they gave us £270 million!" Ralph laughs. "Would Carlsberg, a global brewer, be a minority shareholder? No."
That £270 million goes some way in reducing Marston's serious level of debt and the company also gains from Carlsberg's serious muscle in the off trade – Marston's beers are now more widely available in supermarkets – and in the export sector. Ralph says Europe isn't easy to deal with as a result of Brexit but sales are doing well in Asia, Australia, Canada and Russia.
Global brewers have a long track record of consolidation by closing and merging brewing operations. Does he think all the existing Marston's breweries are safe? There has long been a question mark over the future of Jenning's in Cockermouth in Cumbria, which is a long way from the nearest motorway, has a site that's difficult to get trucks into and has been flooded more than once.
Ralph says the future of all the breweries will depend on how well their brands do, repeating the importance of provenance.
"Does it matter where beer is brewed?" he asks. "Yes – and that's particularly important with Jenning's. And don't forget that last time it was flooded and the industry said it would close we immediately got it up and running again."
He says the decision to run Brain's 156 pubs in Wales has saved 1,300 jobs. He pulls no punches about the Cardiff's brewery's performance.
"They spent £10 million on a new brewery and they were then badly hit by the pandemic. They had a subsidiary, Coffee Number One, they sold to Caffè Nero and ended up with a lot of debt and the banks pulling the strings. If we hadn't stepped in, the brewery would have closed but now they can start repaying the banks."
The deal means Marston's will rent the pubs from Brain's and the estate will be able to sell the Carlsberg range. Marston's, which has 106 Welsh pubs, may rebrand some of them as Brains, stressing the importance of the name to Welsh drinkers.
Bearing that it in mind, I said it would disastrous if the Cardiff brewery were to close and the beers were brewed outside Wales. Ralph replied enigmatically that "there was plenty of spare capacity in the industry."
He stressed that his decision to leave Marston's was his own – he wasn't pushed. "But the business needs to change with new people in charge."
He won't retire. He's keen to stay in an industry he knows inside out. He has steered Marston's through choppy waters and he's confident pubs have a sound future.
It would be good if that confidence could also rub off on cask beer, that great Burton pale ale, Pedigree, in particular.
•First published in What's Brewing.