Feature
Hats off to British hops
Added: Tuesday, October 6th 2020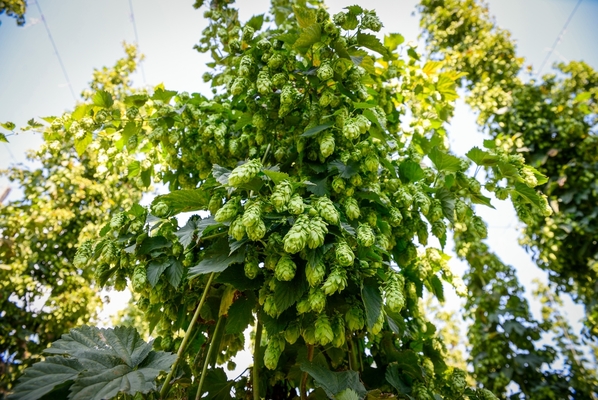 The hop harvest is over. The plants have been picked, dried in oast houses, packed into special sacks called pockets and are ready for brewers to blend with malt and yeast to produce their succulent ales.
I've been fascinated by hops from an early age. I grew up in the East End of London where Cockneys would go down to Kent for an annual "holiday" in the hop fields. When I returned to school in September there would always be a few children missing who were picking hops with their parents
I never went, which is a big gap in my experience, though if you read the descriptions of hop picking in George Orwell's 1935 novel A
Clergyman's Daughter you may feel it was an experience worth missing. Before machines took over, the pickers would end each day with hands stained green from hop juice and torn to shreds by the sharp bines that held the plants.
In East London I was surrounded by brewers – Charrington, Ind Coope, Manns, Taylor Walker and Truman. The last-named advertised their beers with the slogan "There are more hops in Ben Truman" while I still recall my first pints of the wonderfully aromatic Charrington IPA.
Back then no brewer worth his salt would have imported hops from abroad when they were available in abundance from English farmers. The only exception I can think of is Timothy Taylor in Yorkshire who brought in Styrian Goldings from Slovenia to boost the hop character of Landlord pale ale.
The rise of micro-brewing from the 1990s saw young brewers developing new beer styles and importing hops from far and wide, the United States in particular. The aim was to give new, vibrant aromas and flavours to beer that would make them stand out from the traditional ales of older brewers.
English hops offer fruit notes but the overwhelming characteristics are herbs, spices and pepper. American hops on the other hand have big flavours of tropical fruit and grapefruit and, as a result of the popularity of new craft beers, English hop growing went into almost terminal decline.
In 2012, writing in the Guardian, Rebecca Smithers found there were only 16 hop farmers left in the country and the acreage devoted to hop plants was dropping like a stone. The article had a profound impact. The almost moribund English Hop Association was taken over by young farmers and breeders. The new chair, Ali Capper, who grows hops with her husband Richard at Stocks Farm on the Hereford/Worcester border, changed the name to British Hops and not only revived interest in local hops in this country but also developed a vigorous export trade. You want to brew IPA -- then you need British hops, was the irrefutable message.
Today there are 50 hop farmers in Britain and 34 hop varieties. Working with the revered hop expert Peter Darby, Ali Capper and her team have introduced a number of new varieties. Britain has also led the world in developing "hedgerow hops". They grow to half the height of conventional varieties and as a result are easier to harvest and are less prone to disease and pest attack. One hedgerow variety in particular, First Gold, has become popular with brewers at home and abroad.
Other new varieties include Boadicea, Jester, Godiva and Endeavour. The last name commemorates the late Inspector Morse, who was known to enjoy a pint or three and whose first name, on his death bed, was found to be Endeavour.
The hops offer such aromas and flavours as blackcurrant, orange, peach, sage, gooseberry and tangerine. And if you are desperate for grapefruit, the American Cascade is now grown here.
In Surrey, the Hogs Back Brewery has restored a once lost variety called the Farnham White Bine – a forerunner of the Golding – and grows it alongside the brewery for use in its leading beer TEA or Traditional English Ale.
As Eddie Gadd at the Ramsgate Brewery in Kent, says: "Many people don't realise what an incredible range of flavours and aromas brewers can create by using different varieties of British hops."
On the nail, Eddie.
•First published in What's Brewing, October 2020.