Feature
It's Curious -- a great British lager
Added: Thursday, May 7th 2020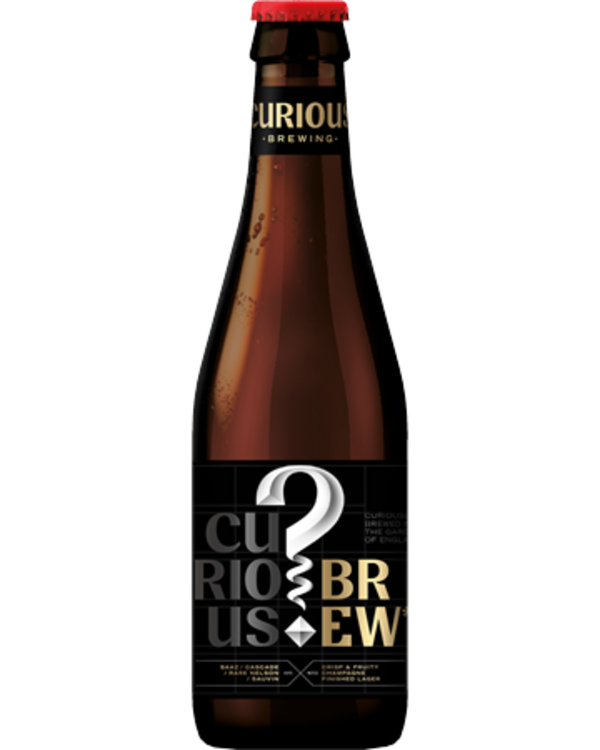 Sometimes beers slip under the radar. I was sipping a glass of Curious Brew Lager, did some quick research and discovered it was named the best lager in the world back in 2012.
An English lager the best? Surely, some mistake. But the award came from the International Beer Challenge that has been running for more than 20 years. The judges are brewers, retailers, publicans and beer writers who all know their Pilsners from their pale ales.
When a beer is up against lagers from such countries as the Czech Republic and Germany, where they know a thing or two about producing cold-fermented beers, it had better be good.
And Curious Brew is good. It's more than good – it's superb.
British lager has moved on from the sad, mad days of the 1970s and 80s when lager meant such derisory beers as Carling Black Label, British-brewed Carlsberg and Heineken, Harp and beers with such silly fake European and Scandinavian names as Hofmeister and Skol.
Heineken was perhaps the worst of the bunch, just 3.4 per cent alcohol, while the Dutch original weighs in at 5 per cent.
I thought then that lager meant fizzy rubbish. The scales fell from my eyes when I visited Munich for the first time, sat in the Englischer Garten, supped a glass of Spaten beer and thought that, by any standards, this was seriously good beer.
Over the ensuing years I drank the other great beers of Munich then moved over the border to Czechoslovakia and sampled the delights of Budweiser Budvar, Pilsner Urquell and Staropramen.
Back home, a growing number of small independent brewers are now making their interpretations of lager. Some of them are good but few have that "wow" factor I experience in Central Europe.
And then I tasted Curious Brew.
The brewery is based in Ashford in Kent and is owned by the leading wine maker Chapel Down in Tenterden. Frazer Thompson, chief executive at Chapel Down, which has award-winning still and sparkling wines, was keen to add beer to his portfolio.
He's not a fan of what passes for mainstream lager. "Mass-produced lager tastes like corporate cardboard," he says, "and have the aroma of market research rather than hops. We've worked really hard to craft something that is more fragrant and more refreshing than other beers served cold."
At first Curious Brew beers were made for Chapel Down by Everards and Hepworth but a crowd-funding campaign raised £1.7 million to build a state-of-the-art brewery in Ashford, close to the international station served by High Speed One.
The brewery opened in 2019 with experienced brewer Matthew Anderson, previously with AB InBev, in charge. Frazer Thompson is keen to marry wine-making techniques with brewing and this is most evident in Curious Brew Lager. At a time when global so-called lagers are produced in just a few weeks, the Curious beer is lagered or aged for five weeks, similar to Pilsner Urquell, the original golden lager brewed in Pilsen in the Czech Republic.
The 4.7 per cent beer is not pasteurised and is brewed with English malting barley and hopped with American Cascade and Czech Saaz varieties. The wine influence comes from a secondary fermentation using Champagne yeast and an addition of Nelson Sauvin hops from New Zealand with their renowned Sauvignon grape character.
It's not unknown for brewers to use Champagne yeast. Brewers' yeast goes to sleep when it has reached 12 per cent alcohol but Champagne yeast can create much stronger beers. The best-known examples is Bosteels' Deus Brut de Flandres (11.5 per cent) in Belgium that's given a "dosage" of sugar and Champagne yeast before being sent to a Champagne house in France where the bottles are "riddled" or turned to encourage the yeast to settle in the necks.
Deus is a member of the ale family and it's rare – possibly unique – for Champagne yeast to be used to make lager. There is, however, a similarity with the system known as "kräusening" used by some German and Czech brewers. This involves adding some unfermented wort or sugary extract to the lager tank to encourage a strong secondary fermentation.
Curious Brew Lager has a toasted aroma that will be familiar to Champagne drinkers and is also the result of the long mashing system used in true lager production. The nose of the beer also has a fine herbal and citrus note from the hops with gentle bitterness. Hops grow on the palate along with honeyed malt and tart fruit, followed by a long and bittersweet finish, with hop bitterness balancing honeyed malt.
It's a wonderfully refreshing beer and is arguably the hallmark for British-brewed lager. It's available in branches of Waitrose or from the online brewery shop: www.curiousbrewery.com/shop/curious-brew.